Ritchie Blackmore

Interview Rock Hard Magazine 2016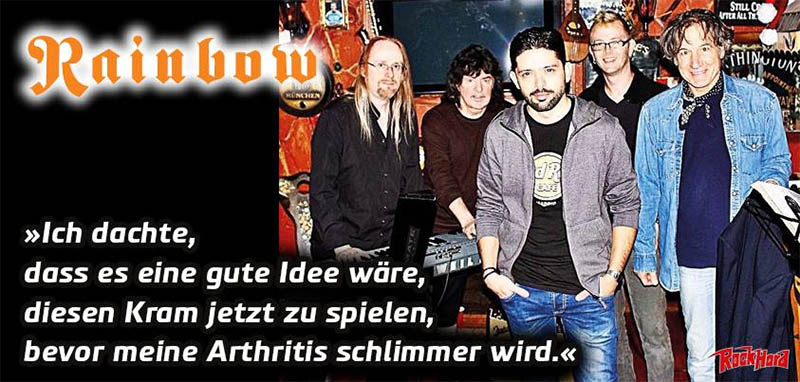 Ritchie, when and why did you decide to revive Rainbow?

Over the past few years, I've often thought about going on stage and playing old Rainbow and Deep Purple songs so that fans of this music can have a good time like me. There will be only three concerts. For me, the music that I play in Blackmore's Night is more interesting, and I perceive the three Rainbow concerts as more nostalgic.

Why have you planned so few concerts? Can you imagine that you will have a longer tour?

- No. Touring is not an option at the moment.

The posters say you will be playing the classic Rainbow and Deep Purple anthems. On the songs of which of these groups will you base the program? Will there be room for long improvisations?

- I will play the most popular songs, from "Highway Star" to "Man On The Silver Mountain". And, as always, I will improvise.

Was it the concert organizers who demanded a program of hits, or was it your decision?

- I was the only one who decided everything - from the venues of the concerts to the instruments the band plays.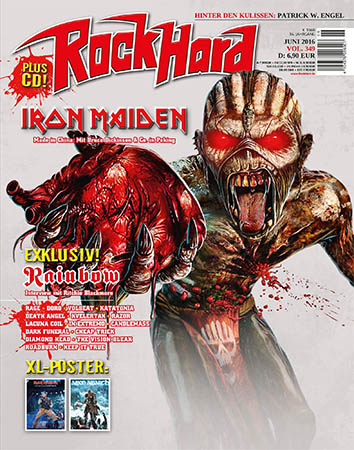 Are these concerts related to the past 40th anniversary of Rainbow?

- No, they are not. I just decided to take a little break from Blackmore's Night and thought it would be a good idea to play this stuff again before my arthritis get worse. I'm not a fan of anniversary reunions.

What criteria did you use to select the musicians?

- They had to be good musicians who fit the songs one hundred percent. I didn't want to work with famous people, because I have no desire to deal with selfishness and schedule alignment.

Did you contact the old members of Rainbow about this, or was it important for you to breathe new life into the songs?

- Second. I haven't contacted any of the old lineups.

Will these concerts remain a one-off event, or are you planning to record a new Rainbow album?

- No, I will focus only on these three concerts, I do not think that I will start recording a new Rainbow album.

Has the revival of Rainbow influenced your career at Blackmore's Night? Do you split the energy into both projects?

- Not at all. I donít like to work too hard, so I donít want to do Rainbow tours or anything like that anymore.

What happened in April when Deep Purple was inducted into the Rock and Roll Hall of Fame? Is it true that Purple's manager didn't want to see you at the ceremony?

- Yes, it's true, they wrote to me in black and white. Deep Purple's manager didn't want me to play with the band. However, whether I would in general have time and desire for this is another question.

Did you have them?

- No. I had finger surgery and was still recovering from the operation back then.

You haven't played hard rock for a long time. How do you feel returning to this style? Is hard rock just loudness and distortion for you, or is it a certain atmosphere?

- In fact, to play rock, in many ways, you need volume and distortion, and again I have to get used to playing with a pick. For the past 20 years, I have mostly played strings with my fingers.

Over the past 20 years, have you written a song that would be perfect for Rainbow?

- I have about 200 songs that I could use if I wanted to.

Are you proud that the songs of Deep Purple and Rainbow, so many years later, still make a lot of people happy? Do you believe your work continues to inspire young musicians?

- It's nice to know that I left behind some kind of influence and that people want to hear the music that I used to play.

What is the biggest difference between Deep Purple and Rainbow for you?

- When I wrote music for Deep Purple, I composed riffs, harmonies and paid a lot of attention to arrangement. Then Gillan came and put his melodies on the chords. In Rainbow, I started writing with a melodic line. Only then came the harmony, and the riffs last.

In Rainbow, the line-up and style of music often changed. What is your classic lineup?

- At first I liked the lineup with Dio, but then Ronnie changed, and I did not like these changes. I also liked some of the songs that I recorded with Joe Lynn Turner. "Street Of Dreams", "Stone Cold", "Can't Let You Go" were very melodic. "Street Of Dreams" is still one of my favorite songs. My favorite songs with Ronnie's vocals are "Gates Of Babylon", "Stargazer" and "Long Live Rock'n'Roll".

Do you like modern hard rock? Are there any new bands that you listen to?

- I saw Paul Rogers from Bad Company with Queen on TV and it was great. But Paul has always been my favorite rock and blues singer. He is very talented. When I first heard that he was working with Queen, I could not imagine how the result would sound, because I also appreciate Freddie Mercury as a singer and frontman, but the line-up with Paul is almost better for me than the original! I don't listen to new bands at all, but now I really like listening to Vintage Trouble. Great band, great singer.

In recent years, retro rock has become fashionable. What do you think, is it right to give priority to the newcomers, or is it always necessary to develop?

- I often think about the past, but I prefer to look ahead.

Most of your peers, like Uriah Heep or The Who, continue to work. Do you think that bands from that period created the most important works in rock history?

- Yes, something like that. With The Who I loved "My Generation" and "I Can't Explain", these songs inspired me a lot in 1965. I also loved The Byrds and their "Mr. Tambourine Man", Bob Dylan was one of my idols. Here, on Long Island, there is also a very talented person: Billy Joel. Among the Americans, I also liked Vanilla Fudge and Mountain. Great bands.

It's sad that today many guitarists know how to play at the speed of light, but cannot say anything musically, right?

- Unfortunately, for many, speed is the top priority. The point is not how fast you can play from one point to another point, but what you see along the way! Countless guitarists are obsessed with speed. Musicians like Jeff Beck don't play fast, but his notes have an amazing depth of feeling. This impresses me more than guitarists who practice 12 hours a day to play as fast as a person can. Yngwie Malmsteen is also an excellent musician. He embeds classic phrases into his playing, and does not just copy another Eddie Van Halen. Of course, Eddie, as Frank Zappa said in 1978 or 1979, reinvented the guitar. But when I listen to lead guitarists on all sorts of newfangled devices, I hear that many guitarists only studied Eddie Van Halen's solos. For me, the solo shows the true talent of a musician. When I was 16, 17 and 18 years old, I was crazy about speed. But it passed. Most recently, I was at a Tommy Emmanuel concert, he is arguably the best acoustic guitarist in the world. He doesn't just play fast, his playing makes a lot of sense. This is true art.


© Rock Hard Magazine no 349 - June 2016