Blackmore's Night

BURRN Exclusive Interview - February 2021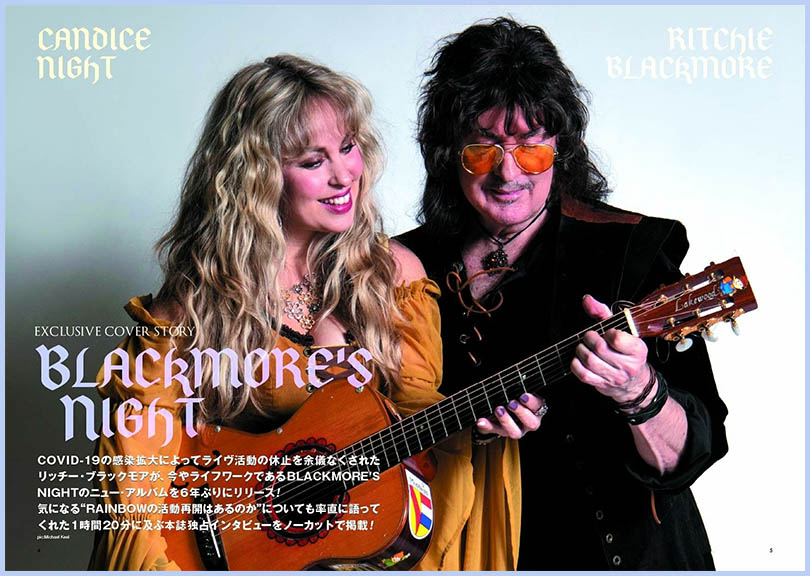 Last year, the whole world has changed a lot due to the COVID-19 pandemic. How are you? How is the situation in your area?

Ritchie: Difficult, but not hopeless. Unfortunately, since it all started in China, no one has been able to find the source of what is happening. This is weird too. The whole world has suffered. When something happens, usually everyone knows exactly what is happening and why, but no one seems to know the reason for what is happening now. This is very suspicious to me.

When was the last time you played with Blackmore's Night?

Ritchie: I think about ten years ago (laughs).

It is indicated on the Internet that the last time you and the band performed on Long Island was on November 23, 2019...

Ritchie: No, it is not. Our last gig with Blackmore's Night was in...


Candice: Maybe it's still true?

Ritchie: In my opinion, the concert was in the German city Nürnberg in July 2019. This was our last tour and in July we played in Nürnberg. For quite some time now. It was one of my favorite castles on the tour and the show was great. It was the last show on the tour, it's always nice when the closing performance is good. I have had it several times that the tours ended with terrible concerts, and then I only had memories of bad shows. But on that tour it was the other way around.

What were you planning to do after the tour? Tell us about how the pandemic has affected you.

Ritchie: This was the last concert of the tour...

Candice: After that, we planned to do some shows in the USA, right?

Ritchie: Yes, that's right.

Candice: But, unfortunately, because of Covid, they were canceled.

I am very sorry.

Candice: But it's good that we went to the studio on time. We recorded a lot of songs, so we had a lot of material to release, including Christmas songs. We didn't have time to record a full Christmas album, we only managed to finish four or five songs. But we'll get back to the recording and release a full-length album. Now people need new music. Everyone is locked at home, these are very unpleasant, strange times. This is very unusual for Ritchie. He's been touring since he was sixteen, and he never had such a break as he does now. Although he doesn't really like traveling anymore... But we lack the energy that we get by performing on stage in front of the audience.

Ritchie: I miss sleepless nights in hotels so much (laughs). You need to wear masks so as not to get infected with Covid. Are you wearing a mask now?

Of course.

Ritchie: Good.

You posted the video "Vacuum And Dust" on the Internet, a reworked Joan Baez song "Diamonds And Rust". At the beginning of the video, you said that you were inspired by David Coverdale.

Candice: Yes, that's right. When we texted and chatted about the pandemic, he said that he vacuums himself because he has nothing else to do. He said, "It's time to do some vacuuming the dust," and we both thought it was a good title for the song. I asked him if I could use this phrase in the title of our own song, he agreed and allowed to use it freely. The phrase is so consonant with "Diamonds And Rust", it turns out to be a full-fledged play on words. I thought it would be nice to defuse the situation a little with laughter. So we were really inspired by the vacuum cleaner of David Coverdale (laughs).

Ritchie: I like the ending the most. Candice sings there not at all like on the album... How do you sing there?

Candice: Just singing "Vacuum And Dust".

Ritchie: You need to listen in the context of the whole song.

Candice: Can you play?

Ritchie: Good (plays guitar).

Candice: Can you only play the ending?

Candice: How does it sound there... Well, okay... Let's get back to the questions.

I would love to listen to the song, but we have a limited time, so let's get back to the interview.

Ritchie: Yes.

Have you keep in touch with him?

Ritchie: I have never touched him. Even though he wanted to.

Candice, how long ago did you start communicating with David?

Candice: David contacted us when John Lord died. I think when John died that changed everything. The world seemed to have become empty... I think everyone realize that they do not live eternal and then decide to restore contact with their former comrades. David did the same. He wrote that he is very grateful to Ritchie for opening the door for him to Deep Purple and Whitesnake. In recent years, many have contacted Ritchie and thanked him for the opportunity to start a career. With Ritchie's help, he became known all over the world and became a big star. And it all started with the fact that Ritchie drew attention to him.

Ritchie: Yes, but actually it was Ian Paice. It was Ian Paice who first found David Coverdale. He brought the cassette, turned it on and asked my opinion - should I invite him to audition? This is how it all started. So David Coverdale was first discovered by drummer Ian Paice.

In December you released the EP "Here We Come A-Caroling". Why did you decide to record these Christmas songs?

Ritchie: I forgot.

Candice: Have you forgotten that these are your favorite songs?

Ritchie: Yes, exactly. When I was a child, at the age of ten... When I was 10-11 years old, in England at midnight I went to the neighbors' houses, knocked on the door and asked for pocket money, sang Christmas songs for this with friends. This is called "Caroling" - "Christmas Caroling". Is there such a tradition in Japan?

Unfortunately not.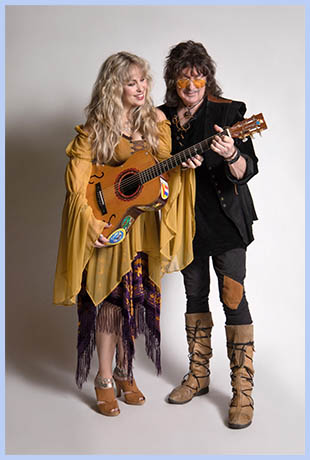 Ritchie: Exactly. And in England, in Europe, they go from house to house, knock on the door and sing. Two, three, four songs. The owner of the house opens the door and give money. I've made so much money. Much more than when working with groups.

Candice: (Laughs).

Ritchie: At least then there were no managers who cheat everyone. So... I was 10-11 years old, and I really liked the feeling of freedom. In fact, I don't think we were given pocket money for singing well. We were paid to leave. That's the way all my life. They give me money so they don't see me again.

Can you tell us about the songs from this mini-album, as well as why you chose them?

Ritchie: Yeah, do you have a list of songs in front of you?

No.

Candice: Let's start with "Silent Night"?

Ritchie: Good. There is "Silent Night" on the disc, did you know about that?

Yes.

Ritchie: Yeah. I don't really like this song. All the Christmas songs on the CD are my favorites, but I always found "Silent Night" rather boring. But one day I heard Candice singing it in the shower. I did not listen to her voice, but looked at the body...

Candice: (laughs).

Ritchie: No, she sang this song so well that I decided to record it. In my opinion, she sings it the best. Usually when I am asked to play "Silent Night" I refuse because... it's boring. But she did a great job with this song. Her voice is perfect for the music. So we decided to put the song on the album. What other songs do we have there?

Candice: "O Little Town Of Bethlehem".

Ritchie: Yeah, Americans sing "O Little Town of Bethlehem" with a different tune, more eccentric. They play it like a jazz melody. So I thought it would be nice to play it with an original melody written in the 15th-16th centuries. We recorded it with the original British tune. I think many Americans were surprised by this tune. It is different from the melody to which they are now used. So this is kind of hello to the Americans. But it's also one of my favorite tunes of all time. But only when it is sung in English and not in American.

Tell us about It Came Upon A Midnight Clear.

Ritchie: Yeah. Candy, can you tell?

Candice: It Came Upon A Midnight was written in the 19th century. I've never heard it. Ritchie introduces me to all these songs. There are so many beautiful Christmas songs in the world, many of which are hundreds of years old.

Ritchie: Christmas songs are my favorite Blackmore's Night recordings. I just love Christmas songs. Most of them were written in the 16th-17th centuries. It suits me. I can directly imagine how these melodies sound on old instruments. During the Christmas season, I often play Christmas songs at home, starting a month before Christmas. I love these tunes. I love when they are played the way they were written. I don't like modern Christmas music. Rockin 'Around The Christmas Tree and Santa's Comin' Down The Chimney - I hate it!

Candice: By the way, in "Silent Night" our daughter Autumn sings backing vocals.

Ritchie: I thought it was our dog.

Candice: She sings like an angel.

Ritchie: It's true. Our daughter Autumn already has a range of three and a half octaves. She has a wonderful voice. She loves to improvise, and when they sing with Candice, it's great.

Candice: She also plays the guitar.

Ritchie: Yes, I also play the guitar.

Candice: And on the cello (laughs).

Ritchie: I also play the cello.

It's great.

Ritchie: I haven't played cello for a long time, so I had to put new strings for my daughter. The cello is bigger than our daughter.

Candice: Yes (laughs).

Ritchie: Our daughter plays in the school orchestra. It's nice to see how she makes music. The cello is a very complex instrument. Very complicated.

Tell us about the song "Here We Come A-Caroling".

Candice: It's a funny song.

Ritchie: Yes. Basically, it's just a song about Christmas house-to-house singing. The owners of the house offer drinks, money or food, they are obliged to give something. It was called "wassailing" at the time. This is what the song is about - going to neighboring houses. What did I do when I was ten. Angered neighbors and begged for money. By the way, when I was 10-11 years old, I did something else. I climbed into other people's gardens at night, cut flowers, made bouquets and went with friends to the station. When you see a business man, why not offer him to buy flowers as a present for his wife? It always worked. We made a lot of money from it.

But one day I overdid it. Would you dare to pick flowers in the garden, and then knock on the door of the owners of this house and invite them to buy a bouquet? I dared. The owner of the house looked at the flowers and said: "These are flowers from my garden!" And he chased us. Very stupid. I wondered if I would be able to sell flowers to the owners of the house from their own garden. But sometimes it worked. I was surprised that many businessmen came home late and felt guilty towards their wives for this, so they often bought flowers for them, very often. So that you don't have to make excuses to your wives for being late.

"Nature's Light" will be the band's first full-length album in six years.

Ritchie: Yes.

It's the first time you've had such a break between album releases. Have you been so busy with Rainbow?

Ritchie: No, I've been selling flowers to neighbors all this time. Candice, what were we doing? Why didn't we go to the studio? What's the matter?

Candice: (Laughs). We were planning to release an album last year. Everything was ready. But when the pandemic began, everything stopped. Both the publishers and the label suspended their activities, so everything had to be postponed for a year. We recorded the album... We recorded a small part of the songs in 2018, some of the songs in 2019... In 2020 the album was already ready. We worked on the album for two years, and Ritchie was still doing Rainbow at the same time...

Ritchie: I sold flowers. I think I was doing something else. Between albums we worked part-time by selling rakes to our neighbors. I made the rakes myself.

When did you start planning to record a new album? You started recording in 2018, but did you start thinking about this possibility earlier?

Candice: It's hard to say. We started recording in 2018, it was a difficult year for us. Ritchie lost his brother, and I lost my father. And we also have a cat that has lived with us for 16 years. So this year was too difficult for us to make music. Feelings of grief and loss hung over us like clouds.

Ritchie: Yes.

Candice: So it took us a while to start making music again. But creativity helped us return to the bright memories of those who are no longer with us.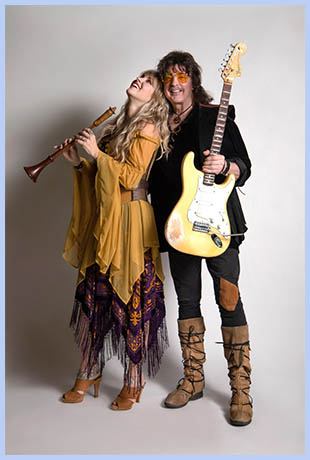 Ritchie: Is there a word "catharsis" in Japanese?

Yes.

Ritchie: Do you use it often?

I do not use it often. But I think everyone understands the meaning of this word.

Ritchie: Exactly. How long have you been speaking Swahili?

For the new album you recorded an updated version of Wish You Were Here. Why did you do this?

Ritchie: Friends have often asked us about it. And enemies. I've always liked this song. It was very popular in Germany. As far as I know, in Japan too. I've always thought it was worth rewriting it. I decided to release this song again because I think that people like it and thus it will become even more successful. I am confident in this song. But even if this time it is not a hit, we will record it again for our next album. We will release it until people start buying it. This is one of my favorite songs. Who wrote it? Someone from Thailand?

Candice: Leskelä Teijo.

Ritchie: Is that a Japanese name?

Candice: No, Finnish.

Ritchie: Exactly. I'm sure this song deserves to be heard all over the world. Everyone I know loves this song. It fits in different situations. When you can't spend Christmas with someone you lost, someone you loved... I think "Wish You Were Here" is a very meaningful phrase.

How is the new version of Wish You Were Here different?

Ritchie: Other vocals.

Candice: Yes, I recorded new vocals.

Ritchie: I also added new guitar parts. The differences are small, but the vocals began to sound more mature. Candice has become a mature person. When we first recorded this song, she was only 12 years old.

Candice: (Laughs).

Ritchie: She looked 12 years old.

Candice: Wow!

Ritchie: Anyway, the song is worth recording again. I decided that it was worth working on it again and changing it a bit. Change in terms of voice. The vocals sound different.

Let's go through the songs from the "Nature's Light" album. The first song is "Once Upon December".

Ritchie: Yeah. "Once Upon December"...

Candice: This music was introduced to us by a beautiful Renaissance bard whom we met at a Renaissance fair in Arizona. His name was Owain Pfyfe, he played in New World Renaissance, performed at our wedding and opened our concerts in Germany. He had a wonderful voice, like a young Ian Anderson. He lived during the Renaissance era. The first time I fell in love with his voice. He played the Italian medieval song "Fuggi, Fuggi, Fuggi". When we heard this music, we decided to record our own version, I wrote the lyrics and we got "Once Upon December". The name came instantly - I looked out the window and saw an incredibly beautiful winter view.

"Four Winds".

Ritchie: I came up with the riff for this song while waiting for our producer Pat Regan to finish the song we just recorded. During this time, I composed the riff, harmony and main melody. Most of our songs are written this way. And when Candy came back from the store... I asked her to sing this melody, she sang it. What else to say about this song?

Candice: I'll tell you about the text. And you're going to talk about music, okay?

Ritchie: Come on.

Candice: I have two very close friends. I have known one since I was five, and the other since I was fifteen. I don't have many acquaintances since that time, but I continue to communicate with them. One lives on the West Coast and the other on Long Island. One of them moved with me to live by the sea, and the other left to live closer to the forest. So this is a song about two girls who go through the same journey in different places and who started their lives over again.

"Feather In The Wind".

Ritchie: "Feather In The Wind" I wrote on mandala. Do you know what a mandola is? Not Mongolia.

Yes.

Ritchie: Medieval eight-stringed instrument. I love to play it. The tuning is not at all the same as the guitar. On this instrument, I often played one riff, when our daughter Autumn heard it, she immediately began to sing along. And I always thought it was a good riff and a good idea. I gave Candice a listen and she added a little fabulousness to the music. This is how this song came about. Such songs were composed 500 years ago. I like to play this kind of music. There are two sides to my music, more modern and older, and this song belongs to the second category. I play rock, but I also like 16th century music. And I often play it on the mandola. I have three mandola's. A great tool. The general bass, bourdon sounds great on the mandola. I'm not talking about a flying drone. I mean bourdon - a musical device.

You already included the instrumental composition "Darker Shade Of Black" on the album "All Our Yesterdays".

Ritchie: "Darker Shade Of Black" I wrote when Candice and the kids were away for a couple of days. I had an idea for an instrumental composition. It is based on the typical top-down harmony that Bach might have written. It is somewhat reminiscent of "Whiter Shade Of Pale" by Procol Harum. They are like descending harmony. This is one of my favorite songs of all time. I have already released this music on the last album, but it seems to me that it has not received enough attention, so it would be nice to release it again. This is one of my favorite instrumental songs, so I thought it was worth releasing it again.

"Twisted Oak".

Ritchie: What is this song ..? Ah, yes, this is a new adaptation of one old melody. It is included in the "Cantigas de Santa Maria" of the Spanish king Alfonso X. This melody was written no later than the 13th century, and was often performed by musicians of that time. We love to play "Fires At Midnight", but if you listen carefully, you will notice that the tune "Fires At Midnight" resonates well with the tune "Twisted Oak". Both tunes were composed by Alphonse X. Isn't that entertaining?

Exactly.

Ritchie: Do you really think so?

Candice: The story of "Twisted Oak" is about searching within oneself. Even when you are lonely, understanding yourself, calmness in your heart and soul can wash away any dust and tension. This is especially true now, when you cannot visit crowded places and we must spend time alone.

Ritchie: And I like it when there are few people around.

But you wrote this song before the pandemic?

Ritchie: Yes.

"Nature's Light" is the title track of the album.

Ritchie: "Nature's Light" is one of my favorite songs. A magnificent orchestral part, especially this wind riff. I love this riff. He seems to transfer to the Renaissance fair. Here, as in England and Europe, Renaissance fairs are held. I don't know if there is such a thing in Japan...

Probably not.

Ritchie: Yeah. When I go to the fair, I feel such a thrill all the time. You were with us at the Renaissance fair, right?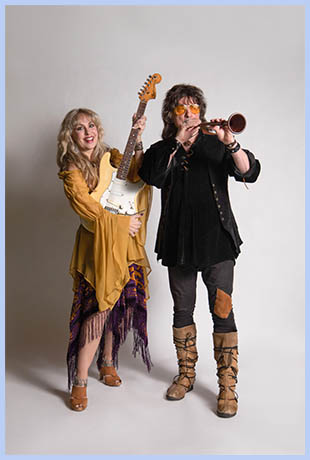 Yes, and I have very pleasant memories.

Ritchie: It changed you forever.

Candice: (Laughs).

Ritchie: When I visit Renaissance fairs, I am always delighted. People come there for the same reason as me. To... drink. Drink mead. Good old mead.

Candice: It is made with honey.

Ritchie: Yes, honey and wine. People who come to the fair seem to be transported 500 years into the past. This is the ideal lifestyle for me. Life was very different five hundred years ago. There was no pandemic... There was a plague, but... This is somewhat similar to what we are experiencing now. But the music, freedom and excitement that reign at these fairs - for this we visit the fairs every year. I am always delighted. Everyone wears suits, everyone experiences something in common and seems to be living a different life. It's like a second life. Or perhaps as a second wife.

Candice: (Laughs) Maybe.

Ritchie: But I like to live two lives, but with one wife. At the fairs, you can practice javelin throwing, taste special dishes based on recipes from five hundred years ago. Of course, there is also a king and a queen, thousands and tens of thousands of people gather together, in Europe and America such events take on a large scale. Nowadays so many people want to enjoy a different way of life, and I really like the way of life of the XVI-XVII centuries. Then life was completely different.

Candice: It was closer to nature.

Ritchie: Yes, that's right. For the first time I heard Renaissance music performed by David Munro and the London Early Music Troupe. As far as I remember, they played the music of Tilman Susato, he was a very famous publisher and performer of such music. He lived in Holland in the 16th century. He mainly used the major scales, or something similar to the major scales, and wrote festive, uplifting music suitable for the arrival of the king and queen in the city. It was this scene that I saw while listening to his music. A very lively scene of a holiday from that era... Candice, what do you see in Susato's music?

Candice: He seems to describe nature.

Ritchie: In other words, the exact opposite of what rap expresses (laughs).

Tell us about the instrumental Der Lettzte Musketier.

Ritchie: Yes, the name translates as "The Last Musketeer".

Candice: From German.

Ritchie: Yes, from German. In 1964 I played in the Three Musketeers band. It was a trio, and surprisingly, we called ourselves The Three Musketeers. Two of the members have already died, so this is my dedication to them. They were good friends of mine. I can say that this was my favorite band of all the bands in which I played. This was in 1964. Nobody pressed us, and we didn't have much success either. We just played, but we enjoyed the music and our performances. They were my best friends. Unfortunately, they are gone. So this is my dedication.

Candice: Now you are the last musketeer.

Ritchie: Yes. I am the last musketeer.

We already talked about Wish You Were Here. Would you like to add something?

Candice: It has always been one of our favorite songs, and audiences in all countries are always asking to play her.

Ritchie: Yes.

Let's talk about the song "Going To The Faire".

Ritchie: Are we going to the fair with him?

Candice: No. He means the song.

Ritchie: Oh, okay.

Candice: Our children are singing in the last part of this song.

Ritchie: This melody was also written by Tilman Susato in the 16th century, we took the whole melody in its entirety. That is, it is not an original melody. Probably, he will soon rise from the grave and begin to sue us. He will say that we are stealing his tunes. If you listen to Tilman Susato's Rondo, you will hear the same melody there.

Tell us about the last song on the album, "Second Element".

Candice: It's a Sarah Brightman song. She was at our concert in Germany, we talked with her about concerts and life in general. I called her husband... not her husband, but her boyfriend, Frank Peterson, asking permission to record this song, because she herself has not sung it for a long time... This is a song from her album from the nineties "Dive".

Ritchie: Yes. It was a long time ago.

Candice: I want to pay special attention to Ritchie's guitar solo in this song. So if they ask me which song to listen to from the album, I will name this one.

Ritchie, what do you say about this?

Ritchie: I'm upset. Candice loves my guitar.

Candice: I love you.

Ritchie: I like the guitar part in Darker Shade Of Black better.

Candice: Really?

Ritchie: Yes. But everything is subjective. Everyone has their favorite games. What I like never coincides with what others like. But... I played a long solo in this song, but when you play in such melodic songs, you have to be careful. You need to strike a balance between melody and improvisation to keep people interested in listening. I could do everything I can with the guitar from the beginning to the end of the song, but that would only be interesting for five guitarists. I want to stay within the melody and speak something through the music. Guitar playing is an extension of the voice. I've always thought so. When I was 17-18 years old, I was obsessed with fast play and tried to impress people. But as I got older, I began to think more of the guitar as an instrument, and I became more mature and thoughtful to improvise and compose riffs to suit the music. Live and learn.

The booklet states that the Blackmore's Night line-up has not changed since the previous album. Did you record the album as a whole?

Ritchie: Most of the music in the studio is recorded by our producer using different synth sounds. Blackmore's Night is a trio of me, Candice and Pat Regan.

Candice: But not on tour.

Ritchie: Yes, not on tour. David Baranovski plays with us on tour...

Candice: Bard David from Larchmont.

Ritchie: Yeah. And... some other participants. Name them?

Name the musicians who took part in the recording of the album besides you and Pat.

Ritchie: Sometimes our violinist played with us.

In the studio?

Ritchie: Yes.

Candice: And the backing vocalists.

Ritchie: Yes, backing vocalists.

Candice: And a cup of coffee.

Ritchie: A cup of coffee... She runs everything... What is the name of this coffee shop?

Starbucks?

Ritchie: Starbucks. Yes, Starbucks. She drives a jeep, very fashionable. She often helped us with vocals. When the vocals are very low on the album, it's a cup of coffee from Starbucks that sings. Have you seen the new jeep? She drives a very fancy jeep.

Did you record the album in 2018 and 2019, that is, other musicians could still come to your studio?

Ritchie: Yes, exactly. But, as I said, of the musicians on our album, only the violinist. She came to our studio.

Candice: Usually Ritchie will come up with the skeleton of the song and write the rough sketch in the studio. He plays all guitars - acoustic and electric, mandola, mandolin, wheeled lyre, nickelharpe... He can play many instruments. And I'm recording vocals. Almost all the backing vocals are mine too. And, of course, I play the wind instruments. Ritchie occasionally plays tambourine, bass and hand drum. So the two of us in the studio are practically replacing the whole group. Pat is a great keyboard player, he records all the keyboards, and he do the drums with Ritchie. And Ritchie can play bass himself, so he doesn't need session musicians for that.

This booklet contains two lovely stories written by your daughter Autumn. Please tell us more about this.

Candice: She sings and writes from a very early age, she improvises all the time and comes up with some stories. She wrote quite a few stories, but since this album is about nature, she decided to add a story about nature. This is a story written from the perspective of a leaf - at the moment when the leaf comes off the tree. This story is called The Last Lonely Leaf. Another story is called "Moths", it is also inspired by nature.

There is also a drawing of your son in the booklet.

Candice: Rory plays drums, draws and dances. So our whole family took part in the making of the album. He found out that his sister wrote two stories for the album, but he himself does not write that way, so he decided to draw something. He painted the sun - at sunset or sunrise. Perfectly conveys a sense of nature. Therefore, we included his drawing in the album. So this is a full-fledged family project.

Who drew the cover of the album?

Ritchie: It was drawn by our friend Joan. We asked many artists to paint the cover for us, but the result came out too professional, and we wanted to get something more innocent and sincere. Our friend drew this version, and we really liked it. I wanted the drawing to look a little amateurish. I didn't want the cover to look like it was painted by a professional. I wanted it to look so that anyone could draw it.

Blackmore's Night has been around for 24 years. What are your most vivid impressions during this time? What does this project mean to you?

Ritchie: For me, this music symbolizes freedom. When we created the project, we thought that about a hundred people would come to our concerts, but gradually the audience increased, and now we play in front of crowds of thousands. It seems that people understand and love this kind of music. It's incredible. When I started playing this music, everyone thought I was crazy. They said that I should play hard rock! But I've been playing hard rock for so long that I'm tired. I am very pleased to be able to perform this music and play hard rock when I am in such a mood. I did some gigs with Rainbow, which is also a good band. But what surprises and pleases me most of all is that people understand what we are doing. Because our music is not at all the same as on the radio or other bands. Most modern bands are either rock or jazz. Few dare to listen to music like ours. But it suits me. For me, this music expresses freedom. And it's not so easy to play it. In the studio, too, it can be difficult to decide which instrument works best - a shalme, a mandola or something else. In rock, it's easier to decide what and how to play, because there is always guitar, bass, drums and keys. I mean straight rock. But over our music we have to think and scratch our heads - what to use where and how best to approach the songs. This is a definite challenge and I really like it.

Which album can you name your favorite?

Ritchie: I think our Christmas album, which we already talked about. What about you, Candy?

Candice: It's very difficult to choose... Maybe Secret Voyage.

Ritchie: Yes, Secret Voyage is also a good album.

Candice: I think all albums are equally important. And, of course, we shouldn't forget the last album.

Ritchie: Right.

Candice: If you choose, I'll name "Secret Voyage" and "Nature's Light".

Ritchie: Yes. Nice album.

Until the pandemic passes, the situation with concerts will remain difficult. Do you have any plans for Blackmore's Night concerts in 2021?

Ritchie: Everything will depend on what the government allows us. It seems to me that there are many false stories about this infection now. Hopefully the truth will be revealed and the bands will be allowed to perform again.

Nowadays, many bands give concerts online. Last year you also gave two such performances. Do you plan to repeat that?

Candice: Yes, the first time we did such a concert, when the pandemic had just started, and then we also performed on the Long Island TV station "News 12 Long Island", we were watched all over the world. We are negotiating with agents. We are not very technical, but we are currently looking for ways to connect with other members of the group. The first two concerts Ritchie and I played together on acoustics, it was great, we accepted applications from the audience. But now Ritchie wants to do a concert with a full-fledged band. But of course that's pretty...

Ritchie: We are afraid.

Candice: Of course, this is difficult, because now it is not allowed to get together. So now we are looking for an opportunity to connect with our musicians remotely.

Ritchie, if not for the pandemic, would there have been Rainbow concerts last year?

Ritchie: At that time, I was happy with what I was doing within this group. I performed almost everywhere I wanted to. Sweden, Finland, England, Germany, Spain... There was also the Czech Republic. We could go anywhere. Of course, if Japan were closer, we would fly to Japan. Long flights are very difficult for me. Before every Rainbow show, I had to get an injection in the back. I have problems with my back and legs. With Blackmore's Night, this is not a problem, because most of the time I play sitting on a stool. But in Rainbow, where I play standing with a heavy guitar on my shoulder, I have to have a shot before going on stage. It's strange, but for me this is the only way to play hard rock.

Do you plan to perform with Rainbow again in the future?

Ritchie: I'm not seriously thinking about anything. Let it be a surprise. I live day by day. And I'm not planning anything. It pisses me off a lot, but I don't like to plan ahead. And considering all this nonsense that is happening with Covid now, I don't think at all that groups will be able to perform normally. At least that's how it looks at the moment. We need to do something about it... I don't know what.

Any plans to record new material with Rainbow?

Ritchie: I don't really like this idea. This would be a return to what I have already done. And I prefer to move into the future. I like to move into the future playing 16th century music (laughs).

Please pass on something to your fans in Japan.

Candice: Don't forget that the new album will also be released on vinyl! It will be a beautiful edition on gold vinyl - the color of the bright sun. It's great that vinyl has become popular again. There's no substitute for this warm sound.

Ritchie: I like to wipe the surface of vinyl records.

Candice: Of course, hello to all our fans in Japan! Thanks for your eternal support. Hope to see you again someday. During a pandemic, we cannot see each other live, but you can still play your favorite songs and watch live broadcasts.

Ritchie: Yes, that's right. I completely agree.

Thank you for the interview!

Ritchie: Yes, and thank you.

Candice: Thank you!

© BURRN, Japan - April 2021 issue