Ritchie Blackmore

Metal Mania Interview



Since Ritchie Blackmore unveiled his first Rainbow back in 1976 fans have never witnessed the same line-up on consecutive tours. Yet the man in Black's popularity has hardly diminished over the years and he is currently enjoying the most successful phase of his career Rainbow have gone from strength to strength and this year scored a direct winner with their 'Difficult To Cure' album, from which the hit singles "I surrender' and 'Can't happen here' emerged. In July the band completed a sell-out British tour, blowing up quite a storm wherever they played.



The 1981 Rainbow features two American recruits. Singer Joe Lynn Turner has a great voice and, though his predecessor Graham Bonnet could not he faulted technically, seems better suited as frontman. Cozy Powell is one of the finest drummers on planet earth and many felt that when he left Rainbow after last year's Castle Donnington festival the end of the band was close at hand. However, Ritchie Blackmore has found a more than competent replacement in Bobby Rondinelli.

After one of the London shows I caught up with Ritchie back at his hotel where we chatted over a few drinks. That night I noticed he hadn't smashed his guitar, a ritual which often signifies that he isn't one hundred per cent satisfied. Clearly this was the case.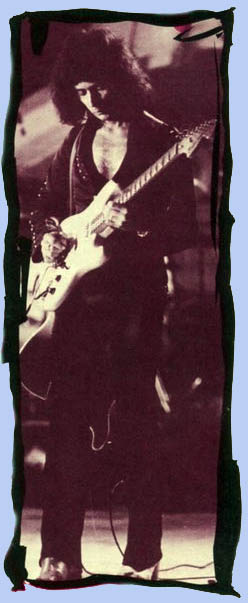 Ritchie Blackmore: London is always a very strange place to play because the people are so hard to please: After being in this business for twenty years or so you get to know what an audience wants and tonight I could feel that the crowd wasn't there to get involved.

They were there to watch, and while I was playing I could sense that they were slightly removed. There seemed to be a strain between the audience as far as Joe and Bobby were concerned. I imagine a lot of people were asking themselves how Bobby would compare to Cozy, and with Joe being a very American frontman I knew that the kids were a bit reserved.

But I believe in the band and that's all that matter. Even if a whole audience doesn't like them, I still do, and I know that as time goes by the fans will accept them. I'm not being concerned, it's just that Joe and Bobby are very good at what they do.

Joe's voice seems to have added an even stronger commercial element to the band. Would you agree?

Definitely, and I'm not ashame of being commercial. People have accused us of selling out but with his voice I believe that Rainbow is a very commercial group. He writes that way and I can always knock out a commercial riff I like to hear myself on the radio or on TV - who doesn't?

What's more I particularly like 'I surrender'. People knocked us for recording another Russ Ballard song but I feel that we were justified. The singing is superb, the drum sound is great and I was very pleased with my guitar playing.

You've clearly developed a taste for good commercial rock — are there any other forms of music that particularly appeal to you?

I get very excited when I hear Indian music. I love the overall orchestration you can get with violins playing in unison. It's certainly not very commercial and many people might not be into it, but done in the right surroundings and at the right tempo it could be acceptable. But as Pete Townsend of the Who once said "It's no good progressing unless you take the audience with you."

Is that something you might do on a solo album then?

To be totally honest I'm not really into solo albums. It would be very easy for me to do my own album but what would I achieve? Rainbow is more or less a solo thing as far as I'm concerned anyway, I like playing heavy riffs and like working with a singer who can project. I've only come up with two instrumentals in the past three years and I'm very proud of them. But if I were asked to put eight instrumentals on an album half of them would be rubbish. I could do it but no headbangers would relate to it, I have a lot of melodies stored up in me but they're very off the wall and wouldn't be for the market I've got at the moment.

Most of them are very slow and miserable — but that's me. I'm a misery and proud of it really! I like to have a laugh but quite often I have to be really down before I can start to laugh. I can't stand being in situations where everybody's trying to be happy.

What sort of music do you tend to listen to at home?

I still listen to a great deal of classical music and I'm getting into far more Indian forms. That's the type of music that moves me because I find it very dramatic singers, violinists and organists are generally the musicians I enjoy listening to most of all. I can't stand guitarists.

Although you say you can't stand them, which guitarists do you admire?

There aren't that many. Jeff Beck's an obvious choice because he s still very consistent. He may only bring out an album every two years but when he does they're always good. I suppose you could say I'm more into the old school of guitar players simply because I haven't heard many new ones I particularly admire.

Which of the new generation of guitarists have impressed you?

Edward Van Halen is very good, although he tends to be rather erratic. He reminds me of Chopin because he's so unorthodox and whenever a solo spot comes up be goes absolutely crazy. He comes out with some incredible runs and great use of harmonics but his solos tend to have very little to do with the actual songs. Mind you, with someone like David Lee Roth singing there's not much of a song anyway, I suppose the reason Van Halen goes crazy is because he's frustrated. But you can't put him down because he plays so well.

The only other guitarist who comes to mind is Michael Schenker. He has some great melodies in his head. Some of his playing on that last LP was very good and reminded me of Jan Akkerman (Focus) but at half tempo. Schenker's got the melodies though which is important. I've noticed that these days very few people are coming up with good melodies and that's why there a so few songs. Abba can do it and in fact when I went to Mexico earlier this year all I listened to were to Abba tapes. That must mean something, maybe I'm getting old.


© Steve Gett, Metal Mania Magazine 1981