Ritchie Blackmore

Most things I do is rubbish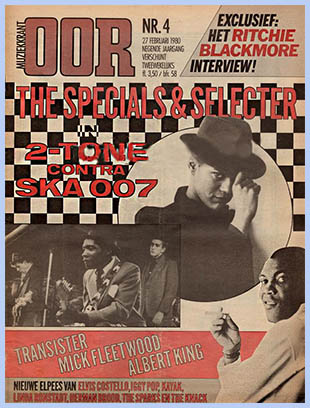 If someone is known in pop music as a difficult boy, it is Richard Blackmore, formerly guitarist in one of the most legendary hard rock groups, Deep Purple, and has been working with his own group Rainbow for about five years now. When Ritchie is in the news, it often concerns changes in the line-up of his group or problems with the press, other musicians or people from the record business. Is he really such a troublemaker, or does he perhaps set high standards for the people he works with? The fact is that Ritchie Blackmore at least does exactly what he likes and doesn't care much about others. It often happens that he travels alone during tours and sometimes even stays in a different hotel than the rest of his group. And it also seems that these habits are contagious, because when Rainbow was recently in the Netherlands for two gigs, the men all arrived in their own, very expensive Mercedes. But maybe that's Blackmore's condition to keep Rainbow going.

During the visit to the Netherlands, Ritchie Blackmore appeared to be in an excellent mood. That was nice, because as he had announced in advance, there would be no interviews during the European tour and if I wanted to have a chance, to let him change his mind, then a good mood would be it. And when I approached the master at a short chosen moment with the request for an interview, he immediately said that it was no problem at all. I didn't expect that either.

- The most burning question that keeps fans busy is why so many staff changes are taking place within Rainbow.

I can understand that and I think it's best to explain it. For that I have to tell something about myself first, otherwise it might still be misinterpreted. The fact that I am involved in music is sometimes very difficult for me personally to accept. It often confuses me. I don't know about what I'm doing, that's what I actually WANT to do. I play guitar in a hard rock group and I try to do that as well as possible, but I often doubt whether I should really not be doing something else.

And when I am convinced that what I am doing is good, I am often plagued by the question whether I am doing well enough, in short, in the field of music I am very sensitive to moods and as a result sometimes unpredictable in my behavior. It's a kind of schizophrenia: there are constantly two completely different opinions in my head, which is often very difficult for the people around me. I set the group requirements and these must be met. It is a pity that I have worn out quite a lot of people so far, but that could not be otherwise. I expected that they work hard and that every member will make the best possible contribution.

- How has your state of mind generally been since the LP Down To Earth?

Contrary to, for example, the LP Rainbow Rising, I didn't want to prove what I can do on the guitar, but rather make a record with the emphasis on the songs. There are few solos on it and I certainly didn't try my best to play guitar really well or anything. Recording this album was also so problematic, because we had no singer and no bass player. It was very difficult to keep the group together because we were just sitting there in that castle in France and nothing happened. We tried to write songs, but because we didn't know who would be the singer, it was very difficult. For weeks we did nothing but billiards, table tennis and drink all day. Cozy was sometimes for days under his car and I tried to immerse myself in the history of the castle, but nothing came out of our hands. We did let singers and bass players come by for an audition, but that always yielded nothing and that certainly did not benefit the atmosphere. In the end, we used Roger as bass player and recorded almost all the basic tracks, because staying there cost 4000 guilders a day and it was clear that something had to be done.

In fact, the singer's problem became so big that we started drawing pictures of what our new singer should look like. And one morning when I came downstairs, I told the boy in the kitchen that I wanted my eggs soft boiled today, with toast and orange juice, and that boy stammered that he was the new singer, the thirty-fifth or so. Anyway, through a tape with 'Only One Woman' from The Marbles we found Graham and he was our rescue. In hindsight it is a wonder that another record and the band have emerged from that mess.




DRUNK



- For what reason was Graham so suited to Rainbow?

We had set up an ingenious test. The boys who came to audition had to rehearse the song Mistreated beforehand. Usually they didn't get any further, but when they made it to the end, our trump card was the song 'Eyes Of The World', because in it the singer had to sing two octaves. And Graham had no problem with that at all.

- Then the LP was recorded and you went to America for a tour. Wasn't that a problem for Graham, who hadn't been on stage for years?

I don't know because I was completely drunk, hahaha. No, that went very well. During the recording in the studio I had noticed that he would do very well on stage. But because America has always been very difficult for Rainbow and we now arrived with a new line-up as well, I was very nervous and had too much to drink.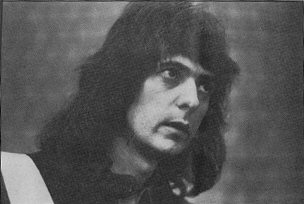 - Can you play well then?

Yes, absolutely; I play even better. That has to do with those two Ritchie Blackmore's in my head: one is completely drunk, but the other knows exactly what he is doing. I'm really not telling you nonsense, because when I'm talking to someone, I involuntarily always listen to other conversations that are going on around me. I just can't help that; it's probably because I'm incredibly suspicious.

- Did you got that from home or did you become that way through damage and shame?

It's the music business; so many crooks walk around here that I hardly trust anyone anymore. That's why they don't think I'm such a nice guy, but it's their own fault because if you're not quite careful in this business, you'll get screwed right in front of you. I have experienced that over the years.

- Rainbow's oeuvre could be divided into two categories: on the one hand the very heavy and very instrumental "Rainbow Rising" like part, on the other hand the part where the emphasis is more on the songs, such as "Down To Earth" and "Long Live Rock & Roll". The group of fans also seems to be so divided. What do you think of that yourself?

I have noticed that in the last three years we have gained a lot more fans, who like Rainbow for the more melodic songs and I found that quite remarkable. Look, I was extremely satisfied with the "Rainbow Rising" album at the time, because I thought it was definitely the best thing I had ever done. But on the other hand it frustrated me all the more, because that record was not played on the radio at all. Especially the song 'Stargazer' is perfect for my taste in all respects, but because it lasts longer than three minutes and because there is no sing-along chorus in it, it is not suitable for radio. Those standards are so entrenched that you cannot change them and so I had to change the course of Rainbow somewhat within the limits of my personal taste. Because I want Rainbow to be on the radio too; it results in increased record sales and that is a kind of tangible recognition for me and I just need it. That challenge became a matter of prestige for me.




COMMERCIAL



- That's why you recorded the somewhat commercial 'Since You Been Gone' on "Down To Earth"?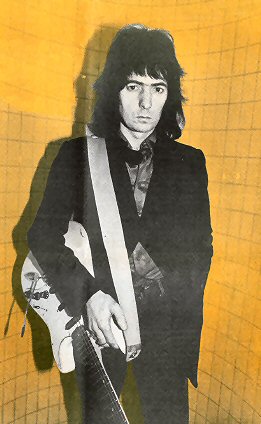 Yes, that was a conscious single choice. My manager suddenly came up with it and I thought it was an excellent song for us to release as a single. I've never heard the original by Russ Ballard; the tape my manager brought with him said it in Clout's performance. Much later I also heard it from Head East, but I don't think that's a good version. Actually, we had tried it with 'Long Live Rock & Roll', but with that song we also had in the back of the mind that it could become a kind of Rainbow anthem song and I believe we succeeded.

- The success in America now seems to finally come, but it took a while. Do you have any idea why that is?

If you want to do things right in America, you have to tour there for at least eight months a year, otherwise it won't work. But that is impossible for Rainbow, because we are particularly popular in Europe and Japan and would like to perform there. The other way to make it in America is a single hit, as I said, and that's what we now owe our success to, because 'Since You Been Gone' has become a big hit.

- So is America so important to you?

Yes, precisely because it is so difficult for the music that Rainbow makes it is hard to be succesful. It is that challenge that I spoke about earlier. The only band that plays roughly the same genre and has a lot of success is Van Halen. In America they want hard rock, but in the style of Foreigner and Boston, very polished and smooth. They find things like Stargazer and Gates Of Babylon way too rough there. They have often put pressure on me from America to make more commercial music and there have been times when I wanted to give in to that, but the real fans are begging me not to go commercial and make more records like "Rainbow Rising". That confuses me terribly. It would be best to take some kind of middle road, but I often even doubt that, hahaha.

- You were talking about Van Halen. Do you think that's a good group?

I really like Eddie van Halen, the guitarist. He has a lot of talent and great ideas and I hope he doesn't ruin his life with overuse of drugs, because he tends to do that; in many ways he reminds me of Tommy Bolin, who died because he went through far too much in far too short a time. I hope Eddie keeps his wits about it a little bit. I find Van Halen's music rather difficult to listen to, because I don't like the singer. He does make a show on stage that resonates well with the audience, but that's not my cup of tea. I saw them perform before they were known, at a small club in Hollywood, but then I didn't like it much; I didn't even notice the guitarist then and I left before the end.

- Why did you actually ask Roger Glover for Rainbow? Weren't you the one who kicked Roger out of Deep Purple at the time?

Yes, I did. How do you know that?

- I read that once in an interview.

I did tell a journalist once, although I didn't intend to. But hey, it is true. When Ian Gillen left Deep Purple, I wanted to put things in order and let the group make a kind of fresh start. David Coverdale then joined, but that didn't seem enough to me; I was under the impression that the tension was not just Gillan, but Roger as well, and then I told the other guys that I would get out too unless they fire Roger. I had already made plans to start a trio with Phil Lynott from Thin Lizzy and Ian Paice, but they fired Roger and I stayed. I am a terrible hypocrite, because last year I asked him to produce "Down To Earth".

We then talked about that affair a few times and settled the matter. I am very grateful to him for that. It was also the first time I heard that he had been much more angry with Jon Lord and Ian Paice than with me, because he got along really well with those two guys and didn't understand when his friends listened to ME and dropped HIM. Later I noticed that the tensions were not caused by Roger at all and I was very sorry for what I had done. Actually, Roger and I were the hardest workers in Deep Purple, but I realized that too late. I was also mistaken in that new start, because Coverdale and Glenn Hughes went well for a while, but the end was soon in sight for me. I still think an album like "Burn" is good, but "Stormbringer" is a piece put together under heavy pressure by five ego trippers. I think a song like 'Hold On' is horrible. Deep Purple was no longer a group, but a collection of five stubborn individuals. No one was willing to make even one concession to another, and it gradually became a mess. The others also wanted to play soul-like rock and I definitely didn't want that and then I quit to start my own group.

- Then you continued with the group Elf.

That's right. I knew them because they often did the support act for Deep Purple and I thought Ronnie Dio was an excellent singer. When I was still in Deep Purple, I had already been in the studio with them to record the song 'Black Sheep Of The Family'; that song was written by the group Quatermass in 1970 and I always wanted to record it, but in Deep Purple it kept getting rejected. So when I needed a band, it automatically became Elf. It was only after I had recorded the first LP, "Ritchie Blackmores Rainbow", that I fired everyone except Ronnie and started looking for better musicians. And I'll never be done with that, I'm afraid.




MURDERER



- Are you still interested in medieval music?

Yes, but not as fanatic as a few years ago. Nowadays I also immerse myself in classical music and especially the violin has my special attention. When I had to do the solo for 'Gates Of Babylon', I wrote the accompaniment part entirely for violins. With those schedules in front of me I played that solo and it went so well, that particular solo is the very best I have ever played. But we were talking about medieval music: I especially became very interested in the whole of life at that time. That fascinates me enormously.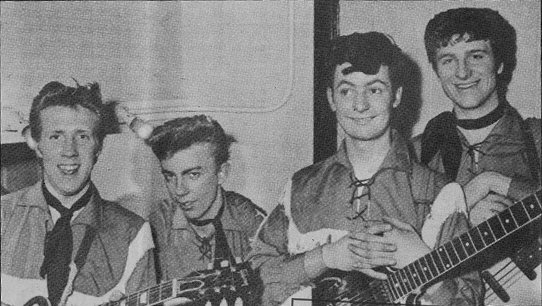 - Would you like to have lived in that time?

I lived in that time. Between 1450 and 1550 I played the lute at the Russian court. How do I know?

I often do sťances to talk to people of the time and friends of mine who wanted to do that at some point have discovered it for me. The only bad thing is that during that time I also killed a few people and since those friends know that they have become a lot more careful with me.

- Do you listen to other hard rock groups at home?

No, hardly ever. I sometimes hear something on the radio, but at home I only play classical music. I also play Abba often, because I think that's a perfect pop group. That music is so well composed that it is pretty much the best for me in the pop area. But in fact only classical music has any value to me, because compared to that, my own music is mostly rubbish. A few things can go on with it, but compared to some classical music most of what I do is just a waste of time.

- Name a few things from your musical career that can go on.

I like 'Highway Star', most of the LP "Machine Head", some songs from "In Rock", 'Catch The Rainbow'... um, I like 'Mary Long' too, and of course 'Stargazer' and 'Gates Of Babylon'. And also a new song that we just recorded for the b-side of 'All Night Long', 'Weissheim'. It is an instrumental track and I am very satisfied with it. But that's about it; the rest is in fact not worth it. It is actually not good at all that music is recorded on records. They are those snapshots that you later think you should have done very differently. I think the fact that records are made is the biggest obstacle to the development of rock music.


© Kees Baars, Muziekkrant Oor no 4 - February 27, 1980
Photos Ritchie Blackmore 1980: © Kees Tabak