Ritchie Blackmore

I like Heino, Schlager and the Bundesliga



With Deep Purple he invented hard rock. A conversation with guitarist Ritchie Blackmore about his comeback, the Hamburg lifestyle and the grief for a deceased friend.

There are dozens of stories that tell of the eccentricity of Ritchie Blackmore. From hundreds of destroyed guitars, groupies, quarrels with his band mates from Deep Purple - and chords for eternity: "Smoke On The Water", "Child In Time" or "Black Night". When Deep Purple launched a new live album in the late 1980s, the world press was loaded onto a castle near Darmstadt.

Blackmore, a fan of castles, the Middle Ages and Germany, wanted it that way. And he wanted a dress code. Everyone, musicians, record managers and journalists, had to dress in medieval jerkins and hats with feathers. There was a knight tournament, archery and beer from horns. In the end, some musicians were so drunk that they dropped their pants. Decadent times, a lot of money was made in the record industry back then.




After playing exclusively Renaissance music with his group Blackmore's Night for the past 20 years, Blackmore will give two concerts in Germany with his band Rainbow. This man has never enjoyed giving interviews. We reach him on the phone in his house on Long Island, children's laughter in the background.

Die Welt: Have you ever watched one of these lessons on YouTube where guitar teachers show you how to play Deep Purple or Rainbow songs?

Ritchie Blackmore: No. I mean, I composed these songs. There's no reason for me to look at that.

Die Welt: You are not a bit curious whether the YouTube generation can do this properly?

Blackmore: No. If they played my riffs wrong, I would only say, "That is not true." And if they played it correctly, I would only say: "Exactly the same and not otherwise." You know, I am not particularly interested in all these digital channels . I don't have a smartphone. Just an iPad. And only because friends gave it to me. When I watch something on my iPad on YouTube, it's all the medieval bands that I love, from Sweden, the Czech Republic, especially Germany.

Die Welt: The man who once wrote the anthem "Long Live Rock'n'Roll" no longer listen to rock?

Blackmore: Not often. And also not what else is played on the radio. I have no idea what is going on today, my wife tells me every now and then. When I hear something, it is good Renaissance music.

Die Welt: You always had strong ties to Germany, were married twice to a German, recorded albums here and a preference for German castles. Where does it come from?

Blackmore: I lived in Hamburg for a long time in the 1960s, first in the area around St. Pauli, then on the Alster. I like the food, the architecture, the "way of life". For me, Hamburg is the most picturesque city in the world. When I first got there, I found the city excitingly different from England. Germany had more edges. It also has to do with the fact that Bach, Beethoven and all these brilliant musicians come from your country. I always felt at home in Germany. If Deep Purple hadn't started in London at the end of the 1960s, I would probably still be living in Hamburg today. Probably as an unknown musician. I still remember exactly how I flew from Hamburg to London. Keyboarder Jon Lord and I put the band together there. In a snow storm in February.

Die Welt: Do you still speak German?

Blackmore: It always takes a while before I can speak it again. But when I am in Germany with my group Blackmore's Night for a month, I understand most of what I hear. I like it when people who speak German around me think I can't understand them. I am also connected to Germany from Long Island, where I have been living for a long time. I receive four German TV channels there. Watch Bundesliga. However, I noticed that German television has become very Americanized. That bothers me because I like Germany because of its traditions.

Die Welt: What are they for you?

Blackmore: In addition to the Renaissance music, it is especially popular.

Die Welt: Seriously?

Blackmore: I know that the genre is not very respected in Germany. For me, hits are part of a typical German tradition. I find this music very innocent compared to ... let's say hip-hop. I would like to invent a cure for hip hop. I find hip-hop very irritating, annoying. Pop music is very simple, but also innocent and straightforward. I think, that's how music should be, in a way.

Die Welt: Which German pop musicians do you remember?

Blackmore: I remember the old days, 1963, 1964. Drafi Deutscher, Rex Gildo, Roy Black, Peter Alexander, not to forget Heino. (laughs)

Die Welt: Blackmore heard Heino - I don't believe it.

Blackmore: I know that always irritates Germans: "You don't listen to this dirt!" - "Yes," I say, "that's exactly what I do." Schlager is different, light music, you have to don't think too much.

Die Welt: You have played medieval music for the past 20 years. Your announcement that there would be two concerts with a new Rainbow line-up in June was a surprise. You cited nostalgic swellings and your arthritis as reasons. Was that English humor?

Blackmore: No, that's right, unfortunately. My arthritis is noticeable. I now had to have one of my fingers operated on. And nostalgia is important to me. First of all, these two concerts will be great fun. My wife Candice had made me aware of this new singer Ronnie Romero - by the way on YouTube. "Wow," I thought, "it sounds exciting." That gave me the idea of playing the old Rainbow and Deep Purple songs live again. Only one thing I didn't want: to play the old songs with old musician colleagues from back then.

Die Welt: Why not? You just criticized age discrimination.

Blackmore: That's not the point. I had played with all of these musicians in all the years before. That would have been the old men club again. The old habits. It was the voice of the new singer that really motivated me again.

Die Welt: You changed the musicians at Rainbow earlier than others underwear. One of them, singer Joe Lynn Turner, attacked you sharply in a radio interview recently. Originally, he was in discussion for the Rainbow Reunion. And then he wouldn't have heard from you again. What do you think?

Blackmore: I wanted to keep the ball flat with these concerts. Joe can be a nice guy, sometimes he gets angry. But I wanted to concentrate on the Rainbow songs from the years with our singer Ronnie James Dio at the concerts in the summer.

Die Welt: For many, Dio is the best Rainbow singer, he died of cancer in 2010.

Blackmore: Yes, his voice had incredible power. It was harder rock than what Rainbow had played with Turner. I don't know what Joe said in this interview. I thought he had moved to Russia. He announced that at least once in an interview: he hated America and wanted to move to Russia because he had a girlfriend there. But I still hear that he still lives in America. In the end, such statements always have something to do with money.

Die Welt: Your colleague Jon Lord died in 2012, with whom you wrote Deep Purple classics such as "Child In Time" or "Smoke On The Water". Did his death also play a role in your decision to perform again with a rock band?

Blackmore: That was definitely the case. We all are getting older. Who knows who dies next. And that includes me - hahaha.

Die Welt: Jon Lord said in an interview in 2009 that he would like to compose with you again. Has it happened yet?

Blackmore: Unfortunately, no. We had regular contact in the years before his death. He was the only one from Deep Purple I still met. Jon was a gentleman. He always said: No matter what quarrels used to be, let's just be together and talk. In fact, he once said that we should write a few songs together. Didn't work anymore, he was on tour, me too. He died suddenly. It was a shock to me. I knew he had cancer. But at last I thought he would be better. In memory of Jon I wrote this instrumental song, "Carry on, Jon". However, it is very difficult for me to play this song on stage. I am often overwhelmed by emotions. That's why I don't play it live. It sounds a lot like Jon.

Die Welt: Deep Purple are now back in the headlines: On April 8, the band with all its members from different lineups in New York is to be honored in the Rock and Roll Hall of Fame. And you of all people, who shaped the sound of this group, don't want to come because the manager of the current line-up has forbidden you to perform with the rest of the band. Does this joke never really stop for you?

Blackmore: I had indicated that I was thinking about coming to the award. Then the band politics came into play again. I'm not blaming that on the current band myself.

Die Welt: So your former colleagues, singer Ian Gillan, bass player Roger Glover and drummer Ian Paice, who continue as Deep Purple with guitarist Steve Morse and keyboardist Don Airey.

Blackmore: Yes, they have been playing together in this line-up for years. I was excited by the reaction of manager Bruce Payne, who simply said "no" to me. "No", you are not allowed to play.

Die Welt: The head of the Hall Of Fame tried to convey: All former members of the band were invited and honored, the current band would perform live. Still not coming?

Blackmore: No. Who the hell is Bruce Payne saying "no" to me? I just stay at home.

Die Welt: You are considered an eternal eccentric, the "bad guy" from Deep Purple. On the new DVD documentary "The Ritchie Blackmore Story" you will also get to know you from another side. Musicians like Gene Simmons from Kiss and Ian Anderson from Jethro Tull bow to you. Queen guitarist Brian May says: "It is inexplicable to me that people no longer talk about Ritchie, he was one of the great pioneers, even before Hendrix." You know why colleagues praise you so much, but the critics have almost forgotten you ?

Blackmore: No. I don't care what people think of me. What is important is what I think of myself. When I'm happy with my music, I'm fine. If I'm dissatisfied with the music, I'm pissed off, no matter what others say.

Die Welt: So you're a male diva after all?

Blackmore: No, it's not an ego thing.

Die Welt: What then?

Blackmore: The point is that I have to control myself in which direction I go.

Die Welt: The documentary also shows one of your legendary loss of control: when you destroy two guitars and a TV camera in front of 300,000 spectators at the California Jam and then are almost swept off the stage by the blast of an explosion...

Blackmore: Yes, that was a moment of luck. My roadie had poured gasoline over the amplifiers on my instructions. I was pissed because we were only supposed to go on stage at 9 p.m., assured by contract: at dusk, with a full light show. The organizers then pushed us to our performance early in the evening when it was still light. The rest of the band said: Come on, let's go on stage. But I didn't want to - because it wasn't agreed. So I locked myself in the dressing room until it was dark. Then I went on stage with a lot of anger and destroyed my guitar. Believe me, it takes a lot of talent to disassemble a guitar. Then I set it on fire and threw it into the prepared amplifier. As it turned out, the roadie had poured too much gasoline over it. There wasn't just a fire, there was an explosion. The pressure wave had blown the glasses off our drummer Ian Paice's face. But looked great. Nothing happened, except that there was a hole in the stage.

Die Welt: Are you still looking at something like this today?

Blackmore: No. I was there. In summer you shouldn't expect me to run around big on stage. I just want to keep playing, move on the road - a little bit more.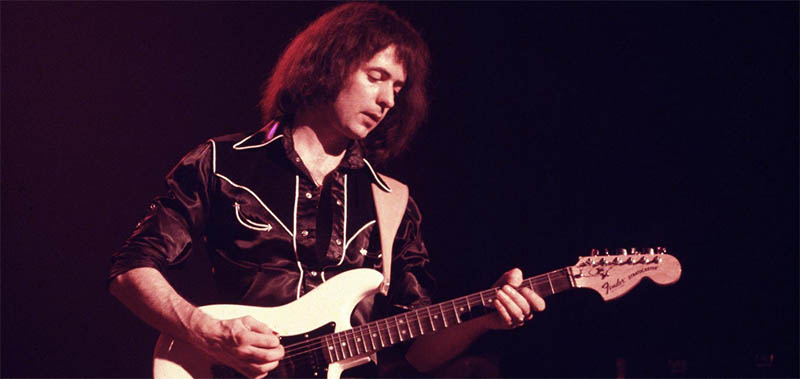 Ritchie Blackmore: Guitar God

Richard Hugh Blackmore was born on April 14, 1945 in Weston-super-Mare, England. When he was eleven years old, his father bought him his first guitar. In the 1960s he played as a session musician before founding Deep Purple in 1968 with keyboardist Jon Lord, who later had worldwide success with songs such as "Smoke On The Water" or "Highway Star".

After numerous changes, Blackmore left the band in 1975 and founded the hard rock band Rainbow, which performed songs like "Man On The Silver Mountain" or "Since You've Been Gone". Twice, in 1984 and 1993, Blackmore was persuaded to go Deep Purple. In 1997 he founded the Renaissance group "Blackmore's Night" with the singer Candice Night, who later became his fourth wife, with whom he regularly performed in German castles.

In summer he comes to Germany with a new formation from Rainbow for two concerts - on June 17th to the Loreley, on June 18th to Bietigheim. The DVD documentary "The Ritchie Blackmore Story" has just been released, on April 22nd a DVD-CD box of the legendary Rainbow concert "Monsters Of Rock - Live At Donnington 1980" (both Edel Germany) will follow.


© Martin Scholz, Die Welt, Germany - April 5, 2016