Ritchie Blackmore

Play Minstrell Play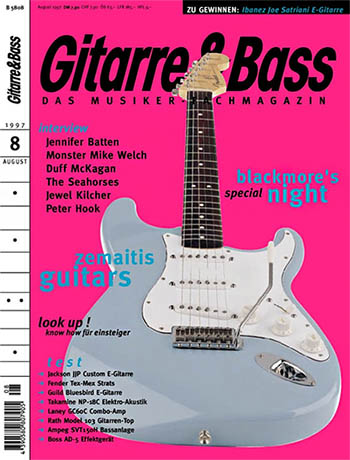 Who would have believed for a few years that rock star Ritchie Blackmore, the old master of the Stratocaster, release an acoustic album? And with Renaissance_songs?

But that is unusual at first glance seeming step is with more precise of Blackmore's biography not so inexplicable. The ex-Deep Purple guitarist with the black image is interested for a long time in medieval myths, has a spoken soft spot for German castles, historic knight games and loves the music of Bach, Beethoven and Haydn. With his new album 'Shadow Of The Moon' master Blackmore fulfilled a wish.

From rock 'n' roll to Minnemusic. No, Ritchie Blackmore doesn't have a new band. But a new love. Along with his partner Candice Night he has a puristic acoustic album with medieval music, sometimes authentic, sometimes modeled, recorded. No wonder, that Blackmore in the face of the long-awaited realization of this project is in a good mood. Then Ian Anderson wonders, Jethro-Tull veteran and guest star on 'Shadow Of The Moon': "Ritchie has that reputation, supposedly to be a real monster. Whenever I mentioned the name Blackmore to journalists, they literally crossed themselves. Maybe Candice has charmed the black man? " As with the last interview when he stayed in the Eisenach Wartburg (see Gitarre & Bass 12/95) Ritchie Blackmore is between noble walls, this time in Schloss Heiligenstedten near Itzehoe. Just the right ambience for a minstrell musician ...

G&B: Now you've finished the album you told me about last time. So your dream is reality now....

Blackmore: Yes, exactly. From this album I've been dreaming for more than twenty years. And it was a lot more relaxed than I originally thought because it was a whole natural process. I have this process planned for a very long time because I wanted to do nothing wrong. I also could not just say goodbye to Rainbow and record a medieval album. Now was the time because I've took a pause of a year with the band.

G&B: Commercially, this album is safe... or not?

Blackmore: To hell with it. We know, that it is non-commercial even if we have a couple of "modern" moments on the album have without ruining the mood. At first it should be a pure renaissance album but then we have a few ballads built in to make it people a little easier. But we try completely to keep out of business stuff. Which is not entirely easy, because your record label wonders of course how best to market it. For them it is a product. For us it is love.

G&B: Your partner Candice was already singing the backings on the last rainbow album, this time she sings the lead voice...

Blackmore: I didn't know she could sing that well. When I got off the tour at home, I played one night a few Renaissance pieces and she started to sing. It sounded really good. I told her about the concept of this album, played other pieces, and her singing fitted wonderfull.

G&B: She also has written the lyrics for the songs. Do you still don't listen to the lyrics? Do you still suffer from that Ian Gillan syndrome, or has it changed now?

Blackmore: (laughs) Usually I never care about the lyrics. The reason why I am now listen very carefully is because Candice now hits me on the head, though I'm not listening! (laughs) Her lyrics are pretty interesting because she has a sense to interpret the moods of the melodies and put them into magical words.

G&B: As always, it's about keywords like Magic, Shadows, Gipsy or Moon...

Blackmore: It's a lot about imaginary things, a lot of mystical references. Most of the texts you hear on the radio today are only about stereotypical relationships - boy meets girl and they are loving each other. That bores me.

G&B: On the cover you are both dressed in medieval clothes. Authenticity was the goal?

Blackmore: We don't do this as a fashion-gag. We really play like that at home. That's why we love to come to Germany, visit old castles and look at medieval festivals.

G&B: This resulted in a song like 'Memmingen'?

Blackmore: Yes. We were last year in Memmingen, atn a medieval City festival where thousands of people dressed so. There were bonfires burning everywhere and everyone celebrated. It was absolutely fantastic. I then wrote this instrumental.

G&B: After all these years with Deep Purple and Rainbow it is quite unfamiliar to listen to Ritchie Blackmore songs in waltz tempo.

Blackmore: If you remember - even then with Ronnie James Dio on the we had our first Rainbow album, 'Self Portrait' a song in 3/4 time. Sure, in the Renaissance music was 3/4 a very common time signature, you can work excellently with syncope. The worst rhythm for me is an equal shaped Chuck Berry, Johnny Be Goode Beat. Absolutely horrible! You can do that fiddle quickly. Everything else makes no sense. I think straight 4/4 is terribly boring. And rock 'n' roll songs like 'Roll Over Beethoven' makes me crazy.

G&B: A song like 'Mond Tanz' is oriented strongly to Renaissance structures, in the third verse you play a small oriental phrase. Is that the freedom of the writer, or knew the musicians of the 15th Century also oriental scales?

Blackmore: There were European courtyards since 1200 AD that have certainly got a great influence from the East and Egypt, there were Moorish influences in Spain widespread. To the Renaissance, around 1500, these scales were well known.

G&B: Some of your pieces are from contemporary composers like Tielman Susato. You wrote other songs or just completed them?

Blackmore: Exactly. 'The Clock Ticks On' is based on a melody by Susato that I arranged together with the harmonies (the German national anthem) by Hoffmann von Fallersleben. The melody I've always liked. Just not the text (smiles), 'Play Minstrel Play' is based on a theme by Piere Attaignants, composer of the French Renaissance. 'Magical World, on the other hand, is a very old English Christmas carol, 'Writing On The Wall' is based on Tchaikowski's Swan Lake. 'Renaissance Faire' contains another theme by Susato and 'Greensleeves' is another traditional.

G&B: By the way: how many 'Greensleeves' version have you done?

Blackmore: I thought the world needed urgently another version, finally there are only about four million interpretations. Well, Greensleeves is a very special song for me. I heard it when I was nine for the first time at a school performance. I had the strange feeling that this melody was strangely familiar to me as if I had that heard already a long time ago. Back then it was pretty scary for me. I never had that feeling and will forget it never again.

G&B: And feeling and intensity are the most important thing in your music ...

Blackmore: Yes, I can not stand wallpaper music! Just listen to music from certain US bands: What did they all for a good mood! I prefer to enjoy the silence instead of such elevator music.

G&B: Are we talking about Kenny G. now?

Blackmore: Well, he's not that bad. I tell you who I mean: bands like Lynyrd Skynyrd, for example (imitated pretty weird: "Whheeeh000w, Alabama ... "), that leaves me so cold, that doesn't tell me anything.

G&B: Let's talk about your album. This time you mainly used Taylor and Alvarez acoustic guitars...

Blackmore: Rather Alvarez and Taylor, in this order. The Taylor has a violent powerful sound, the Alvarez a very controlled tone. In the studio I almost only played Alvarez, because that Taylor sounds very good, but weird-wise not for studio recordings. Exceptional, right?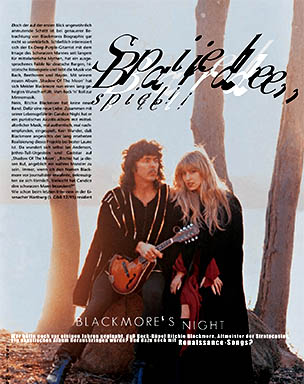 G&B: Why is that, in your opinion?

Blackmore: Maybe the pickup? For now I'm experimenting with different pickups because the pickups in almost all guitars are terrible.

G&B: Do you recorded the guitars in the studio with a microphone?

Blackmore: Sure, but when I play live, it doesn't sound the way I imagine it. I prefer to use pickups and play through my Engl amp.

G&B: You play on this album for the first time mandolin too...

Blackmore: Yes, I went to a Music store in Miami and wanted to try out a mandolin. I asked how to tune that, but the seller had no idea. I bought it anyway, took it with me home and tuned it like a guitar, only correspondingly higher. The result do you hear on 'Renaissance Faire'. If we go to a medieval festivals, I always take the mandoline with me. A guitar is just too big and too heavy. You have to carry that all evening around with you and can no longer celebrate.

G&B: How are you doing with your back problems these days? You said last time that through the years because of stress your left hand often becomes numb.

Blackmore: I now know what I can do about it but I still have the problem. My fingers are not properly supplied with blood. But when I take a drink, before I go on stage the alcohol open the vessels. Isn't that one great excuse to drink? (laughs)

G&B: Has the acoustic guitar after all the years of playing on the Stratocaster changed your style?

Blackmore: Of course. This is a very different world, a completely different, fascinating one. I practice more today than I ever did on the electric guitar. I listen today to people like Gordon Giltrap or Leo Kottke, I'm interested in how they phrase on the acoustic guitar. By the way, Gordon also brought me a lot when it came to finding a suitable acoustic guitar. He is the living evidence that an acoustic guitar should not be strummed.

G&B: Don't you miss the pickup switch of your Stratocasters?

Blackmore: Well, the excessive back and forth switching was just a nervous habit. If I have a tone holding on for a long time, I prefer that switch played instead of playing more notes. Sometimes you just need a pause and long notes. But if you are vicious and excited, you tend to play more.

G&B: Where did you actually record the album? Do you have chosen an authentic place?

Blackmore: No, we have recorded everything at home, in Minstrel Hall. Pat Reagan recorded the songs with his mobile studio and it was an original cozy mood. That kind of music in a normal, sterile studio would have been a nightmare. I even played with the thought to record the album in the Wartburg, but it was fully booked last September. Too bad.

G&B: The acoustics and ambience would be fit well ...

Blackmore: If everything goes well, we will play several concerts in September in the Wartburg. The ballroom there is fantastic. Eisenach is also one of my favourite places. If everything works out, we will play concerts in different castles. I am currently negotiating with the record label whether they can do it.

G&B: What will the concerts look like?

Blackmore: It would be a purely acoustic set of the new album, maybe we'll play some old Rainbow songs that could be arranged well, like, 'Street Of Dreams', 'Ariel'...

G&B: ... or, 'Kill The King'...

Blackmore: (laughs) Oh no!!! We will try to bring people near renaissance music, but on the other hand I do not want them thrown completely into cold water. We are not purists, so I request that not from the audience too.

G&B: So I don't have to wear a costume to get in?

Blackmore: No, you only have to give me 100 dollars to get in.

G&B: Well ... thank you for the talk.


© Gitarre & Bass, Germany - 08/1997