Ritchie Blackmore & Candice Night

BURRN Magazine May 2017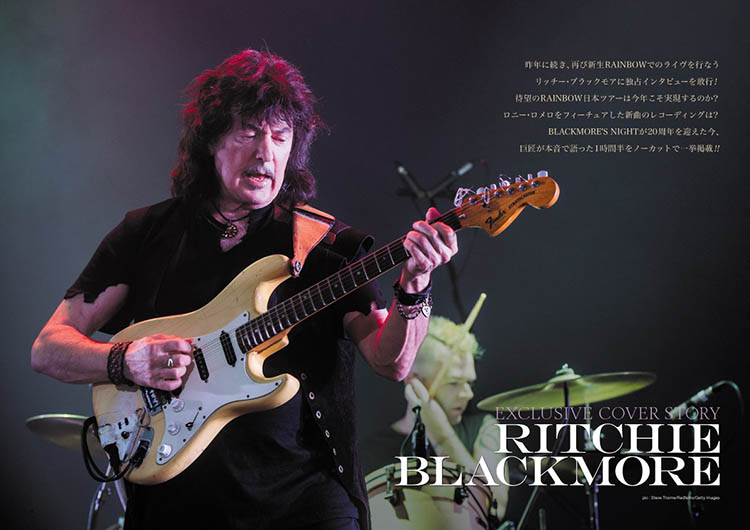 Hi Candice and Ritchie! Are you currently working in the studio?

Ritchie: Yes, we are in our home studio. We finished recording yesterday. And that was also our last recording session.

What did you record?

Ritchie: Blackmore's Night stuff and something for Rainbow. I've recorded two songs with Ronnie.

Have you already decided on a release date for it?

Ritchie: Not yet.

Candice: No, we haven't made a decision on that, yet. In fact, at first we thought about re-recording some of our old songs for the 20th anniversary of Blackmore's Night, then we recorded some new Christmas songs, and then we wrote some new songs! At the same time we also worked on new Rainbow songs, so we were completely confused at times (laughs). So we worked on several projects at the same time, so at the moment we can't say anything about it. We really don't know when we are going to release all this.

However - congratulations on the 20th anniversary of Blackmore's Night!

Ritchie & Candice: Thank you!

Do you plan to celebrate this in a special way?

Ritchie: So far, I only know about concerts in Europe. We are not always touring around Europe in different countrys, so this time we will go to Czech, Germany, the Netherlands and Luxembourg. So I think that's how we will celebrate the 20th anniversary.

So are you going to do things like playing the first album in it's entirety?

Ritchie: No, we will play songs from all albums.

Candice: Many of our friends, who were with us in these 20 years have recorded a lot of videos with professional equipment. On Stage, in the dressing room, interviews and various funny stuff... So for the 20th anniversary, I revisited all this old material and thought that it would be nice to release it. I also think about releasing it in form of a box set, together with some of re-recordings, which we have done lately, as well as some new songs. But again, for the time being, we don't have any clear plans on when all this will be released.

Fans should start saving money... (laughs).

Candice: That's right! (laughs). There are a lot of videos that I hadn't seen for a long time. It took me quite a while to watch through all the material. But I was very interested in remembering our past tours. I actually can't wait to release this material.

I remember flying to America and visiting both of you at your home on Long Island to interview you about Shadow of the Moon. I actually can't believe that it's been 20 years!

Candice: Yes. As far as I remember we should be very thankful to Japan for your support in the early stages of this band. BMG in Japan told us first that they were ready to release our material. It was the Japanese who believed in our project, and only after that they were followed by the Europeans and the rest of the world. Perhaps, without Japan, everything would have turned out quite differently. So we are very grateful for your support.

I remember the excitement there was when you announced that you were trying to do something completely different here in Japan. But people always trusted in your work.

Candice: That's true.

Ritchie, how do you feel about Candice evolving as a singer over the years?

Ritchie: I think that she's still progressing. When we started making music together, it was like I've thrown her into the cold water. We had never practised seriously, but there was something wonderful in a musical sense between us. Her musical ability is stunning. From the very beginning she noticed things I didn't notice musically. She doesn't even practice. I got angry with that sometimes, but she has a lot of other things to do now since we have two children.

Candice: Right.

Ritchie: But I was surprised that she could play a variety of musical instruments from the beginning. She never learned any of these woodwind instruments. She just picked them up and played them. Candice learned to play the piano as a kid. I think her father wanted her to get into being a classical pianist. I think that helped a lot.

Candice, how do you look back on these 20 years when you were suddenly standing on stage with Ritchie?

Candice: I suddenly stood in the middle of a stage... I never dreamed of anything like that. I thought I would do something related to music, but I was imagining a job on the other side of the business, like working at a radio station or record company. So I met Ritchie and everything changed. In the first few years it was a thing I was only dreaming about. I never thought I would be the one standing on stage with him. I was very nervous... At the time the recording process of the first record was more enjoying than being on stage. To write lyrics, and to work in the studio was a lot of fun for me from the beginning. But as it came to actually being on stage and performing... I was so scared. I wasn't afraid of it, but I never thought of doing anything like that at the time.

20 years later, being on stage is very enjoyable for me. (laughs) We have great friends as musicians in our band and everything works well. On stage we are able to respond to requests or surprising our audiences by performing songs that aren't so well known. It's just a lot of fun. Then, there's my voice. My voice has changed a lot compared to the first record. I think that comes from singing and singing for over 20 years now. But I think that I can handle a lot of various styles from rock songs to soft ballads, or from Gypsy songs to Renaissance songs.

We are 100% confident with what we're doing. At the beginning it was an unexplored territory we were going through. But now fans from all over the world come to see us live. It's amazing that there are actually fans who are using their yearly holidays just to visit our concerts. No matter, where we are or when, there's always a group of fans in the front row. (laughs) Japanese people, Russian people, Indian people, English people and so on. People from all over the world are coming to our shows. We usually just tour 1 month a year really extensively through Europe, so it's also a very special time for us.

I think being a mother of 2 children now doesn't make life more easy for you?

Candice: No. There is really no break. Because there is no one to help me. I basically do it all by myself. Even this morning. My son is still at the kindergarten. So after bringing my daughter to the bus at 7:30 AM, I sent my son to the kindergarten. And as soon as this interview will be over, I will pick my son up again. (laughs) I'm flying around. But... It's very fullfilling to have children. And our two kids grew up very good. They are so honest when they are this age. Our daughter is singing a lot and our son is already showing interest in playing the drums. I think the fact that we are enjoying music so much is a nice foundation for our family. And when it comes to a point, that I have to yell at the kids, Ritchie always says: "Are you practising your rock n roll voice again?".

Ritchie: Haha.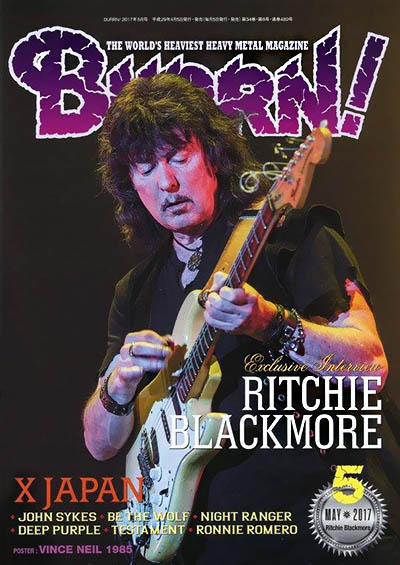 Candice: We are also taking our children with us on tour. Sometimes they are even coming on stage. It's not always the case, but sometimes. It seems to be a lot of fun for them. They are already a little bit sniffy in their hearts.

Ritchie: Sometimes, we pick up songs at home that our daughter has learned at school. There was this very old English song. She came up to me and said "I've learned new songs at school today", and the songs were great. One of them was this very old English song and she sang it to me. Her voice has a very big range. I think this song will be on our next record. As you see, Autumn is very involved in our record production.

Candice: I wonder if she will come on stage to sing that. (laughs)

Ritchie: Right.

Candice: She once said to me "This song is nice to song in it's original way, but I like to add harmonys to it". I think it was the song "Sparkling Star", and I sang it in the house. It's also difficult to sing for children, but when I finished the song, I thought: "Hey, I'm proud, i was able to sing that properly". I was pleased with myself. And then Autumn came and said: "What about singing this song in the key of B?". And I just went: "How are you telling me about the key of B as a 4 year old kid?". I was so surprised.

What kind of father is Ritchie? Or let's say it like that. It's hard for me to imagine Ritchie being an ordinary father? (laughs)

Candice: (laughs)

Ritchie: Our children are very natural. Their way of thinking is so different from adults, and that purity is really overwhelming. It's before the ego is born. That's what I like. They are also smiling a lot more. There are natural comedians that make people laugh because of their pure nature. That's a big talent. I'm trying not to laugh more than five times a year, but when you have Autumn around, that rule will easily be broken within a day.

Candice: Actually, he is a really good father. I'm a person who wants to keep things in order and healthy. I want them to eat healthy things and all that, and when I bring them to bed at a fix time, Ritchie brings them milk and cookies. (laughs) Of course, my daughter is delighted about that. She says: "Daddy, I love you!". After that he's reading books to the kids to make them sleep. And the thing that both of them like the most about their father is to stroll through the forest with him. I call him an explorer. We have a great forest next to our house, and while walking there with the children, he talks about the moon, the story of our earth, philosophy...

It seems to be a great relationship.

Candice: Absolutely.

When you started Blackmore's Night. Did you ever think that it would last for such a long time?

Ritchie: I thought it would be a great thing to do, but at the time, people from the so called industry had only doubts about playing Renaissance music. Some of them said: "Don't do this!". But I just said: "I'm not doing that for the money, I've done enough money in huge monster bands". I really had to explain that to these guys.

So, when we started rehearsing it was only a kind of a hobby. In other words, it was my hobby of visiting castles in Europe. When i stayed there, I enjoyed staying there, but at the same time I also thought: "What about re-creating this old music?". Of course, it would have been impossible to do it with Deep Purple or Rainbow. So I thought: "It would be perfect to play in some sort of a courtyard of a castle or any other places connected to this time". I actually thought that we would be just playing to audiences of 100 or 200 people, but as the popularity grew, more and more people came to our concerts. Over the years we've played to 5.000 people or even more. So that's when the thought of only playing in castles for people that really love this music fell apart. We don't go on stage and plug in the rock guitars. Sometimes I just play the mandola. But I think that our audiences now understand what we are trying to do in our shows and what they're going to get.

Initially, when we started, nobody was doing this. So when we were in a studio, we just did our own thing. There was nothing to refer to. If you have a normal band, there is usually a pioneer, where you can say: "Hey, I want us to sound like the Rolling Stones, Aerosmith or Led Zeppelin". We didn't have that. I don't know of any other bands, that use such a wide spectrum of instrumental and musical styles like we do. Sometimes I get totally lost in the studio, not knowing in which direction I should go with a certain song. Right now, when we do our records, we kind of know what fits and what doesn't. But in the beginning it was a real challenge.

Do you personally have confidence in your work? Do you listen to your music?

Ritchie: When I look back on certain things, there are parts that I like and don't like. Every album has songs on it where you would like to change stuff. Although you might like a song in the studio, it happens that you don't enjoy it all anymore years later. For example, "Ghost of a Rose" is a very good song, and "Under a Violet Moon" has a great melody. As you see, I like certain songs, but I have a problem to rate our albums as a whole. I very rarely listen to our records again. It happens that I'm in a bar and they have it on the jukebox, but that isn't comfortable for me either. At home I ususally listen to medieval music and most people think that this music is very strange. (laughs)

I really love this music. I can't stand most of our current music. I think it's overproduced. As for me who has played one instrument for 60 years... As you know... some kind of gimmick is necessary for some songs, especially if you wanna be played on the radio. But it's a good melody I wanna listen to, not just a good production. I don't want to listen to things like strange sounds anymore or whatever. I'm tired of excessive production. Of course, all these young guys... those who are really young, 15 or 16 years old. It's attractive for them. But I think the music of the medieval times is more pure and honest. When I hear today's music, it just sounds like "Let's make money". But of course, that's just my opinion. I have become an old-fashioned-looking man who hates new music. (laughs)

Candice, what's your take on this?

Candice: (haha). I think a little bit different than Ritchie. I enjoy both worlds. The modern world and the past world as well. Ritchie evaluates the Renaissance and medieval music from a puristic standpoint, not only the music but also the lifestyle that surrounds it. From the costumes to the architecture. I think lots of things of that era are very attractive. But at the end, it's just about incorporating it into your life.

What kind of album does describe you the best?

Candice: Perhaps "Secret Voyage". From the songs I would choose "The Moon is Shining".

Ritchie: Oh, that is a good song.

Candice: That was a traditional Czech song.

Ritchie: Tell me how you found this particular song.

Candice: Yes. (haha) I heard a Czech band playing this song, but there is no information where this melody comes from. When we meet up with our Czech friends, they have no idea, too. Anyway, it's definitely a traditional song, that's what we know. Every album is like a scrapbook of our life. Making albums, going out on tour, having different experiences and adventures and evolving as a human being as well as a musician. So, looking back on the old albums, it seems like you are watching an album of old photos.

Ritchie: I did a remake of one of our old songs.

Candice: "Writing on the Wall".

Ritchie: That's right. It's our version of Tchaikovsky's "Swan Lake". I tried to do that again in the studio and think it came out pretty good. Candice is singing with more of a rock voice.

So, you re-recorded some of the songs from "Shadow of the Moon"?

Ritchie: It was a natural course. We did that song on our first album, but I wasn't happy with it. So when I tried it again recently, it worked very well. It was the weakest song on our first record for me.

Really?

Ritchie: Yes, for me at least. It didn't come out as I expected it to be. It became something of a disco-type of song. We were in a hurry at the time and I left it the work to our producer. I always wanted to do that song again properly. Oh, and by the way, you're calling from Tokyo. Is it midnight now?

It's early in the morning. 4AM.

Ritchie: So you didn't sleep because of us?

I usually go to bed around midnight.

Ritchie: You usually go to bed around this time?

Usually around 1 or 2 AM, so it's not that hard for me.

Ritchie: Really?

Candice: My inner clock is similar. I send my daughter to school at 7:30 AM and it ends at 1PM, so I will be back half past. And until I put the kids to bed, there's still lots of things to do in the house. Between 9 and 10 PM I put my daughter to sleep and our son goes sleeping between 11 and 12 PM. After that, I can spend some time with my husband. It's adult time from 12 PM to around 3 in the morning. (lol)

There's hardly any sleeping time...

Candice: Haha, that's why I'm always tired.

Ritchie: So now, we have a stuffed Autumn and Rory.

Candice: (haha)

Ritchie: In fact, I'm only the one who knew that so far...

Candice: You're a liar. (laughs)

Ritchie: But going back to Blackmore's Night... Even when we are doing shows at a theater for example, we are staying at the nearest castle. I would love to play more shows at castles, but it's not always possible due to our promoters and from a financially standpoint. At times it's very difficult to transport all the equipment up to a castle. But still, we are doing this as often as possible. At the beginning and end of a tour we usually try to play at special locations.

Castles are ideal for this music...

Ritchie: Yes. Personally I feel most comfortable playing for around 100 people. If there are 3.000 people or more, I know that there are a lot of people in the audience, who are not really into our music. For example, a friend of mine went to a Rolling Stones show and I asked him: "Do you like the Stones?" and he said: "No, but everyone went there". It's weird. When the audience becomes too big, there are always people who aren't really listening or are just making noise. So if that is the case, we usually tend to play more party songs. Up tempo stuff, with louder volume. When there's 100 people, you can play whatever you want. But I enjoy both sides. A mix between both things is my favourite, where I can play the quiet stuff as well as the louder stuff. However, the quiet songs require a lot more concentration, and it happens that during a quiet song, someone in the audience is shouting: "Cmon, Rock n Roll". That's very irritating for me, but also for the rest of the audience.

I understand. Do you remember any really akward gigs you've played with Blackmore's Night?

Ritchie: It's funny. I usually don't remember the concerts where I played very well. Just the ones where it didn't go so well... (laughs) At least I do. When the sound was bad, or my playing was bad.

Candice: I think one of our worst gigs was at the Salt Cave in Poland.

Ritchie: Oh yes. We've played at this Rock Salt Cave in Poland, but it was hard to get there even. We had to get down about 300 feet, and they only had these small steps and an elevator. Only 4 people at same the time could drive down with it. So you can imagine how long it took to get all of us down there.

Yeah.

Ritchie: It took a lot of time just to build up all the equipment. Also the temperature was very freezy, so it was very difficult to tune the guitars. I think I didn't even play one song with a proper tuning that night. So I guess that was probably the worst show we played. Even though I saw a review that was saying: "It was a wonderful show".

So you're remembering just the worst moments? (laughs)

Ritchie: That's me.

Ritchie, your last show with Blackmore's Night here in Japan was 13 years ago...

Ritchie: I know. But I'm not good at staying on a plane for too long. I don't want to go to the airport either. I almost have an airport phobia. I'm in fear of it. The airports are not what they used to be anymore. I also have back problems, so I have problems when I'm sitting for too long. So, I usually decide not to travel too far when we're touring.

Japan is far away...

Ritchie: Yes, that's why I haven't been there for some time. It was always wonderful to go up on stage and play for our Japanese fans.

So we won't ever see you again in Japan?

Ritchie: Well... Right now, I still get some offers to play there. However, there are no plans at the moment. But never say never.

There's still lots of fans here...

Ritchie: I appreciate that.

Your latest Rainbow release "Memories in Rock" won the Golden Japanese Grammy award here.

Ritchie: Oh...

Congratulations.

Ritchie: Well, maybe the DVD didn't go on sale anywhere else?

No. (laughs) Congratulations. It means there's still a lot of people here that want to see you play.

Ritchie: That's great news. We haven't been touring a lot yet with this band. Some bands are touring very hard and all over the place and it happens that after some time people don't pay a lot of attention anymore to those bands. I think the fact that we just played these 3 shows last year made it more interesting.

There are some Rainbow songs that Candice was singing over the years, too.

Ritchie: Yes.

What's your opinion on her singing those songs?

Ritchie: I think she's doing a great job. That's because of her high musical ability. She can sing anything and make it her own. Not everyone is able to do that.

However, we have so many songs to choose from. There are around 100 songs that Candy and I could play live. And we're still constantly writing new songs. It happens that I'm playing a song which is not on our usual setlist. It usually scares our band to death, because they are not prepared for it. Sometimes I really enjoy putting the others in such situations. The audiences enjoys those moments. Because our fans know that our shows are always full of improvised moments. There are so many bands repeating exactly the same thing every night. I think our live shows are worth paying for. I also change our songs every night. I could never play a song the same way twice. In the other bands I've been, we've been playing the same songs every night. I improvised a lot, but after a while I felt it wasn't worth paying anymore for our fans.

Another thing I enjoy very much about this project is the fact that we have a lot of days off between the shows. It drives the agent crazy, because he usually says that you can't earn any money with such long breaks in between. I always tell them to build a space between the shows of 2-3 days. So everytime we go on stage, we are playing the songs with a fresh attitude and it happens that we play for over 3 hours. Back in Deep Purple, we were totally overworked at times. Sometimes, I just wanted to get off stage, back to hotel and go sleeping. I have done that long enough, so now I do it my way. I'm having an eye on our tourplan, so I can deliver 100% at every show we give. When you play a show every day, you can maybe give 60% of your power. Of course, if you do it like that, you earn a lot more money, but I don't want to be in a band anymore, that's totally exhausted and puts on the same 1h 30 minutes show every night. Have you ever thought about becoming an agent?

No, I haven't...

Ritchie: But you can earn a lot of money.

Maybe...

Ritchie: Sometimes it's more profitable than being the musician. By the way, we have a cat and it brings us into trouble everytime we wanna go on tour. If we go on tour, we have to find someone who takes care of it and you have to allow that person to enter your house, but I don't like that. So those people have to send us pics of our cat every 2 days, to check if they're doing their job properly. When you look into the eyes of a cat, you can see if she's feeling well or not. I don't really like to leave our pets at home alone. We always sleep together, so on tour I sometimes miss her forefoot stuck in my mouth. (Laughter)

So that's why you don't come to Japan.

Ritchie: That's it. (laughs)

But, Japanese fans are waiting for you to come here with Blackmore's Night or Rainbow...

Ritchie: I got it. I'm thinking of touring in Japan with Led Zeppelin.

Anything will be appreciated. (laughs)

Ritchie: Juhu.

Oh, I just noticed that we're already talking for a good hour. Is a little bit more okay?

Ritchie: Yes, that's fine.

Thank you. Well, the bands current line-up consists of Bob Nouveau and drummer David Keith. Bob played bass in Blackmore's Night some years ago...

Ritchie: Bob was in Blackmore's Night some years ago, but he had to leave the band for the reason I was talking about before. He has a wife and children and he just wanted to spend more time with his family, without being away for such long periods. But he's a great bass player and that's why he was my first choice for Rainbow. David is a great drummer. He's excellent. I'm usually very particular with drummers and I can't stand drummers who can't keep the timing. In the first place, a drummers job is to keep the timing. Lots of them are more into throwing their sticks around or doing other flashy things. Then we have Jens Johansson. He's one of the worlds best and most appreciated keyboard players. Besides, he's also a very nice guy. Actually I was somewhat skeptical to use him for this project, because I heard some of the other projects he's been doing and that's basically very complex and fast playing. So imagined that what he's doing with Stratovarious is more the kind of thing he wants to do. So when I talked to him I said: "I'm searching for a keyboard player with a style like Jon Lord. And for me that is a keyboard player who will be playing his solos, but has a more kind of supporting role musically". And Jens said: "Actually, that kind of playing is the one I like the most". And vocalist Ronnie Romero lives in Madrid. He comes from Chile. After listening to his songs I thought that he would be perfect for the Dio-Era stuff of Rainbow. He was the perfect guy for me, because I wanted to concentrate on that period mainly. He's a really nice guy and there isn't an ego yet. Well, not yet. (laughs)

I liked what I heard on Youtube, and I also knew that he could handle all different kinds of styles. He can sing like Freddie Mercury, Graham Bonnett or Ronnie Dio. There has been rumours about a collaboration with Joe Lynn Turner, but I thought that people in Europe would be more interested in the Dio-Stuff than the Joe Lynn Turner songs, so that's why I decided to not work with Joe. I was really surprised that the tickets for Birmingham sold out in 15 minutes. It was strange. I was surprised that so many people still wanted to listen to Rainbow. It was a pleasant feeling. I think I will continue doing this Rainbow thing as long as people want to hear it and are interested. In my eyes, everything went very well so far and I'm looking forward to our next shows.

There are a lot of Rainbow fans in Japan, too.

Ritchie: I know, but there were also lots of people that came to see us in Europe last year from Japan.

That's right. By the way. You've said that you've recorded a new song with Ronnie Romero. Can you tell us more about that?

Ritchie: In fact, two songs! I've sent one completely newly written song and one old re-arranged song to Ronnie in Madrid, and he sent it back to me. I'm sure the fans will be very pleased with this new song. At first I was thinking about recording a whole new Rainbow album, but that doesn't seem to be the thing to do at the moment. Putting out singles seems to be more trendy at the moment. So we will release these two songs in form of a single on streaming platforms. That's not quite the traditional way of doing things, isn't it? (laughs)

True...

Ritchie: It's funny. We are living in a time where people, living in different parts of the world, can make albums. I recorded the backing tracks, sent them to Madrid, he put his vocals over it and sent it back. I'm very pleased with the results.

Ritchie, please two more. One is about Bob Dylan recieving the Nobel Prize. You're a big fan of him, aren't you?

Ritchie: Oh, it was about time. There are two geniuses in the United States. One of them is Bob Dylan and the other is Billy Joel. I've been a fan of Bob Dylan since 1965. He has continued to do tours for many years, especially without depending on gimmicks. That alone is amazing. And Billy Joel is a genious who has made wonderful records with people from Long Island. He's selling out the Madison Square Garden five nights in a row without having a new record. (laughs)

One thing is for sure. Recent times seem to be the era of touring, not recording.

Ritchie: Oh yes, the industry seems to be in a process of change right now.

One last one. In 2013 there were rumours about you collaborating with David Coverdale.

Ritchie: Oh yeah...

I talked with David about it in a recent interview for our Burrn magazine and he told me that you were talking seriously about doing something together...

Ritchie: Yes, but I decided against it. I don't want to work with any of the old guys. I prefer to find new talents with fresh input and that's also why I didn't use Joe Lynn Turner for Rainbow. It's not that they can't sing. They're all good singers. But it's just my way of doing things. I love to find new talents and make fresh attempts to my music. This is what I want to do at this stage of my career. I love to play rock n roll, but at the same time there's still so much I want to explore and do with Blackmore's Night. David Coverdale wanted to re-record all the old songs. I wasn't interested in that. So I refused.

I understand.

Ritchie: What I'm doing now with Candice is still fresh and exciting for me. With Rainbow I like to do a few dates each year and just have fun. It's like a party. I'm having a lot of fun to play all those old songs. But even with Rainbow I recorded new music and hope to include it into our live shows this year. I don't like to rest on my laurels.

Thank you very much. I'm sorry the interview took so long...

Ritchie: No problem. Thank you, too.


© BURRN - May 2017