Ritchie Blackmore

Interview with Rock & All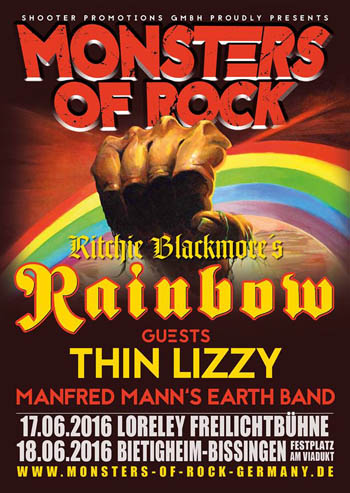 Before you go on tour with Blackmore's Night, a new formation of Rainbow will give 3 shows in Germany and Britian. Will the programm also consist of songs like for example "Darker Shade of Black" from the latest Blackmore's Night album?

Ritchie: The setlist still isn't 100% finalized, but we'll probably do "Soldier of Fortune", which is originally by Deep Purple, but we've been playing it for a long time already with Blackmore's Night. I'm also considering to play "Carry on Jon", which is a tribute to the late Jon Lord. During our next and final rehearsals we'll find out which songs will fit the best.

How did you manage to find the singer Ronnie Romero? His voice is surprisingly similar to Ronnie James Dio.

Ritchie: I was with Candice and we went through some examples on the internet and suddenly Ronnie came up. I wanted to find someone to remind me of Dio's voice, but I also wanted a singer that could handle all the classic Deep Purple stuff. In the end Ronnie turned out to be the best solution for all that. I wasn't to keen on using some of the old singers like David Coverdale or Joe Lynn Turner. Ronnie is a young man and I have to say, I thought about doing this for years, but I didn't expect that I would be so inspired to do this and find such a fresh and inspiring bandmate.

So Ronnie doesn't need to be in fear that he's got a short haircut? Just as a reminder of the situation you've had with Graham Bonnet...

Ritchie: No No. For a good musical relationship the appearance isn't the most important thing. The key role is the music and the harmony. However, I can't deny that I'm wondering how Ronnie would look with long hair. (Laughs) In the seventies or eighties, we all had long hair and it was just part of the fashion trend back then. But that's totally different these days.

Part of your band is also keyboardist Jens Johansson. Many people probably know him from his work with "Stratovarius", but he's also one of the musicians in the world who could hold pace with Yngwie Malmsteen. What's your opinion on Jens?

Ritchie: Jens is not only an incredible musician, but also a very likeable person. He has a huge musical sense and he can basically play everything. I think that his line-up is overflowing with talent, but at the same time we're playing as a whole. I know that a number of big names were discussed for this project, but all these egos would have destroyed the whole project in my opinion. I rather use less well-known names, but as I said before, there's still lots of talent and taste in this band. This also applies to the drummer and the bassist. I know many drummers who can play brilliant solos, but just a few are so accurate and sensitive as David Keith. Bob Noveau has a great feeling for rythm and I can only say that I'm very proud about my bandmates.

Are you still in touch with David Coverdale, Glenn Hughes or Ian Gillan?

Ritchie: We haven't seen each other in years and it's mainly because of the distance between us. Ian Gillan lives for what I know in Portugal, Glenn Hughes is in LA and David Coverdale somewhere in Nevada. We don't see each other, but we stayed friends over the years.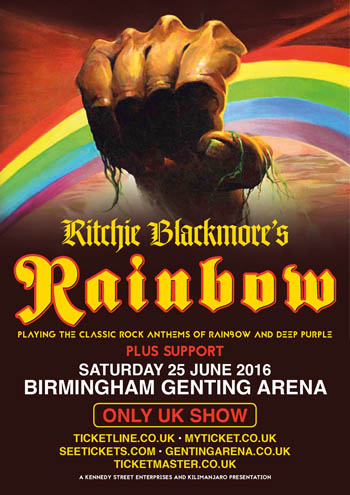 When I mentioned Yngwie Malmsteen before, I was wondering if you've have heard his cover of "Gates of Babylon"?

Ritchie: I haven't heard it, but thanks for the tip. Yngwie is an unique and especially fast player. I always admired him for that.

The old formation of Rainbow still enjoys almost cult popularity. The same applies to your sound back then. Can you tell us the secret about it?

Ritchie: There is no magic behind it. I believe it's rather in the head, than in the gear. Ok, maybe a bit of overdrive. Therefore I hate today's tendencies to hide behind over-the-top production and gear. Hendrix sounded better than all of us combined and didn't need a bloody overdrive. He only believed in himself and his guitar.

Do you need to do some special exercises for upcoming Rainbow dates on the guitar?

Ritchie: Playing guitar is like breathing for me. I always have one in my hands. However, it's rather acoustic. Therefore I have to refresh playing an electric guitar and I guess the biggest challenge will be tapping. Mainly, as the finger input is different and the same goes to playing with a pick, which I haven't done in years.

Are you aware of all the reissues of the early Rainbow albums?

Ritchie: To be honest, I completely lost any overview about these things. But I know that all these Deep Purple and Rainbow albums are being re-released a dozen of times. It's a pure greed for money by the record companies.

Some time ago it was reported that you were being sued by Frontiers Records for not promoting your latest album "All Our Yesterdays". It was mentioned that you refused a lot of interviews, especially with the German press...

Ritchie: I think the whole thing is absolutely absurd. It's like someone tells you what to wear during a performance. You can't really dictate how much publicity a person does or doesn't do. I'm not privy to it fully, because I gave the whole thing to my lawyers directly, but for me it's just an effort to create imaginary problems. The artist has complete control over what he does and how much energy he puts in it. The days when you go out and do publicity for something are long gone. Maybe it was like that twenty years ago, when everyone had to listen to the label, but it all ended with the beginning of the internet. I'm a musician, I play and I give interviews, but doing publicity is not really my job. The last time I heard someone saying that to me was in school when my teacher said "You're not doing enough". It's ridicolous. I never allowed anyone to tell me what I must do.

Are you planning a special "show" with Rainbow?

Ritchie: We've worked on some special effects, but to be honest, I don't rely on the visual factor in the style of Pink Floyd. We've prepared a really interesting scene, but for me the music is much more important. I hope that the audience will agree with me. Regarding the setlist, I'm sure we'll be playing some very popular songs like Stargazer, Beethoven's Ninth, but also Deep Purple songs like Highway Star.


Dan Sywala, Rock & All (Czech Magazine) - May 31, 2016