Ritchie Blackmore

Interview Der Spiegel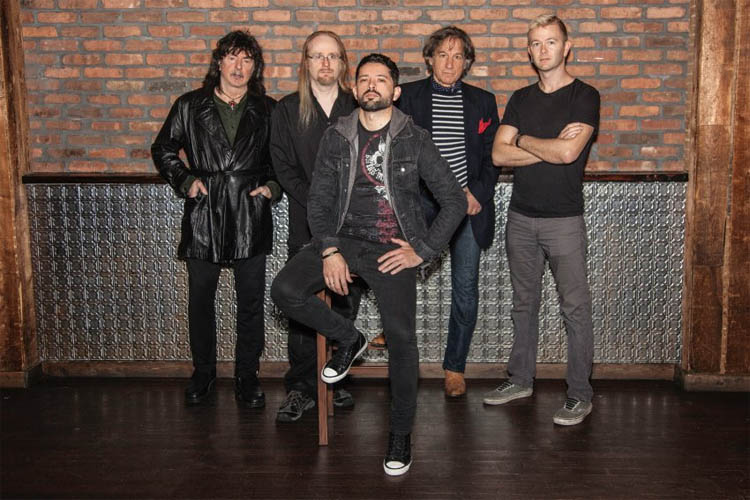 Mr. Blackmore, you are a great Deutschland fan. When did you first came to Germany?
Blackmore: It must have been 1563.
Excuse me?
Blackmore: Yes, in my previous life! Since I was a musician on, I moved from place to place, trying to make a living. Although I led a simple life, I was satisfied.
Life back in these days was anything but comfortable.
Blackmore: That did not bother me at all. The music on the other hand was much better.
I love Renaissance music, the sound of bagpipes and shawms. Everything was simple. There was no radio, no annoying PR manager. You could play what you wanted. But the feudal system and the constant warfare made sure I had my problems. With my band Blackmore's Night, we now bring this medieval feeling back – but without wars, severed heads, plague and cholera.
In your current life, when did you first came to Germany?
Blackmore: I traveled as a young musician, 17, 18 years, to Hamburg to play some gigs there. I fell in love a girl named Margit and married her. I really like the German mentality: work hard and play hard! Cabbage rolls are still my favorite dish.
Is it true that back in the Hambyrg days, you had something going on with a stripper?
Blackmore: That was in the late sixties. Her name was Barbara and she became my second wife. I owe a lot to her. When things were not going so well for me, she took care of me. This was all shortly before Deep Purple was formed.
It is true that you are a Schlagerfan?
Blackmore: Oh, yes! I fondly remember Dorco German, Roy Black or Rex Gildo. People think I fool them when I tell them. Schlager is the German soul music!
So we talked food, women, Schlager… the only think missing would be football.
Blackmore: I regularly follow Bundesliga games. When I think about Franz Beckenbauer, passing outside of the foot, now that was something. For me, he was like a musician who has his own rhythm in the square. Unfortunately, I have never met him personally, but someone gave me his autographed jersey original from 1972. I framed it and still have it hanging at home.
You are 71 years now and you are planning to take Rainbow back on stage. Respect for that, at your age.
Blackmore: I just like to rock again before my arthritis no longer allows it. Recently I had to undergo a surgery on me left ring finger. Had that went wrong, I would never have been able to play the guitar.
Millions know your legendary guitar riff to "Smoke on the Water". Is it still fun to play it, after more than four decades?
Blackmore: It can be really boring, especially when you have to play it night after night. Therefore, I seldom play it.
Have you ever experimented with drugs?
Blackmore: No, I have always focused on drinking. Drugs scare me because you tend to lose control of yourself.
It is said that you have a hang for the supernatural. Just like your friend Jimmy Page.
Blackmore: I have never dealt with the occult like him, but simply held séances. More in a spiritualist way.
What happens when you do that?
Blackmore: You communicate with ghosts and creatures from the past, if you have the gift to be able to. Fascinating. I have had some very interesting conversations ever since. But you can not sit down and say, I want to talk to Jimi Hendrix.
With the recording of the album "Long Live Rock'n'Roll" with Rainbow, legend has it that inexplicable incidents occured.
Blackmore: Yeah, that was 1977. We had rented the studio in Chateau d'Herouville near Paris. An old, weathered castle. But everything went wrong somehow, nothing seemed to work. So I made ??a séance during which clearly the name "Baal" was heard. That was the spirit that was responsible for the whole mess. It was so scary at the castle; we only went to bed during daylight.
You grew up in Heston near London. Do you have fond memories of your youth?
Blackmore: Partly. My family was okay, but I hated school. I was afraid to become like my stuffy, stubborn teachers. I didn't like the way they liked to tell me what to do. I did not want to participate in that. That's what eventually drove me into rock 'n roll. Because to me that means freedom.
Did you dream of becoming a rock star?
Blackmore: I would rather say "rock musician". I never wanted to be famous. I liked to hear Elvis, Gene Vincent, Buddy Holly. And when I saw Tommy Steele, the British teen idol, on TV, I knew that I wanted to play guitar and jump around on a stage.
Your father gave you your first guitar?
Blackmore: When I was eleven. My father wanted me to me to learn the instrument properly. So I cycled well in all weathers for ten kilometers to have guitar lessons.
In your immediate neighborhood grew up at the same time Jimmy Page, Eric Clapton and Jeff Beck.
Blackmore: Crazy, right!? I got to know Jimmy Page when he played in the band The Crusaders. On stage he was very self confident already at an early age.
In contrast to you?
Blackmore: Clearly. I was a loner, shy and introverted. Only when I was in The Savages, at 16, 17, the band of the singer Screaming Lord Sutch, that changed gradually. We had to then wear ridiculous fur costumes and looked like cavemen. I was scrawny and everywhere my bones would stick out. Sutch demanded that I should move on stage more and pull off a show. When I did that, the fans are freaking out. It was then that I noticed that you got to have something to offer on stage.
Let's talk about your love-hate relationship to singer Ian Gillan …
Blackmore: There were constant disagreements between us. Yes, we hated eachother and we loved eachother.
One highlight was their spectacular "Spaghetti incident" before a concert.
Blackmore: How could I forget. It happened on tour in Cleveland somewhere around 1993. I asked my roadie to bring me some food. So he ran off to the catering and gave me a plate of spaghetti. Gillan asked him for whom it was. He said for Ritchie. So Gillan took a bottle of tomato ketchup and completely emptied it on my plate …
… which the Roadie then brought to you.
Blackmore: Exactly. I was immediately on fire. I rushed to Ian and pressed his Spaghetti -including ketchup- in the face.
How Gillan react?
Blackmore: He remained calm and wiped everything out of sight. I was ready for a fight. But Ian, in stature the stronger, remained calm. I apologized to him and said that he had won because he shunned violence! We both had to laugh – and went out on stage.
Does it hurt that you missed the recently Rock'n'Roll Hall of Fame event?
Blackmore: Not at all! Hall of Fame – that's nonsense! Rock'n'Roll should be for all in my eyes, but certainly not an elite club.
Der Spiegel, Germany - April 14th 2016