Ritchie Blackmore
RAINBOW REBORN

A KERRANG! WORLD EXCLUSIVE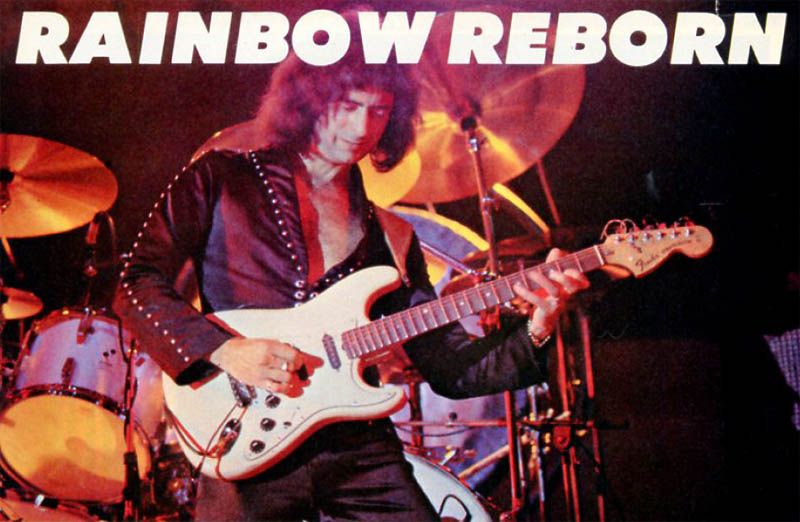 "Actually I'm getting tired with the name of Rainbow," a solemn faced Ritchie Blackmore confided to me somewhere between Luxembourg and Cologne. "It's too nice, I think I'll change it to something like Filth, yes The Filth."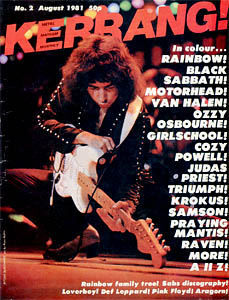 The normally impenetrable visage that usually hides any hint of emotion like Fort Knox protects its nuggets, broke into a smile. Yes folks, moody rock guitar legends are human and have a sense of humour too, and at the moment Blackmore is about as content as he'll ever be.

This roadpiece was written halfway through Rainbow's European jaunt and it was my first opportunity to see the two new members, drummer Bobby Rondinelli and new vocalist Joe Lynn Turner in action.... but we'll get to that part in a jif (a bit of journalist coitus interrupotus for you gang!)

First some background information to bring things up to date. As you know Rainbow have had as many changes in line up as Liberace has had wardrobes. But rather than being just due to a certain man in black's tantrums, the fact is that Blackmore is seeking the formula for a Perfect Group that may or may not exist.

Whatever, this multi-coloured HM extravaganza seems to have gone from strength to strength in quality and popularity as last year's 'Monsters of Rock' festival at Castle Donnington proved (not only a triumph for Rainbow but also a victory for Heavy Rock).

Now, since the departure of Cozy Powell and Graham Bonnet the usual eager beavers (they are marked men) have been already to put knives into Blackmore like Roman emperors craving for Christian blood. As true fans know Mr B always has an ace up his sleeve and this time it came in the form of two virtual unknowns both heralding from the East Coast of the U.S.

They are both featured on the excellent "Difficult To Cure" album which surpasses "Down To Earth", taking the whole group into a new direction. While some fans may be disturbed by the group's flirtation with more lightweight HM material like "I Surrender", anyone who thinks Rainbow are trying to become some kind of heavy duty Foreigner can go take a dive. Or alternatively, cop a listen to "Spotlight Kid"; tell me that's pomp rock and I'll sneer while your cranium shatters into tiny little fragments.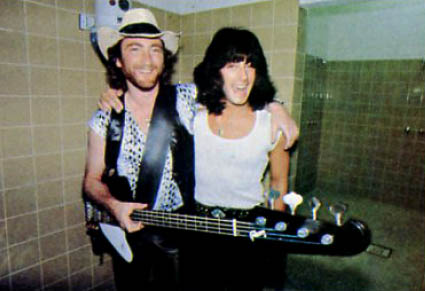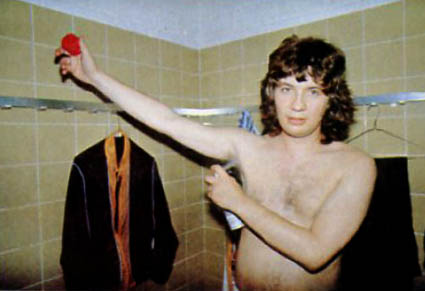 Now you'se people must know by now my bias for Blackmore's guitar work, in fact I'll admit he could probably go on stage with a ukulele in tow and I'd still be applauding for more, but from a detached point of view the new line up still strikes me as more of a group with an identity (stamped with a capital 'I') than just a conglomeration of personalities and egos.

OK, Rainbow will always be Blackmore's baby (jeezus, the man pay the bills) but Roger Glover's production and cohesive lyrics combined with a super boosted injection of new blood has given this band a much more democratic feel. Prior to the EEC trek, Rainbow had just completed their most successful American tour to date - a co-headliner with Canadian axe hero Pat Travers, a combination which worked out well for both parties. Now as Rainbow get ready to devestate our Fair Isle it seemed necessary that this shoddy scribe checks the group out.

Bobby Rondinelli is from Long Island and used to play with one of the many Tri-States cover bands called Samantha. Blackmore spotted the band one night and was so impressed that he immediately offered him a job. At that time Rondinelli, a one time pupil at Carmine 'heavy duty' Appice's school of drumming had been offered a role in another cast of rock and rollers known as Kiss.

"I knew I was on the short list, even though I couldn't sing, but as soon as Ritchie offered me the gig I had no hesitation in accepting. I don't think I could handle the anonymity of being in Kiss. In fact a few weeks ago I went out shopping and met the new Kiss drummer, he came up to me and said 'hey ain't you Bobby Rondinelli of Rainbow?'. I didn't know who the hell the guy was."

Joe Lynn Turner is from New Joisey and has already had a certain degree of touring and recording experience with a group called Fandango who released some albums on RCA (which I shall try to unearth and review in a future issue of this mag). Although he is almost thirty, the guy looks like some juvenile Italian who either sung in a street corner HM doo wop band or attacked rival gangs armed with an array of zip guns and flick knives.

As one might expect his new found role in R&R is met with the enthusiasm of some sugar-crazed youth let loose in a candy store and he still has to occasionally pinch himself to see if it's some kind of dream.

"One minute I'm touring all over the States in a support status, the next thing you know I'm in the headline group, it's all still a bit hard to take in."

Lynn Turner also plays guitar and has already co-written one song with Blackmore called "Jealous Lover", a previously unreleased song that appears on the B-side of the new highly charged re-mixed version of "Can't Happen Here".

"I find that I thrive on people's energy and enthusiasm," said Blackmore about his two new cohorts. "Bobby and Joe have so much energy it rubs off on me and in turn I play better."

The two, uh, more mature members of the entourage, Roger Glover and Don Airey, seem to echo Blackmore's feelings on the matter. At the moment Roger, who is a total workaholic, is planning a solo album which he reveals will be totally different to anything he's done before. It will feature some familiar names and old hands, he hopes to introduce some new faces to the scene.

Prising any more information on the venture was about as difficult as getting a handjob off a nun, in fact Glover admitted that he didn't have a totally clear idea of what he wanted to do although it would be... different. Let's wait and see.

Don Airey is currently still recovering from a football match between his team the Sunderland Swingers and Blackmore's Bombers featuring myself and Ross Halfin utilising South Bronx terror tactics where violence and shin kicking was more prominent than skill (we won). As you know Don has played with just about everybody in the world, latest sessions include Gary Moore's soon-come elpee and Ozzy Osbourne's work of genius.

In fact he was billed to appear at a gig somewhere in London with Rod Argent whilst out on the road, a situation a much in demand man like himself is getting used to. Rainbow I would surmise is his creative outlet/escape from the robotoid world of session work.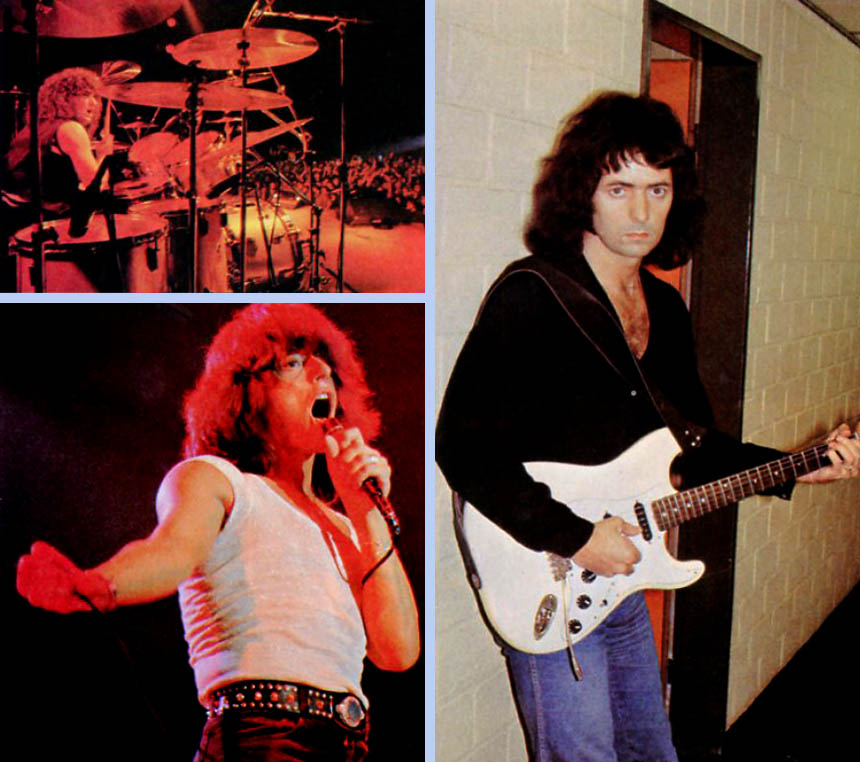 Over a three day period I managed to see the group enough times to get a good airing of the show, and all I can suggest is that you fasten your seat belts and get ready for an onslaught of some high powered heavy duty genuine rock. Visually it's probably the most basic Rainbow set to date and as Ritchie pointed out: "When we initially started with the lazer light show, the extravaganza seemed to take over the actual musical content and I came to the conclusion if you have too many gimmicks them kids get hypnotised by the pretty colours and forget about the actual group. Anyway too many lights make the amplifiers buzz."

The show kicks off with innocent echoing vocal chords of Judy Garland which are sliced apart by a butchering axe attack that makes The Texas Chainsaw Massacre look like an OAP's Sunday afternoon barbecue. This leads us into a totally dementoid dizbustin' version of "Spotlight Kid" and the teutonic headbangers are up on their feet from the word go.

Visually and musically the group come on like a rampant bulldozer on heat, beating any innocent bystander into quivering submission. It's immediately noticeable that Lynn Turner's vocals have much more depth and power than Bonnet's onstage voice. He looks more the part than Bonnet and for someone so new to the game he has a strong sense of onstage dynamics, leaping about the stage with tireless vigour.

As soon as you hear Rondinelli attack his kit I'm sure that you will not miss Cozy Powell; it's a drumstick stampede with flair and precision and contrary to rumours his solo does not last a lifetime.

Glover, bound in spandex and new headwear, is the catalyst, bouncing about the stage like a kid on a hot plate. His highly distinctive bass playing glues the music together like it's always done since his days with Purple.

The new group re-energise numbers like "Love's No Friend Of Mine", "Long Live Rock'n'Roll", "All Night Long" and "Difficult To Cure" which features Don Airey's spectacular solo - like Star Wars on ivory! Blackmore is Blackmore is Blackmore.

You can tell that he's impressed with his new finds and sometimes the six-string snakecharmer finds himself forgetting to play and just goads the audience into a mass salute. If it feels good the man does a kamakazi on one of his Fenders and if you're lucky enough to see it, the total axe destruction is done with more panache and theatrical flair than ever before. But I'm not going to give too much away.

The encore is one of the most exciting parts of the night, this is where Blackmore teases the audience with snatches of "Lazy", "Woman From Tokyo", "Black Night" and occasionally pulverises them with a full length version of "Smoke On The Water". They even go into a barnstormin' rendition of Jimi Hendrix's "Fire", so who knows what they'll be getting up to when they reach Britain?

© Pete Makowski, Kerrang No 2, 1981 - © Photos: Ross Halfin

Thanks to Radislav for the scan