Ritchie Blackmore

INTERVIEW NEW YORK 13 NOVEMBER 1975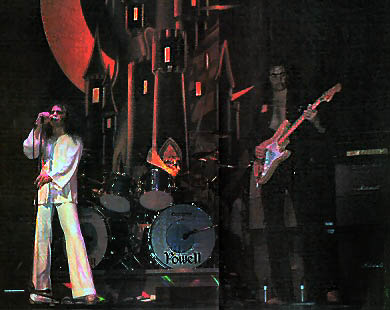 Blackmores new album offers as good hard rock,and it was the same at the concerts. Blackmore hasn't lost all his bad habits, he waits an hour to let the place get excited. The music is what you'd expect and is nothing really new. Deep Purple's opponent (and they are despite the surprise of Come Taste) hoping for something new will be disappointed by the scenic presentations of Rainbow.

Again they play far too loud, and Blackmore seemed to ignore the sound problems the next day, lets hope this was just a technical problem. Anyway when they tour France in March I advise you to carry cotton wool to be on the safe side.

Dio without doubt has great impact, and Cozy Powell is very powerful. The other two are more in the background, though they produce a dynamic rhythm. Rainbow has an impressive light show with them, and all in all provide a show to give people pleasure, strobes and luminous backcloth and all. The concert was all new material, with music from the first album plus two new pieces from the next LP.

The last song which was one of these showed promise, and was by far the best piece in the concert. It lasted half an hour, and included a drum solo by Cozy who accompanied the 1812 overture with Blackmore improvising savagely. It was then that the group came unstuck as Blackmore is a guitarist on his own. His solo's and intro's to Man On The Silver Mountain and C16 Greensleeves are good. They also did the two slow numbers Catch The Rainbow and Temple Of The King, then they vanished during If You Don't Like Rock'n Roll, but the old Beacon walls failed to collapse.

The next evening I went along to the Drake Hotel, a more than select enough place in which to interview the master, Blackmore.

How is the debut tour going?

New York was the first concert, we've only just begun, but for a debut it's been well launched. The first gig in Montreal was difficult and I must say I had a few before going on stage. Happily all went well.

Were you satisfied with last nights gig?

Very, though there are a lot of small problems to get over but little by little it's coming together. The audience reaction was very good, and I'd be pleased if you'd point out that we don't go back on stage unless we're obliged. The end of a concert is the end and theoretically we've no reason to do an encore. We're nearly forced to return because we're afraid the kids will upset themselves and we don't want that anymore.

I thought that there were serious problems with the sound.

Yes? It's possible and fairly common at the start of a tour. Unforturately I do not hear the same sound as the audience' and I don't know what they're hearing. I'm going to check that for the next concert.

For a first tour, the group seemed well together, do you agree?

Coapletely, we even improvised on the new piece for the first time. Tony and Jimmy have some problems but it will come. Something which upset me yesterday was that we couldn't get near the audience as there was the risk of the rainbow falling, the roadies couldn't attach it properly, that seemed ridiculous.

Are you satisfied with the LP?

Excellent musically, the musicians on the LP were only used for it and this was forseen. I hadn't seen people but I new that a new group would unfold for the live concerts. Commercially it's done well in the States and everywhere else except France and Germany, although it was only released in France three weeks ago so that could change.

Do you intend to return to smaller halls with Rainbow?

Certainly, halls of 3,000, I'm fed up with enormous 50.000 gigs. The conditions are bad and it's impossible to communicate with the audience. I love to be near it and feel it react. In big concerts this is impossible. The kids pay dearly and don't get enough for their money.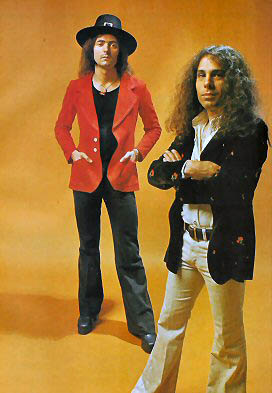 How did you meet the members of Rainbow?

I'd worked with Ronnie before, when I wanted to form a real group I recalled an old friend Cozy Powell. I'd met him at a seance. Then still with Ronnie I looked for a bassist. I'd heard of Jimmy and knew he played at the Marquee. I took a plane from Hamburg to London, and was so impressed that I proposed we work together. Only Tony Carey remained, he's only been in the group 2 months. He was working in the studio's next to Zcppelin. I heard him and the next day he came to play with us - and it was done.

To return to these seances. Can you see a rapport with those and your work as a musician?

Without a doubt. On stage I'm somewhere else, the direct contact with the audience and the excitement take me very high, it's difficult to explain.

Why did you leave Deep Purple?

Because I was bored. I needed something to relaunch me. I felt the need to create new sounds. That's why Rainbow do no Deep Purple numbers. I realise that people come to see us and hear Smoke On The Water but that would be too easy and boring. In fact I almost left Purple before, when Gillan and Glover left the group which could go no further. They had launched it and I believe that if they hadn't left it would have been for me to say goodbye to everyone. It was a period of crisis for Purple.

What do you think of Coverdale as a singer?

He is a good singer, but he lacks confidence, that will come. That doesn't stop Burn from being excellent. I regret Stormbringer a bit, Purple's least good album. OK but no more.

Which was Purple's best album then?

Machine Head without a doubt, it was a superb work.

How are your relations with them now?

My departure was a blow, but we remain good friends. I'm happy for them with Come Taste The Band. Bolin surprised me, he is very good.

Which were Purple's best concerts?

Contrary to people's beliefs the most famous concerts like the California Jam and Japan were not the best. California was well known because I broke a guitar, as for the Japanese concerts they were very odd. The audience only applauded at the end of the concert. On the first tour we wondered what had happened - a dead silence. We left the hall disgusted and went to the hotel where we learnt that people had begun to riot because we didn't return.

Your last Purple concert was in Paris, have you a good memory of it?

The only agreeable thing I recall was meeting an old girl friend.

You've been influenced by sixteenth century music haven't you?

It's the contact with Ronnie, although I've always loved the music-German baroque style and Bach. Rainbow tries to interperet this in it's way and will go yet further on the next album.

[Dio]: I must say that the credit goes to Ritchie, he plays more than 25 tunes and chords, it's an orchestral scare on a guitar.

Do you like Jon Lord's classical works?

I cannot say, I played on the Gemini Suite and at the Royal Albert Hall concert. I played that's all.

You are very attached to Germany, is it because you lived there before working with Deep Purple?

I was living in Germany a long time ago, I have many friends there and I like to record there because the studio's are excellent. Tne German audience is very critical, and concerts there are difficult tests to pass.

Before Purple when you were in Hamburg where did you play?

A little everywhere, but mostly the Star Club accompanying everyone for a short while. I had the chance to play with Jerry Lee Lewis. It was very interesting.

Going further into the past what do you think of your work with Lord Sutch?

That was unbelievable. He's disappeared from circulation now and spends his time in Los Angeles Bars. He was the first to have hair to his shoulders, each concert was an adventure. He taught me to move on stage, how to express myself and give my music to the audience. It was quite an experience.

Who are your favourite guitarists?

Do you want a funny reply?

Why not?

(with a very serious face) Jimmy Page or better still BB King.

Ritchie then decided that the interview was over, he chatted with his friends and no longer listened to me. I turned to Dio, a very open character. When I left Ritchie said 'see you guys in Paris'.


Pop, France 1976