Ritchie Blackmore

Roll over Beethoven and tell the critics the news

Ritchie Blackmore talks to Steve Gett in Copenhagen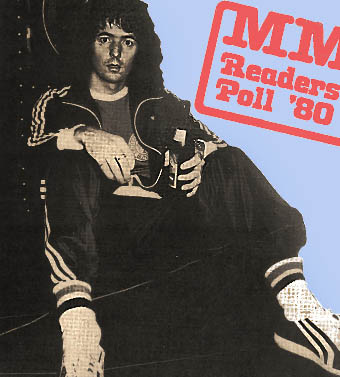 Following Castle Donington and the departure of Cozy Powell cynics were swift to suggest that the end of Rainbow was close at hand. However, Ritchie Blackmore and the band are currently in Copenhagen working on a new album, dimissing all rumours of a final split for the time being.

"People come and go all the time in Rainbow - it's a revolving door type band, but I think it works," says Blackmore. "I need new blood, otherwise I'd go stale and having a new drummer has really given me a buzz."

In the past year Rainbow have made strong impact in this country with a sell-out nationwide tour, the Donington bash, a top ten album in "Down To Earth" and the two hit singles "Since You've Been Gone" and "All Night Long".

Further proof of their success is evidenced by this year's MM readers' poll where Blackmore has picked up the award for top guitarist, something he's never achieved before.

"I am a little surprised at the result but at the same time I think it has a lot to do with the fact that we were doing Donington, and whoever is around at the time the entries go in in in a good position."

Ritchie was extremely satisfied with Donington. "It was a very good show considering I had a lot of technical problems. The night before was horrendous and I was very pleased with the way things went in the end because I thought it might have been a catastrophe."





STRONG PEOPLE


Not only was Donington Rainbow's biggest ever concert in Britain, it also marked the final appearance by Cozy Powell with the band. Powell now appears to be quite happy with his new job playing alongside Michael Schenker and I think that Ritchie would be the first to agree that his split from Rainbow came at the right time.



"It was something that had to happen, whether it happened in a year's time or last year. We're two strong people - that was one of the problems - and so it didn't really come as that-much of a shock to me - I thought he would have left a long time ago, in fact I'm surprised he stuck it out for a year.

We like each other though, and deep down he knew what I stood for but couldn't put up with the tantrums I sometimes throw. He couldn't always see my sensitivity towards moods and reacting the way I did sometimes, which I still do. I guess that was the main cause of the break-up."

By the time Rainbow played at Donington Ritchie had already decided on a replacement for Cozy in the relatively unknown New York drummer Bob Rondinelli.

"I knew Bobby back in Long Island and he'd always had a reputation as one of the best drummers there along with Carmine Appice, and that's why I picked him.

He's 25 and has been playing since he was 11 but has concentrated mainly on drum teaching. I have a lot of faith in him. He's got a lot of technique but at the same time there's a lot of animal instinct in him. Bobby's much more of a mellow person than Cozy was."

In last week's MM Cozy Powell stated that one of the reasons he wasn't happy with Rainbow was due to the commercial element that has crept into the band's music.

"It's just a phase I'm going through at the moment," he says. "I like commercial tunes, in fact there's a very commercial one on this LP called 'Magic'. It's an interesting number, which was written by a friend of mine back on Long Island. I think Roger (Glover) is having thoughts about it but I like it. The thing is, I want to be able to play commercial music, classical and heavy rock. People are always saying 'You can't do this or that' but if you can't improvise or take on new things then it's because you can't have much faith in yourself.

I think this band has the credibility to stand up to a lot of commercial hits. I don't believe that you must stick to one format - I like heavy rock but I also like good commercial music. The music's mainly heavy metal - faster with more of a hard feel all the way through and I'd say that it's more in the 'Deep Purple In Rock' vein. So far we've done five tracks, one of which is an instrumental and that's a Beethoven piece, which we do on stage, and it's turned out really well. Some people are going to say 'How can they do that to Beethoven?' - too bad, I just play any way I want to. A lot of critics are going to be up in arms about that one!"

Blackmore delivered that last time with a certain amount of relish, probably delighting in the fact that he'll be able to shock people again. It seems to be one of his favourite pastimes. Indeed having revealed that the decision to record in Copenhagen was because of the excellent guitar sound he achieved on the song "Weiss Heim" (the Bside of the last single) he told me that the tune had also given him the idea of another curious, and somewhat unexpected, project.




SLOW TUNES


"I had that song for a couple of years and I might do an LP in that nature next year - slow tunes, melodic and romantic in a way which are going to knock the image again. People are going to say 'How can you do that?' but the thing is I'll always do what I enjoy and not what people dictate to me. This is why I don't get along with a lot of people - and it's why I left Deep Purple."

The new Rainbow -atbum should be completed in a month's time and is due for release next January. Once again Roger Glover is handling production, as well as playing bass and penning the lyrics. I had wondered if Graham Bonnet might have contributed some words this time around but it would appear that he is content to concentrate solely on singing. "Graham doesn't have very much interest to write," said Ritchie. "So I do the riffs, chord progression and a vague melody and Roger supplies the lyrics."

It also looks like Rainbow will be back in Britain in the early part of 1981. "We should be back in March or April and will probably play the same sort of venues that we did on the last tour. There are certain people pressurising for the big gigs in order to get the money and run, but it doesn't work that way. I like playing somewhere like Bingley because although that's fairly big there is still a sense of intimacy. Wembley I don't like and I'll never play there again. It's going to be difficult to decide where to play in London but I would predict that we'll do a couple of nights at Hammersmith and a couple at Finsbury Park Rainbow."




MAN OF MOODS


The public tend only to be presented with the serious side of Ritchie Blackmore and this coupled with his 'monster image' must leave many fans wondering what he's really like. It has been written that he is a man of moods, something he'd hardly deny, and he commented: "I've always just been myself, and often by being oneself you can offend a lot of people - that's why I've got a bad image. I like to surprise people that think I'm a bastard by being Mr Nice Guy just for the hell of it - and vice-versa. It seems I do the latter more. I have a very dry sense of humour," he admitted, "and I do like the practical joking a lot. It's a kind of release I think - I'm the kind of person who's either really crazy or totally serious. I like to shock people, I get off on that. I don't like the obvious 'Have you heard the joke about ...?'. I prefer situations - my idol is John Cleese."


Steve Gett, Melody Maker, October 4, 1980 - Pictures: George Bodnar