Ritchie Blackmore

Solitary Traveller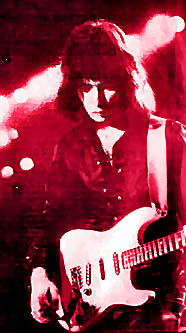 The Man In Black sat back and admitted: 'Yes, I am conceited.' That's why he'd left Deep Purple and formed Rainbow. But STEVE GETT finds that Ritchie Blackmore doesn't always get his own way. Not when Cozy Powell's around and there's a problem with the breakfast cereal.

"I can only think of Rainbow as a group on some nights. Personally, I always think of myself as a single person which may sound conceited, but I'm just the sort of person that likes to be isolated.

Sometimes we're a group and sometimes we're not. Who knows? In a year's time we might change again. I think it would be rather dishonest to say that we may not change because basically we're always trying to get better, rather than simply endeavour to hit the public with a specific band.

Having been in a band that made it, I decided to leave and form one in which there wouldn't be so much pressure - because we were working a lot in Purple. Although I like success, at the same time I don't. I guess I don't really know what I want. I just like to do anything that's not expected of me."

RITCHIE Blackmore is an intriguing character, and rarely does he choose to reveal the man behind the public mask. He's been in the business for quite a long time now, having initially found fame as the guitarist with the legendary Deep Purple, but quit that band to form Rainbow and has since delivered a further five albums.

Rainbow, however, have never really enjoyed a settled line-up, and in recent years many have begun to feel that Ritchie's days are numbered. Indeed, there seem to be plenty of people who'd love to drive the final nail into his coffin. But it would take a lot to prevent Ritchie. Blackmore from continuing to play guitar.

After an absence of 18 months from playing live, Rainbow returned to the road in the States last September, supporting Blue Oyster Cult. At last Ritchie had managed to establish a fresh outfit with a new vocalist in Graham Bonnet, as well as former Purple pal Roger Glover on bass and ex-Colosseum II keyboard player Don Airey. Only drummer Cozy Powell has stood-firm alongside Blackmore 'throughout all of the changes. This new band recorded the excellent "Down To Earth" album last year, and I hoped that Rainbow would at last settle down, although cynics claimed that the chances of the group remaining intact through Christmas were slim.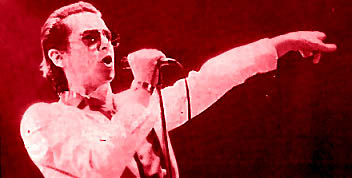 The decision to tour with BOC in America before playing in this country was prudent. Not only did it enable Rainbow to build up their East Coast following, which has never been as strong as in the West, but it also gave Ritchie the chance to perform with the new line-up without undue pressure.

I joined the band in upstate New York for their gig in Utica, looking for a chance to talk with the guitarist.

Backstage at the auditorium I found Rainbow, minus Ritchie, biding time after a soundcheck. Cozy was still rem:iniscing about Zeppelin's Knebworth performance, while Roger Glover talked about how pleased he was to get back to live gigs.

He hasn't toured consistently since the Purple days, having spent his time producing such bands as Judas Priest, as well as recording a solo album. Graham Bonnet hasn't performed on stage for a long time, either, and he was equally enthusiastic to be on the road.

Eventually, Rainbow were ready to hit the stage: those house-lights dimmed, and a taped intro of a section of "Mars" from Holst's Planets Suite was accompanied by mad cheering from the audience. Then all hell was unleashed as the band opened with a rousing rendition of "Eyes Of The World", from the latest album. Blackmore, inevitably clad in black and armed, with Fender Strat, spearheaded the assault and for the next hour Rainbow delighted the U.S. fans. Most of the material was new, and featured lengthy solo spots from Cozy and Don Airey, plus Ritchie's electric axework.

British fans must be eager to learn how the current band compares with past line-ups. Well, those who're planning to catch them on the British dates won't be disappointed. Cozy provides a battery of machine-gun drumming, Don Airey ,adds a majestic touch through his keyboard playing, and both Ritchie and Roger are in fine form. But the most striking aspect of the new act its definitely the vocal performance of Graham Bonnet. He has an incredible range and leaves his predecessor, Ronnie James Dio, way behind.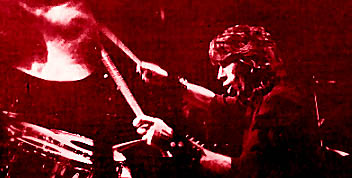 The Utica audience was knocked out by Rainbow and would have demanded more than the one encore of "Long Live Rock And Roll" had the house-lights not been quickly switched on as the band left the stage.

In fact, I got the impression that the evening was then over, despite the fact that BOC had yet to appear.

Rainbow returned to their hotel mid-way through the Cult's show, but Ritchie was nowhere to be seen. The following morning the tour bus left early for Philadelphia, and when I commented on Blackmore's absence, Roger explained: "Ritchie travels separately - basically because he doesn't really enjoy going on school outings!"

At Philadelphia's Spectrum, a night of heavy metal madness lay ahead. The promise of Rainbow and Blue Oyster Cult together was just too much for 15,000 headbangers. Immediately before the show, one fan came backstage to say that if Ritchie broke his guitar that night he'd happily retrieve it. Sure enough, after another successful set, the kid returned with the body of a smashed axe. Covered in scratches from head to foot, he proudly revealed that it had taken half an hour of fierce battling to collect the prize. His dedication was total, emphasising the legendary status Blackmore has attained over the years.

That night another bar in another Holiday Inn was taken over by the band, and even Ritchie made an appearance. A round of drinks was ordered, and for the next hour the conversation revolved mainly around the British music press. It was clear that Ritchie is capable of being quite amiable, but that his attitude depends upon the circumstances. At ease after a few lagers, he promised to discuss Rainbow matters in depth the following evening.

Twenty-four hours later I was at the band's hotel, face to face with the Man In Black. I asked Ritchie about one of his biggest recent problems, finding a new vocalist.

"It drove us all mad trying to get a singer," he replied. "I didn't realise that there are so many non singers around. We had some nice guys turn up, but none of them really moved us - until Graham came along."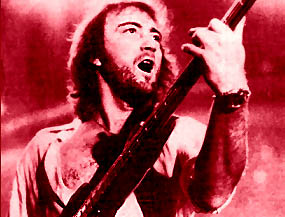 Graham just then walked into the bar, soon to be followed by the others. "I remember, in about '68 when Deep Purple had just started, hearing Graham's voice on 'Only One Woman' by the Marbles and thinking at the time 'How on earth could we compete against that?' We had a good singer, but not of that calibre.

Then, in about '73, I started asking people what had happened to that guy in the Marbles, but I was told that he'd lost his voice - no doubt by all these so-called singers.

This time around we tried every singer in the book. The whole band was getting pretty tired of hanging around, and we all just wanted to get on with it.

This is where our quote from Jeff Beck that 'all singers are wankers' comes in. Well, not quite - but nearly! I know what he was going through, because it's so difficult to find someone to match up to his playing. The thing is, so many singers are really posers in disguise.

"We got really desperate, and I started wondering about Graham again. I talked to Roger and he told me that he'd once done a session with him. We looked into the case further and found that he was in Australia, so we got him to come over. When I met Graham, and I saw his short hair, I thought, 'He's not one of those punks, is he?' Not that I'd put punks down - I just don't like them!"

Why not?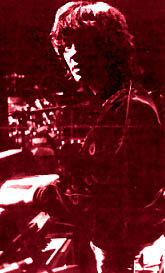 "Just to annoy people, basically. No other reason! Anyway, back to Graham. We found that he had an incredible vocal range. We did 'Mistreated' with him, and he was the man for the job."

Like most Rainbow fans, I wondered what had happened to Ronnie James Dio. Ritchie explained: "Ronnie thought that there would be a lot more in terms of money with Rainbow. In the end he started bitching a lot, not realising that we were another band and not Purple. He was a really good singer, but he didn't come up with too many ideas of his own. He continued bitching in the last six months prior to his departure, and in the end he left.

"Maybe a lot of people thought I left Deep Purple because I was conceited. In a way I did, because Purple became very complacent. My opinion was that the band was going downhill. The boat was sinking, if you like, and I didn't want to go down with it. I thought I'd just form my own band, knowing that I had a bit of a name, simply because I wanted something to get excited about. In Purple it eventually reached the stage whereby we'd be saying: 'How many tonight? Great! How much are we getting?' It all became very clinical ... which I'll confess was partly my own fault."

RAINBOW Mark I comprised Ritchie alongside Dio and members of his former band, Elf. Together they recorded a debut album, but by the time the band made their first British appearances in September '76 there had already been several personnel changes. Blackmore and Dio were joined by bassist Jimmy Bain, keyboard player Tony Carey and drummer Cozy Powell.

"Rainbow Rising" and the live double, "On Stage", emerged from that group, but by the time Rainbow returned to the UK a year later Bain and Carey had been replaced by Bob Daisley and David Stone. "Long Live Rock And Roll" was released six months later, followed by further departures until finally Ritchie and Cozy were left on their own.

Ritchie picked up the story: "Don was the first of the new members to join, but he actually took a year off because he couldn't figure out what was going on! My initial thought was that he might be a bit too jazzy for Rainbow, but that didn't turn out to be the case. In fact, he has those classical overtones, which I like.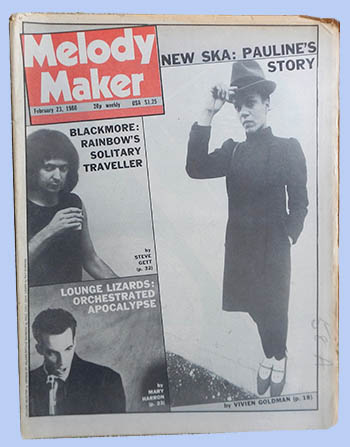 "A few months later Roger arrived on the scene as a producer. I was losing my patience, and Cozy had no patience at all, but Roger got things organised. The guy has incredible endurance, and he's exactly the same as he was in Deep Purple. We both had no idea that he'd become the permanent bassist, but in the end it was nothing more than a logical move. I thought he did an excellent job on the album, although I lost sight of what I was doing.

"My problem is that I can't get to terms with recording at all. If it was decreed that there should be no more recording, I'd celebrate. It's a strange way of getting music across, because it's so contrived. I don't like working in the studio because there's no audience and no energy - and basically no incentive. There are some people who take advantage of a studio - like Queen, for example, who are excellent recorders. But I think Rainbow are very much a live band, and that's where I'm happiest."

While on tour with the group it was clear that Ritchie continues to get a kick out of playing before a live audience, and he's still occasionally smashing his axe to pieces.

"I like to do it," he confessed. "People ask me why I break guitars, but to be perfectly honest I'm not exactly sure. I guess I usually break a guitar if I'm having a good time. You can give an audience so much - sorry if this sounds contived - that you get so excited yourself that you just want to smash your instrument. The only time I won't break my guitar is when I'm expected to. And if it happens to be a bad audience, I won't give them anything less musically, but I won't add the extras. It's really my way of returning their effort. It's my ultimate sacrifice to the audience."

Throughout our conversation I sensed that Ritchie enjoys misleading people, concealing the fact that in reality he can be Mr Nice Guy.

"I like giving the wrong impression, because I think that too many people have too many impressions of what's going on," he said. "I'm definitely hypocritical I'll always go against what I say from one sentence to the next. Sometimes I'll go on stage in a really wild mood and not really know why I'm acting that way. In the end, I'm desperately looking for things to blame."

Taking into account Blackmore's self-confessed "moodiness", and bearing in mind the abundance of arrivals and departures within Rainbow, it's amazing that Cozy Powell is still in the band although at times he no doubt wonders why he never left. Should he ever decide to split, then it would surely be the end of Rainbow.

"I think Cozy will always be in the band while it lasts," agreed Ritchie, "but I'm equally convinced that Cozy and I will have another punch-up in the next week. We disagree about a lot of things, although we tend to agree upon the end result. I do feel uncomfortable with him in some situations, but we do treat each other with a great deal of respect.

"Cozy goes from one extreme to another, rather like myself, and he's a manic depressive inside. I'm just a very serious person, and sometimes it appears that I'm throwing a moody, so he'll throw a moody and the result is that we evade each other.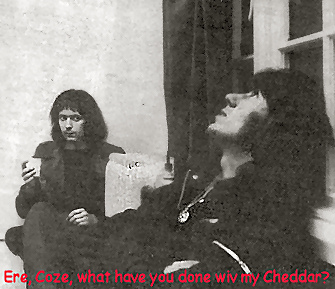 "When we were recording at the Chateau we fell out with each other over, of all things, the amount of cereal being consumed. The guy is a pig. We were paying for food as a hand, and I refused to pay for all these packets of Sugar Puffs and Rice Krispies that he was putting away. He then refused to buy my cheddar, or whatever it was, and in the end he dragged all of his cereals up to his room. So we even argued about food - can you believe that? We have lots of arguments, but eventually we come through it all."

Strangely enough, Ritchie and Cozy quarrelled yet again before deciding whether or not to record "Since You Been Gone" for the last album. The band finally included it and when subsequently released as a single it was hugely successful.

The song was hardly typical of Rainbow's previous work, and I asked Ritchie if he was surprised to see it in the Top Ten, not to mention the band's appearance on "Top Of The Pops".

"Yes and no," he answered. "I thought it was a very commercial song when we attempted it, and I'm waiting for everyone to tell us that we're selling out. I did it basically because I liked the tune. When we went to play it, Cozy hated it and I think he still hates it.

"We do have a strong cult following, but at the same time it's nice to get across to a few other people. You can attract attention to what you do through commercialism - which is a good way of saying that we're selling ou! But by no means will we probably do another like that."

BLACKMORE has been resident of the USA for a number of years now, simply because of the high income tax rate in Britain. The fact that a lot of musicians have become tax-exiles has met with a certain amount of disapproval, and Ritchie wasn't slow to offer his viewpoint.

"I love England, and I'll definitely end up there. Living in America is a temporary measure, and I'll be back as soon as the tax situation is sorted out. At the moment I think an artist must be out lof his mind to put up with ridiculously high rate. It seems to be fashionable to put America down, but the difference here is that you only pay 56 per cent tax and have write-offs. Let's face it, in five years I could be in the dole. A lot of people don't like what I've done, but perhaps it's because they become jealous and can't go to any other countries.

"I do miss the English papers, and nowadays I tend to be two months behind - though it seems to me that that's the best way. The music press seems to be knocking everything. As soon as they think people have a name or money, they tend to go against you. Being a musician, I tend to be wary of criticism - but then again if I was a critic I'd be ten times worse and I'd slag practically everybody. There are really too many bands in this business - and a lot of people say to me 'Yes, you're one of them... !"


© Steve Gett, Melody Maker, Februari 23 1980