Blackmore's Night

Blackmore's Night melds medieval and rock



The musical duo that makes up Blackmore's Night might better be known as "Beauty and the Beast."

The beauty is singer Candice Night, an ethereally blond former model with a delicate but quietly dramatic voice.

Her beast is the intense, darkly brooding English guitar legend Ritchie Blackmore, who made his mark in two of rock's heaviest bands, Deep Purple and Rainbow, and is as well-known for his fiery personality as he is for his explosive playing.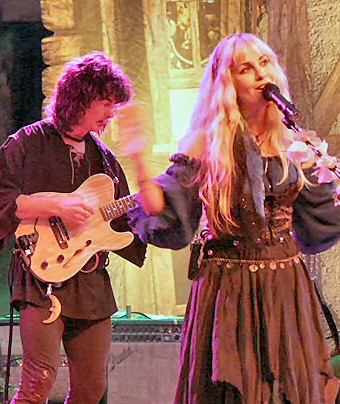 But this disparate pair make beautiful music together, music that's about as far away from what Blackmore's done in the past as, well, day and night. They play medieval music for the new millennium, rooted mainly in acoustic guitar and old instruments like the hurdy-gurdy but punched up by drifts of Blackmore's signature electric stylings and modern percussion.

They'll bring the tour supporting their latest album, a compilation of love songs from their four previous efforts titled "Beyond the Sunset: The Romantic Collection," to Harrisburg's Whitaker Center for Science and the Arts, 222 Market St., on Wednesday.

Night says the band's mission is to give audiences a break from what they see as the aggression and superficiality of today's popular music.

"We wanted to put out some beauty and some healing," Night said. "That's what this world needs more than anything right now is some love and some healing -- we don't need any more anger."

"Over here, they just concentrate on how the person looks and if they can do some dance moves and if they're under 21, which comes across to me as being very shallow," Blackmore added.

The two spoke in a high-spirited joint interview from their home office on Long Island. They are a couple in their personal life as well as their musical one. Night is bubbly and vivacious; Blackmore more reserved. And she is completely unintimidated by him, good-naturedly joking that he hogs the CD player and TV remote and ribbing him about his age -- he's 59 to her 33.

They met when the music-obsessed Night was working as an intern at a Long Island radio station and the disc jockeys took on the members of Deep Purple in a soccer match. The band won. What happened next is, Night admits, "a Cinderella story."

"Afterwards, I just sucked it up and went over to Ritchie to congratulate him ... and I got an autograph," she said. "He looks up at me and he actually said, 'Oh, you're a very beautiful girl,' in that English accent. And I'm like, wow, that's great, and that was going to be my oh-my-God-I-met-Ritchie-Blackmore-story."

But that was just the beginning.

"The surprise ending was that he sent some of his roadies through the crowd to find out who I was and asked me to meet him later on at this little pub down the road," she said. "We just talked all night, and it was just so strange because it was really like talking to an old friend. We found that we had so much in common, even though we had come from such different places -- the experience that he had or the age difference or the career difference -- we still met on every level."

For Blackmore, the attraction was more basic.

"I think the most important and the most substantial and the deep one was just the way she looked," he said.

"Here I am, waiting with bated breath," Night cracked after hearing that.

"Candy at that point didn't really sing that I knew of," Blackmore continued. "So we were in the studio with Deep Purple and I was just sitting there getting bored with the noise we were making ... [And] so to relieve that boredom, Candy started singing the theme from 'Mahogany.' And I thought, what a great voice she has, and that kind of started sowing the seed."

Blackmore started having her sing along to songs he was working on, then she made her first live appearance as a backing singer for Rainbow in 1995. During that tour, the two started writing together; the material that resulted was heavily influenced by their mutual interest in Renaissance and medieval music.

"I had played hard rock for about 30 years and it was getting a little bit stale," Blackmore said. "This to me seemed much more exciting and new and challenging because it meant playing the acoustic guitar, which is a whole different technique."

It was not a new musical obsession for Blackmore, either.

"A lot of rock 'n' rollers think how could this girl manipulate Ritchie to play this music," he said, to which Night quipped, "I'm Yoko Ono incarnate."

"I've been into this music since 1973," he said. "Which is great because I was 2," Night shot back, "so I can't be blamed for that."

"It has its parallels," Blackmore said. "In a way, the majestic music of the Middle Ages is very similar to rock 'n' roll. I pulled from Renaissance music all through Purple, all through Rainbow. And now I've just gone the extra mile."

Blackmore also enjoys the dynamic of a band fronted by a female after years of performing with full-throated male singers like Ian Gillan, Ronnie James Dio and Joe Lynn Turner.

"Ritchie at one point told me that he doesn't feel as restricted," Night said. "Now he can do everything from cover songs by Bob Dylan to really quiet, romantic ballads to Renaissance woodwind songs to the loud rock songs."

After Blackmore creates the music, Night writes the lyrics, which she says are mostly inspired by nature.

"It's usually something as simple as just giving yourself completely to feeling the wind on your face," she said of what motivates her to write. "It's really more about the fantasy of that time period as opposed to the historical accuracy."

So "Beyond the Sunset" contains songs like "Ghost of a Rose," much like a tragic old English ballad in its subject matter, the mournful tale that is "Spirit of the Sea," and the love's-lost "Castles and Dreams." It also features a terrific cover of Joan Baez's "Diamonds and Rust." Night even set words to Clarke's "Trumpet Voluntary," that familiar wedding favorite, to create the lilting "Waiting Just for You."

"It's always been something that I've liked, that melody," Blackmore said. "And of course, when she put words to it, to me it really worked."

A Blackmore's Night show is not as airy-fairy as one might think, though -- there's still a little hard-rock animal in Blackmore that needs to get out now and then.

"We usually start the set with quiet acoustic numbers, then build into electric-acoustic," he said. "And then for the last half an hour, we do basically rock 'n' roll, rock acoustic music.

"We like to pace it so that the more musical people in the audience can hear the beginning numbers and then as we get into the show, we build into more of a party atmosphere," he said.


© Kira L. Schlechter, The Patriot News, September 12, 2004