Ritchie Blackmore

Motivation of the Man in Black

"You can't give your best every night... give it once every three nights"
RITCHIE BLACKMORE, who came a close second to Eric Clapton in SOUNDS guitar poll section, has always been regarded as a dominating factor in Deep Purple's distinctive hard'n'heavy sound. Apart from a few rare session appearances Blackmore has never revealed his guitar prowess outside of Purple's framework. Now, at last, Blackmore has come out of the dry ice clouds and guitar smashing to record a solo album at Munich's Musicland studios. SOUNDS was there, Pete Makowski reports.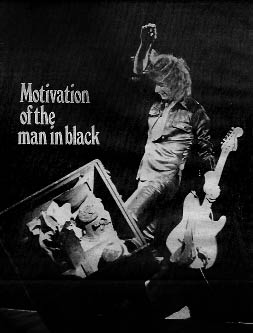 "Ritchie's just completed recording his solo album do you want to come over and have a listen?" Oh What! When Britain's finest exponent of the heavy metal rock guitar, Ritchie Blackmore, finally decides to state his own case on vinyl you just know there's got to be some ultra fire music ahead.

With a definite 'you betcha' I found myself being zoomed off in a Lufthansa jet heading for the land that brought you Marlene Dietrich and Mercedes, where words like Fahrt and Firkin are inoffensively plastered on every available street sign-Germany... Munich to be precise. The location of Blackmore's recording venture were the Musicland Studios, renowned for their dealings with the Stones and where Purple recorded their last two powerblasting albums. The studio is conveniently situated underneath the Arabella Hotel which just happens to be conveniently situated near to both Munich Airport and the city centre.

I arrived at the hotel to find that Ritchie and producer Martin Birch had not completed the mix but were busily working away in the depths of Musicland to meet an early deadline to fit in with Purple's watertight working schedule. The recording was being put together in a secretive manner, absolutely no one was allowed in until completion, that even included members of Purple who had arrived at the hotel to prepare for the start of their European tour. All I managed to learn early on was that various members from a band called Elf (Purple's label mates and a damn good rock and roll band in the finer sense of the word) were backing Ritchie on this project and the line up ran Blackmore, Ronnie Dio (vocals), Craig Gruber (bass), Micky Lee Soule (keyboards), and Garry 'Coll Guy' Driscoll (drums) ... the plot thickens.

Blackmore is doubtless the most underated guitarist in the world. Even though he comes from the same school as your Pages Claptons and Becks he has never fallen into the same established category. So why has Blackmore never been rated high amongst the guitar giants? Is it because he never revealed his guitar prowess via the generally accepted routes (i.e. de blooze)? Is it because he plays in a band whose music is not fashionable to most press tastes? Is it because he's never laid back long enough to become what is generally referred to as a 'legend', or is it because he never played with The Yardbirds? It's a mystery to me, it's strange that Zeppelin - whose musical direction leans the same way as Purple - are accepted by the same media that are so ready to butcher Purple's validity as a musical force. Maybe it's because they feel, unjustifiably so, that because Purple gained their nationwide success so quickly that they haven't paid the proverbial dues. I say unjustifiably so because Blackmore's been in the business for eighteen years and has a track record as long as anyone. Showmanship is something he gained from his apprenticeship with Screaming Lord Sutch and his merry bunch of Savages. "I'd get bored watching someone just standing there and playing guitar". Blackmore once admitted, "the kids can listen to someone playing on a record you've got to give them something more." Which is exactly what Purple do.

However heavily Blackmore's talents lay within the success of Purple, the band still contains five individual and highly adept personalities who when flexing their collective muscles become one of the most powerful, thunderous entities on tenlegs, a heavy metal battalion. As a whole it is difficult to assess Purple's individual talents as the final product is Purple itself and the band does not waver to any self indulgence. This is the purpose of a solo album which, so far, only Jon Lord has produced. Roger Glover wrote and produced a musical that extravaganza 'Butterfly Ball' after his departure from the band. Gillan also has a solo offering set for summer release. Glenn Hughes and Dave Coverdale, those two highly talented replacements are already contemplating their own solo ventures. Even Paice has indicated interest in such a project.

Since the split of Purple Mk II Blackmore's been given a lot more opportunity to lay back with the introduction of the two aforementioned forces Hughes and Coverdale. Whereas Ritchie was once the total writing force of the band (although Glover must be given a certain amount of credit) he can now contribute to Purple's albums rather than envelope himself within them. So now, in fact, was the ideal time to record a solo album. Late on the day of arrival it was revealed that three tracks had been mixed and we could go down for a sneak preview. Apart from the handiness of its location, the studio itself had a warm, accommodating atmosphere. Scattered over the studio confines were various members of Elf. Looking a little worse for wear, too, was Martin Birch, perched behind a control board. Blackmore was relaxing in the other room, slaying anyone who attempted to compete with him on the football machine.

We were almost knocked off our seats with the opening bars of the first track 'Man Of The Silver Mountain' which tore out of the speakers with that familiar Purple aggression, the backing hefty and Dio's vocals thunderously adding to the wall of sound. The song has the same strident feel of 'Smoke On The Water' and next 'Self Portrait' was very reminiscent of early Cream. The solo is totally different to anything that Blackmore's done before, but 'Catch The Rainbow' was the most instantly mesmerising tune, revealing that Blackmore's guitar can be equally gentle and hard. It was revealed that the album was to be titled 'Ritchie Blackmore's Rainbow'. On first hearing the album, showed that Blackmore was playing better than ever. "There are some much better solo's on the rest of the tracks", Blackmore commented afterwards. "If someone told me that was going to happen to me a year ago, I would have laughed in their face", said Ronnie Dio later that evening.

"I've really enjoyed taking part in this album it's given me and the rest of the band a chance to do things we never knew we were capable of before. This originally began when Ritchie wanted to cut a single, a version of 'Black Sheep Of The Family' a song he's wanted to lay down for a long while. "We then wrote a B-side, '16th Century Greensleeves' which turned out to be better than the A-side, so Ritchie decided to do an album, but he said he'd only do it if I did it with him. I couldn't believe it, it was like God asking me if I wanted to come to heaven. So here we are ... Apart from rating Ritchie as a guitarist, I like him as a person."

Blackmore is enigmatic offstage, an aura of mystery surrounds him constantly. "I'm a schizo", the man admits himself, "I love playing games with people. My whole life is games in a way ... I never think one way or another about anything. One minute someone asks me something I'll give them one answer, the next minute I'll give them another answer, completely schizo and that's probably why it comes out in my playing." Blackmore can be unpredictable or friendly but due to his deadpan expression people rarely suspect or challenge his 'games'. Even guests at the Arabella were talking about lifts jamming and whole floors of room bells ringing. In the past various sea going animals have appeared in people's beds and many a person has opened their hotel room door to be confronted with a fire extinguisher at full throttle. Journalists have ended up with pints of beer distributed all over their heads and hotel managers have had to put up with cars in their hotel lobbies. It's these two sides of Blackmore that make him all that more intriguing and it's difficult not to treat a person of his experience with a certain amount of trepidation.

Due to the heavy pressure of work I didn't manage to talk with Blackmore until we reached Yugoslavia, a country that's not eastern enough to have any mystical qualities and not western enough to be entertaining - it's an unhappy medium between the two. So, you find yourself lounging around paying rip off prices for cheap booze. This gave me plenty of time, to talk to Blackmore in the late hours of evening (the time he prefers to talk) after a Press reception where his presence was noticeably absent. As stated before, the album sprang from a single 'Black Sheep Of The Family', I asked Blackmore if it was the lyrical quality of the song that fascinated him, as it did seem to suit his rebellious personality.

"I picked it because I like ... I've always liked that song ... since Quatermass first did it in 1970. A friend of mine used to play drums with them, Mick Underwood. "It's funny though your not the first person to point that out. Some people say 'yeah I know why you chose that song'. I ask them why and they'd say 'Black Sheep Of The Family 'mmm' I don't play a song because of its title.

"It was the thing that motivated the whole LP. Ronnie and I got together to do it, I said let's do it because I knew he could do it well. Purple didn't want to do it, they like to do their own songs and this was written by someone else. "We got into the studios and things worked out so well that I thought 'right we've got to do a B-side now'. The B-side then turned out better than the A-side and then I was tempted to an album because I knew they wouldn't plug a single if there wasn't an LP to back it up. "The main thing about the album is I'd never dream of doing an LP of my own because I just want to relax and get away from the studio when. Purple finish their bit. But he can sing so well that bastard, that inspired me so much that when Ronnie came round to my place we wrote three songs in about half an hour.

"Ronnie and I seem to have a rapport for some reason, I think it's because he was a trumpeter in an orchestra for God knows how long and he knows what notes to hit and what not to hit. And I've been been playing since I was eleven which makes it eighteen years ... long time and he's been singing about the same time. He does nearly all of his things in one take, harmonies, too ... an incredible vocalist. "The rest of the band were Ronnie's and we thought they're good enough, they proved to be very good. I didn't want any virtuosos because it was going to be a singer cum guitarist thing. I didn't want organ solos and drums solos because I get that with Purple anyway, that's what I was getting away from. I wanted to be a hundred per cent in control, which I was, so I loved all that ... I'm very pleased.

"I was thinking this is actually the most rewarding LP I've ever made. 'Deep Purple In Rock' and 'Machine Head' were good, this is another step forward for me after 'Machine Head'. I'm playing very well and I think the songs are very good, I think it's great all round, I just hope people get to hear it."

I noted that the album had bought out a lot Blackmore's previously concealed influence (i.e. the track 'Self Portrait' sounding like early Cream). "I haven't noticed that, but it's a compliment because I always liked the Cream." The solo sounds different structurally to anything you've done before. "Yeah, you mean starting on bass notes. I usually rip about on top notes 'cause that's the only way I'm going to cut through is to get a top register because I'm always competing with Sherman tanks all round with our band, because you know we're all upfront people.

"On this LP it wasn't a case of 'I want to do my own LP, that never came into it. People used to say 'well when are you going to do your own LP?' and I'd say 'well I'm doing it most of the time with Deep Puple anyway ... dig (laughter), well I write most of the music. But I never had the time to do my own album.


© Pete Makowski, Sounds 5 April 1975