BLACKMORE'S NIGHT

Man In Black to Tights!



One of my all-time heroes, the legendary Ritchie Blackmore, has re-emerged in the most unusual and bewildering of fashions. The icon of those heady rock days back in the 70's and 80's of Deep Purple and then Rainbow - the flashing axe, the menacing eyes, the dark somber, expressionless face, guitar smashing - man in black - has returned in a pointy hat and tights and some say, with a smile!!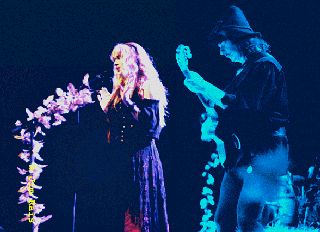 Ritchie Blackmore has resurfaced, with an enchanting and beautiful young lady with an undeniable stunning and incredible voice, in a new venture namely Blackmore's Night. Blackmore's Night is a renaissance, mystical, magical, minstrel affair, that you may even interpret as folk! I was not as surprised as I should have been when I heard the first album 'Shadow Of The Moon'. Being a huge fan of the early Rainbow, and having listened to tracks such as 'Sixteenth Century Greensleeves, Rising, Stargazer, Gates Of Babylon, 'Lady Of The Lake', etc, I felt this album would emerge at sometime.

Mystique and medieval themes, if you like, were always a part of the 'Rainbow' theme in the early days and with the immense talent that Ritchie possesses anything was possible for him to achieve, and I'm so pleased he has. 'Shadow Of The Moon' and the latest venture 'Under A Violet Moon' are without doubt two of my favourite albums, pretty close to 'Rising', 'Live On Stage' and 'Long Live Rock and Roll'. The only comparable resemblance between these albums is the magical scenarios and Ritchie's uncompromising performances and with the introduction of Candice to the vocal frontline, the albums take you a wondrous and bewildering musical voyage.

KEEP IT LIVE! was incredibly fortunate to be allowed to fax questions to Ritchie and Candice while on tour, courtesy of Carole Stevens, their wonderful manager. So we've taken the opportunity to briefly touch on Ritchie's past, but more importantly - what does the future hold for Ritchie and Candice with Blackmore's Night...

- Who, or what, inspired Ritchie Blackmore to take up guitar?

RITCHIE: Tommy Steele inspired me to take up the guitar. On a television show called "6-5 Special".

- Who were your icons while learning the guitar?

RITCHIE: It started with Tommy Steele, Hank B. Marvin, Duane Eddy, Jim Sullivan, Tony Harvey, Django Rheinhardt, Les Paul, Chet Atkins, Jimmy Bryant, Judd Procter, Scotty Moore, James Burton...

- To briefly touch on history, Blackmore's Night is very mystical and magical, is this a throwback to the 'Rising' era in a different format?

RITCHIE: No, it has no connection to the Rainbow days.

- I got so excited when I heard rumours of a Rainbow 'Rising' re-union just before Cozy was killed. Was there any truth in the rumour?

RITCHIE: No, there was a rumour.

- It must have been a terrible moment when you heard about his untimely death.

RITCHIE: Yes, obviously any person that dies that young - it is a tragedy. And Cozy had a lot to offer the music industry. He always made sure that people got their money's worth and his drum solo was one of the highlights of the evening in the Rainbow act.

- Will Rainbow reform in any shape or form?

RITCHIE: Not that I know of. I am having too much fun and enjoying what I am playing too much now to think about Rainbow reforming.

- How much satisfaction do you gain from writing such an anthem as 'Smoke On The Water'.

RITCHIE: I thought that Smoke was a good tune- I still do- however there are many songs that I have been involved with that are as worthy as Smoke On The Water.

- Obviously you're very happy with your music now, and it generates new highs in your career, how does it compare to those days of Deep Purple and Rainbow.

RITCHIE: My music now is on a much more intimate level and it is very natural. I found Purple excellent musicians but we became unfocused as a unit after '74. Rainbow was a release for me until that too, as a project, lost its way.

- I notice Candice was a singer and co-writer of some of the songs on 'Stranger In Us All', how did you meet?

RITCHIE: We met in the most romantic place... a football field! Candice was working for a rock radio station out here on Long Island and DP had a game against them. Of course, I rigged the team with ringers so we beat their team terribly! She reluctantly went over to congratulate me on my win and as she walked away I asked my roadies to find out who she was. They did and we set up a meeting later on at a local pub. We talked for hours. We hit it off on so many levels that we became friends very quickly. It's been 10 years now. The romantic moment was 6 months after we first met when we got to really know each other. Then I knew she was the only one for me.

- Was Blackmore's Night planned, or did it just happen?

RITCHIE: It just happened, again, in a very natural way. One of my criticisms of a lot of groups today is that they can be contrived and put together for the wrong reasons.

- Would Blackmore's Night, under a different guise, have happened if you had not met Candice?

RITCHIE: No.

- Is Blackmore's Night a brief encounter or do you hope to progress it further?

RITCHIE: I will answer that in 50 years; check back with me then.

- Candice, you're lyrical aptitude, and voice, is sublime, apart from Deep Purple, Hank Marvin and Rainbow where you sang backing vocals and co-wrote material, are there any albums where you sing outright that fans may buy?

CANDICE: Well first off, thank you very much for the kind words. Actually, our South American record company, NEMS, has just approached me with a project that they want me to sing on so I may be doing that for them in the very near future. It is called Infinity. As for other albums currently out there, I am embarrassed to say that no- I was not involved musically from the creative point of view before I met Ritchie. I have quite a number of original songs written though, so perhaps I may put out something of my own at some point. But right now Blackmore's Night is the first priority for me so any songs that I have already written Ritchie can use in this project if he wishes. Like "Now and Then". I will be letting fans know, if they are interested, about up an coming projects and news on our website at www.ritchieblackmore.com so if the Infinity project comes out we will post it on there to keep people updated.

- Gold Record status and massive success in the US, Japan, Brazil and Germany of Blackmore's Night is incredible, do you think that success can be repeated in the UK?

RITCHIE:Yes, I think so, once the media decides to play our music to the people. Fortunately, there seems to be a movement against the radio force feeding the public in England.

- The UK record buying public are fickle, (I bought 'Shadow Of The Moon in 1997 in the UK as an import) is this why it took so long to release 'Shadow Of The Moon' in the UK?

RITCHIE: It is not the record buying public that are fickle. It is the record companies and radio stations that are fickle. People can not buy it if it is not stocked in the shops and England has a habit of only stocking that Top 30 and the latest dance hits.

CANDICE: If people choose not to listen to a certain type of music because they don't like it... fair enough. But the fact that they don't know that it is out there because a handful of people at the top of the media totem pole choose not to allow that music to be heard or exposed is incredibly unfair. We call it musical communism.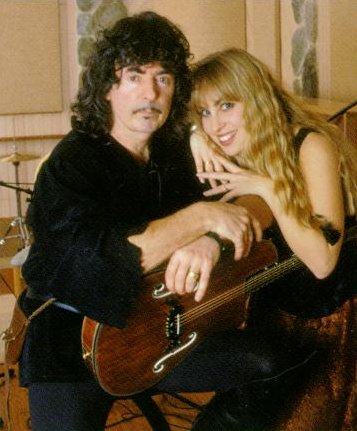 - How much did you enjoy your UK tour?

CANDICE: I was very nervous at first when I hear that we were going to play the UK. I had heard that the people were very cynical- and of course, living with Ritchie confirmed that viewpoint! I had heard that they would "never dress up on costume". That the audiences there would be the hardest that we'd have to play to. I was basically ready to say- "All right then, why don't I go out wearing a target so when they throw things at me at least we can have some fun of it?"

But, in all honesty, I think that the English audiences were the best that we have played to in the 3 years that we have been touring. They did understand what we were trying to get across, they did dress up, they were wonderful. And, boy, am I glad I didn't wear a target onstage! I thoroughly enjoyed every show, every moment. And I can't wait to return again!

- Best moment of the UK tour?

RITCHIE: Saying goodbye at the airport... seriously, seeing how well the English people took to our music. We were also very pleased that a lot of them partook in dressing up in Renaissance outfits and enjoying themselves... living the fairy tale.

- The on-stage presence is so remarkable and the camaraderie between Candice and yourself is so relaxing and bright, you appear to be ultimately very content at the moment?

RITCHIE: Obviously that won't last knowing me, knowing you... (great song by Abba). Our objective on stage is to incorporate the audience almost into the band. And our music is like being the minstrels playing to royalty. We feel very honored that the audience actually turns up and is brave enough to come to a show that is not just your routine clichéd popular act.

- Candice, a lot of your on-stage remarks are aimed at Ritchie, have you ever been in trouble for them?

CANDICE: Oh, no, Ritchie has a wonderful sense of humor. He's usually the one that takes jabs at me so when I am on stage I am going to take full advantage of the fact that I have the microphone! Besides, I'd have to do something a lot worse than make jokes if I was going to be in trouble!

- Will you be returning soon?

CANDICE: I hope to be returning to the UK as soon as possible. The people are so wonderful, the castles and the fields. I think that Ritchie is seeing more of England touristing with me than he did when he lived there! We have gone so many incredible places: Avebury, Tintagel, Hampton Court, Tower of London, Stonehenge, Glastonbury- straight up to the tour! We even went back at midnight and brought the guitar and the penny whistle and sat at the base of the Tor singing and playing to the stars and the moon. Magic! England has so many magical places- I hope that the people who live there appreciate it and don't take it for granted. I can see that many of them are very much into the magic of England and it amazes me to see those who aren't.

- 'Black Night' at Newcastle was incredible, was this planned or was it spur of the moment?

RITCHIE: You should have heard it at York! (only joking...) Black Night is a tune we never rehearse and the band never has any idea of what I am going to play or do... nor do I.

- Performing in medieval castles, churches and synagogues must be an invigorating experience?

CANDICE: It is amazing. It really transports you back to the time when these places were 1st built. To immerse yourself in all of the history and the energy that passed through there. And when you see the first few rows of fans dressed up in Renaissance period garb- you are immediately back in the day. It is so easy to let yourself slip back in time.

- What has been the highlight of Blackmore's Night so far?

RITCHIE: Firing all of the musicians in the band. Actually, the fact that we can play 100% of the music we like to play and not what the record company dictates.

- What has been the ultimate moment in your career?

RITCHIE: Getting some sleep in a hotel on the road. Beating Bayern Munich 3-2. I am thrown by the magnitude of the question. There are far too many highlights in my career to actually chose one particular moment. And being a true Englishman I would rather complain anyway.

- What's Ritchie like to work and live with?

CANDICE: It's easier to work with him than to live with him! When we work together we really respect the other persons domain. There are no egos involved. Everything that we do musically is for the sake of the music. There is no self indulgence. And there is no clocking in or out because we are around each other 24 hours a day so if he comes up with an idea I am right there to try it out with him. And as far as living together- you have to understand that he is a guitarist. It isn't what he does- it is who he is. So he is working and wearing that hat all of the time. But it has worked for us for over 10 years so far so we must be doing something right! I think that we have a good balance. The quintessential yin-yang theory. He is very dark, pessimistic, serious, mysterious- I am light and airy! I want to believe in magic! He is the magician. It all works out pretty well in the end.

- What do you listen to when your relaxing at home?

CANDICE: Ritchie listens to Renaissance music constantly. David Munrow, Des Geyers Schwazer Haufen, Frieberger Speillaut, Calamus. Sometimes the Albion Band or Jethro Tull. Even the Royal Guardsmen. I am more into listening to Sarah Brightman, Fleetwood Mac, rock music. I have diverse tastes- from Maggie Reilly , Michael Oldfield - with Back to France and Moonlight Shadow to Alanis Morissette and early Tori Amos- just not while Ritchie's in the room!

- Which contemporary guitarist do you rate currently?

RITCHIE: Eric Johnson, Monte Montgomery, acoustically Leo Koptke, Gordon Giltrap

- Where do the inspirations arise for tracks such as 'Wish You Were Here', 'Now and Then', 'Spanish Nights, 'Writing On The Wall', 'The Clock Ticks On'.

RITCHIE: Wish You Were Here we didn't write. And we wanted to call it "Wish You Had Beer" anyway. 'Now and Then' Candy wrote, I just pinched a bit of Bach's Prelude in C for the beginning. 'Spanish Nights' was an old riff I used to play when I was 13 called Malaguena. I just thought that it would be fun to extemporize on that particular riff. I originally wrote the song in the key of E to have the open notes. However, Candy's range in actually in the key of A so we compromised and went to F sharp with a capodastro. 'Writing on the Wall' is really a rock song incorporating Tzchikovski's Swan Lake. I have always liked that tune. 'The Clock Ticks On' was the very first tune that Candice and I wrote together. I am obsessed by melodies that were written by Tielman Susatto in the 1500's and that is the main theme in the song.

- What is your reaction to people who don't understand Blackmore's Night's moons and castles, mystical and dreams element?

RITCHIE: Bless them. Everybody has their problems.

CANDICE: Everyone also has their escape. Be it football, cars, whatever. We choose to open the doorway to our path of escapism to anyone who wants to take a stroll down that path. It's not for everybody. Just a special, sensitive few.

- Will you ever return to the UK to live?

RITCHIE: The way America's going, probably very shortly.

- Blackmore's Night have given a lot of time to charity, with concerts in aid of underprivileged children, and abused and homeless animals. Your involvement will generate interest in these causes but you are limited in what can you do. What do you feel is the best course of action to continue aid for these causes?

RITCHIE: Animals are very dear to Candice and I. It is always a nice feeling to be able to give to someone who is not so well off. Those who are not so fortunate as ourselves.

CANDICE: The best course of action about these causes is to do what music does best. To make people feel about them. Feel enough to want to learn more, get involved and help.

- Given the choice, would you rather have lived in the 16th century, or now?

RITCHIE: Both. I would like to have lived in a 16th century castle with air conditioning, a satellite dish and a bottle of meade.

CANDICE: We are very luck to be able to pick and choose the best parts of each time period and mesh them with the modern day amenities that we enjoy. Running water, heat, sanitary conditions.

- From the 1500's who do you both most admire?

RITCHIE: Tielman Susatto, Pierre Attaignment, Michael Praettorious, Pierre Phalese, Peter Breughal the younger and the peasants of the day.

CANDICE: Yes, anyone who could just survive in that time period deserves to be admired!

- How important is it for you to keep playing?

RITCHIE: If I didn't play music I would probably turn to crime.

- What's next for Blackmore's Night?

CANDICE: To play magical music for as long as people want to hear it. When they don't want to hear it well go back to playing it just for ourselves! We have the 3rd album already written. Now we just want to finish out touring this year and then begin the search for a producer who can understand this type of music. We hope to have the next album finished early next year.

- Would you like to pop round to our tea room and play an acoustic set. We'll supply cream scones and bags of English tea??????

RITCHIE & CANDICE: You're on! Is you're place haunted? Do you have a ghost? Speaking of castles, we have rated Lumley Castle as the finest castle we have ever been to!

Funnily enough, Heather and I are pretty convinced there is something supernatural loitering in the vicinity of the tea room. See you soon then!!!!!!!

So there you have it, the incredible Ritchie Blackmore featured within our little blue book and website. An absolute high for me, my sincerest thanks to all who helped in making this possible.


© Keep It Live 2000