RITCHIE BLACKMORE


Ritchie Blackmore gives it all in the renaissance riffs



-Touring together is practical, we don't have to be away from each other for long, says neo-romantic Ritchie Blackmore, 57.

As the driving power behind Deep Purple and Rainbow, Ritchie Blackmore has always been counted as one of the world's foremost guitar players. But Ritchie is not only known for his nice touch. Rumour has it that he is, shall we say eccentric. Some claim that he has hoisted a naked rower in a rope below the Arc De Triomphe in Paris. He is claimed to have handcuffed a journalist to a hotel bar, and a TV producer has, after having said something disadvantageous about Ritchie, been chased by the same down a street in Stockholm. Which is why it feels comforting to make a telephone interview.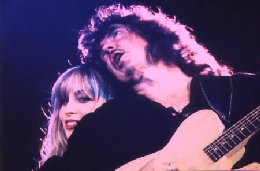 To my surprise, I notice that he sounds quite happy when he answers, and Candice, too, sends nice greetings.

-Who knows, maybe I'm quite nice, Ritchie says, ironic at his own expense, when I ask if it's him I'm talking to. He continues to sound calm and relaxed when he says that he's glad that he'll soon be back in Sweden again. And he's sorry about the autumn's cancelled concerts, when an ear virus caused problems.

Ritchie has left hard rock for renaissance music. Since five years he fronts the group Blackmore's Night together with his love Candice Night. Last year they released their third album, inspired by 1600th century classical music. And obviously one wonders why a confirmed hard rocker changes profession.

-Me and Candice were sitting at home, playing for fun, and our friends liked the songs, so we recorded them. When Ritchie says "friends", one should add that he refers to friends with the same love for music from old epochs as he and Candice have.

-We dress in clothes in keeping with the time and wander in the woods, or cook food from those times together with our friends, Ritchie says.

How does it feel to have changed the big arenas for smaller locations?

-It's wonderful, you get a completely different contact with the audience, Ritchie says, and continues with surprising modesty.

-I've never felt at home in gigantic crowds, never felt comfortable with it. The music I play today I can play to ten people if that should be the case, and both the audience and I get something out of it.

It doesn't work that way with hard rock. Best of all is that all types of people come to the gigs. Old Purple fans because Ritchie's there, and then their wives because they like this new music better. Some bring their children to the gigs, and let them dress up as Robin Hood or something, Candice Night says in her only longer contribution to the interview.

As Jon Lord has recently announced that he's about to leave Deep Purple, it is unquestionably interesting to hear what Ritchie has to say about the band today. Because without Lord and Blackmore, the men who formed the band, is there any Deep Purple left?

- I think people see Ian Gillan as Deep Purple since I left, the band will probably always stay there one way or another. Moreover, I think Steve Morse is a very good guitar player, so let them keep at it, Ritchie says, and continues without me having to ask:

- We're not enemies. I talked to Jon just the other day as a matter of fact, so I'm still in touch with them. Some of them, at least.

Whichever way that is, we'll never know, but it's clear to see that Ritchie seems to be happy with his life with Candice and the renaissance music.

Any chances of a new little Blackmore on the way? A new little guitar hero, perhaps?

- No. But we have a cat which looks like a monkey, Ritchie laughs.

Ritchie finishes by thanking me for calling so punctually. The time of miracles isn't over yet.

Blackmore's Night play in Stockholm on the 22/4, Gothenburg 23/4 and Malmö the 24/4.



© Henrik Kolbjèr, Svenska Dagbladet - Sweden, 22 April 2002 / (Translated by Lotte Wieslander)