RITCHIE & CANDICE



Long awaited ON LINE CHAT is scheduled with Ritchie and Candice from 8:30-9:00 PM the evening of Oct. 13 at the Transworld site. www.twec.com. This is your chance to get the technical guitar info many of you are emailing Carole for- this is your chance to ask Ritchie and Candice about the music, inspirations, lyrics, tours, etc."

MODERATOR Welcome to tonight's chat with Ritchie Blackmore and Candice Night! Hello!

Ritchie Blackmore: We hope that everyone has had a nice glass of wine before we start.

DUSTY: have any plans to visit England?

Ritchie Blackmore: Yes, definitely. We're working on a tour right now.

Candice: England is one of the places we've been trying to play for a while. There's difficuly with the promoters. We will probably play some gigs in January/February there, so we're looking forward to that.

Egan: Tremolo Guitar technique takes years to develop. How long did it take for you?

Ritchie: I'm still practicing my technique and I've been practicing the Tremolo technique for 40 years.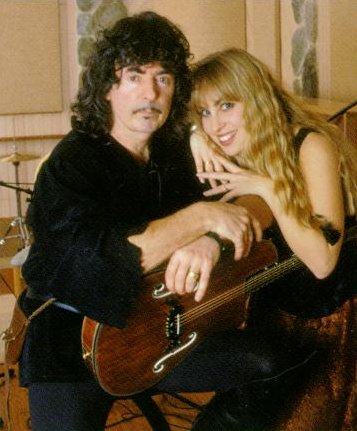 Niksa: Ritchie and Candice - A third CD in the making?

Ritchie: Yes, it's not in the making yet. Now we're concentrating more on touring and exposing people to the 1st and 2nd cd so the next one wouldn't come out until the end of next year.

Candice: But we are working on writing all the time. We have 8 songs ready to go into the studio once we're done with this latest tour that we are on.

Storyman: I noticed Under A Violet Moon (the song) is in C minor, but the playing sounds like it's being played in first position D minor. Are the instruments tuned down a whole step?

Ritchie: Yes, they are. Good observation. Give them a house point.

Kix: Ritchie, what made u change the acc. amp from Crate to Fender?

Ritchie: I sometimes go by the way the amplifier looks and this year I liked the way the Fender looked. However I am looking at a Trace Elliot amplifier so probably when we go on the road I will have that.

cork: Candace who is the song Now and Then about?

Candice: Now and Then is about a very close friend who was going through a divorce. I think everyone can relate to the pain of breaking up.

Ritchie: It better not be about her old boyfriend.

Paul Sanchez: Who inspired your vibrato technique?

Ritchie: I would say Jimi Hendrix was a big inspiration for the vibrato arm technique.

rbnum1fan: what is the funniest thing that has happend to you while on tour?

Ritchie: Getting paid when I was in Purple.

Egan: Candice, you mention how great Ritchie plays at home. How much are we missing?

Candice: I think Ritchie plays the best when he's relaxed sitting in front of the tv with the mute button on. Sometimes there's alot of tension on stage and when you're in the studio you feel like you're under a microscope.

Storyman: In a recording situation, how much do you use cut& paste and other digital editing, compared to just taping the song form beginning to end? I recently purchased digital recording equipment and I'm curious how much peicing together is done on average!

Ritchie: There is never an average. Sometimes you play a song straight off and sometimes you have a problem so you cut and paste. So there's never an average.

steven: Hi Candice-My girlfriend asks: where do you find your beautiful clothes?

Candice: I go to a lot of Renaissance fairs and they have wonderful clothes there. There's a shop called Medieval Mayhem on Long Island. I tend to pick the outfits out myself and I put my own stamp on them. They're out there, you just have to search for them.

steven: Are you still using Engle amps? Where can we find them in the US (New York)?

Ritchie Blackmore: Yes, I'm still using them when I want loud rock n roll amps. They're made in Germany. I'm sure they have outlets over here but I don't know where they are.

Candice: If you log onto www.ritchieblackmore.com and double click on Engle, it'll take you to that website and they could probably answer those questions bettter.

Theo: What has happened to the big rainbow that you used on stage in the seventies?

Ritchie: That big rainbow is in storage upstate near Binghamton.

Niksa: Candice: I noticed in the credits that only you are credited for "Now and then" did you write the music as well??

Candice: Yes, I did. Thank you for noticing.

Bill Midwood: Do you expect to play Castles in the UK like you did in Germany?

Ritchie: Yes, we hope so. Either castles or churches. Something that reflects the type of music that we're playing. Finding the right venues can sometimes be a problem with the promoters.

giulio: Ritchie Will you ever record WILLIAM TELLS overture?

Ritchie: Not if I can help it. I don't particularly like the piece of music.

Ainhoa: How many "Strats" have you smashed in your life?

Ritchie: Probably more than 20 and less than 80.

Paul Sanchez: Is there any new young guitar players these days that you feel have some talent?

Ritchie: I think there are many guitar players that have lots of talent. Eric Johnson is excellent although I don't think he's that young.

Dave n Chippie: Candice, you worked in radio early on...ever have any vocal training--how did you discover your beautiful voice?

Candice: I had a little bit of training as a young child. Singing was always an escape for me and only did it in front of close friends and family. Ritchie gave me the confidence I needed to front a band. Thank you for the compliment.

Thorgrimm: Any planned dates in the Southern US for Blackmore's Night?

Candice: We have 2 dates coming up in Ohio, one in Cleveland at the Odeon on October 21st. One in Columbus at the Newport Music Hall on October 22nd. Depending how well our music is received at these 6 or 7 dates in the states, we're hoping to play other areas in the U.S.

lohmaty_: Ritchie, whom "Son of Alerik" refers to? Robin Hood? Thank you.

Ritchie: No. The song was a particular spirit that we happened to speak to in a seance who originated in the 3rd Century. Alerik was a very famous person.

swepett: Ritchie, if you were asked, would you guest on someone else's album or participate in something like the G3 tour?

Ritchie: Yes, although I admire them very much I'm not one for playing with other guitarists unless it's a very casual affair.

steven: Ritchie and Candice - what's the secret to true romance?

Ritchie: A good pinot noire helps.

Candice: I think that there's a few points: loyalty, trust, communication, honesty and love. If you're missing out on any of those 5 points then you have a crack in your foundation. Also, you must always be supportive of the other person.

rbnum1fan: was "my woman from tokyo" about a real person?

Ritchie: I don't write the lyrics so I have no idea.

Ken: Did you enjoy making Burn?

Ritchie: Yes.

rbnum1fan: is there any particular reason that you changed producers on Under a Violet Moon?

Candice: Yes, but for legal reasons we're not allowed to talk about it in public.

Paul Sanchez: When was the last time you visited the RAINBOW in Sunset since that is where the name for the band came about?

Ritchie: Probably before the war. The name of the band now is Blackmore's Night, not Rainbow.

Storyman: Is Katherine Howard's fate in C minor also, and is the botom E tuned down to D?

Ritchie: Yes, it is.

Bill Midwood: Is it true you once saw a ghost in York?

Ritchie: I see ghosts in very many places. One of my hobbies is to communicate with ghosts.

Rick: After the US and Euro tours what's in store for Blackmore's Night next?

Candice: We'd like to get into the studio and start recording our 3rd album at that point.

Ken: Ritchie keep it coming ,your playing like wine gets better with age.

Ritchie: That's very nice of you.

heathen justice: Do you have an interest in producing unknown acts?

Ritchie: I don't actually produce. Just playing the guitar is very time consuming.

Egan: Ritchie Candice is obviously wonderfulwhat was your 1st impression of her voice?

Ritchie: The first impression was that she was very angelic in the way that she sings and very empathic to the music that I was playing.

Oakman: Ritchie, how much nowadays do you get to practice on acoustic guitar?

Ritchie: I should imagine about 3 hours a day.

bcmmironov: How was the experience of working with Ian Anderson on Play Minstrel Play?

Ritchie: Wonderful. I think he is one of my heros and I don't think enough people know how good he really is. Besides playing "Aqualung" he has many other songs that are brilliant.

Candice: We were very honored that he joined us on Play Minstrel Play. He is brilliant.

rbnum1fan: how did you first discover the "harmonic minor "scale? i love the way you incorporate it in your music

Ritchie: It was handed to me by a friend and thank you very much for the compliment.

Ainhoa: Des Geyers Scwarzer Haufen are the best supporting band you have ever had. Will they also be in your next German tour?

Ritchie: Yes, they will and they are a fantastic band. They are very authentic and also good drinkers.

Storyman: any recent tips on good wines to pick up ? (preferably red)

Ritchie: I would recommend on a white wine: wehlenuhrsonnenuhr and a red wine would be a Long Island Plamer.

RainbowChaser: theres a current trend for guitarists to do Christmas songs, any plans of doing one with Blackmore's Night?

Ritchie: We actually recorded a Christmas song for CNN on the Worldbeat that will come out on Christmas. But no plans to make a Christmas album.

Bill Midwood: Candice, do you play guitar yourself & if so, does Ritchie let you play his guitars?

Candice: Ritchie has attempted to teach me to play guitar and I'm failing miserably. I play penny whistle, recorder, hurty gurty and piano.

Dave n Chippie: I love the new treatment of "Self Portrait" who's idea was it to bring it back?

Ritchie: Bill Clinton's. I think it was fans in general who wanted to hear that song. I thought Candice's voice really suited that melody.

Niksa: Ritchie and Candice : What are you favorite songs to play live?

Ritchie: My favorite song would be Renaissance Fair and Writing on the Wall.

Candice: I tend to gravitate towards the quiter songs like Now and Then and Catherine Howard's Fate. But it really is so much fun playing all of them.

Theo: Ritchie and Candice, how do you feel about other artistst starting to make albums based on Renaissance music, like Dan Fogelberg?

Ritchie: I have not heard Dan Folgerberg's music but I would like to hear it.

Ritchie: Yes, I do

SPEAKER_TWEC1: Do you still have your vox amplifier that you used in the 60's

Candice: I think a lot of Ritchie's past music gets easily translated into what we're doing because of the strong melodic content

merv2: is there any plans to have guest artists on the upcoming recording???

Ritchie: Not so far. However, that might change at the last minute.

rbnum1fan: is Gone With The Wind a Russian Folk Song?

Candice: Yes, it is. It's a traditional Russian song that we added some new music and arrangment to. It's called Meadowland.

Ken: do you plan on ever releasing a Blackmores night concert video

Candice: Yes, we are. We have released one concert video live in Germany. That is available through a shop called Medieval Mayhem and there's a link to them on our site: www.ritchieblackmore.com. Or they can be called at 516-585-3488

Moto: do you play moon guitar on this tour?

Ritchie: Yes, it was made for me by Lakewood Guitars of Germany and I play it most of the time.

phil: pass time with good company has a hauting melody, who chose the song

Ritchie: Henry the 8th wrote the lyrics and it's basically anonymous wrote the music but they think it may have been Henry the 8th as well. We do 2 versions of that song in concert.

Candice: One is very old sounding and the other is the plugged in version.

Candice: No, they won't. We have Marci Geller on background vocals; Jim Hurley on violin, mandolin and rythym guitar; Adam Forgione on keyboards; Mick Cervino on bass; and Alex Alexander on percussion. We're in the process of finding the right band lineup for our shows to fit our musical needs. I think this may be the one.

phil: did you ever think you would be playing this kind of music at this point in your career

Ritchie: No, although I've loved Renaissance music for the past 25 years, I didn't think that I'd be playing it on stage.

Paul Sanchez: How do you go about when deciding what title to put on a song?

Ritchie: That usually is done within the lyrics. A title usually appears.

MODERATOR TWEC.com: would like to thank Ritchie and Candice for stopping by tonight anything you would like to say to all of your fans?

Ritchie: We'd like to thank everybody for being interested in what we're doing and hopefully we'll see you all on tour.

Candice: I want to thank you all for coming on our fantasy land musical journey with us. I look forward to seeing everyone around the world as we play for you.

MODERATOR: Thank you to Ritchie and Candice for stopping by tonight!

© Twec.com, October 1999