JIMMY BAIN (WILD HORSES)
Step by step is better than a giant leap



In the context of the new wave of heavy metal bands that are popping up all the time in England, you could have expected that a group like Wild Horses should already have belonged to the top of the newcomers. But despite an excellent debut record and three singles, that hasn't happened yet. Crowded too high or aimed too high? None of that, Wild Horses just has plenty of time and would rather let the storm blow over them. When the mess is cleared up afterwards, we'll see who is left. And Wild Horses will be there, we and they are silently convinced of that.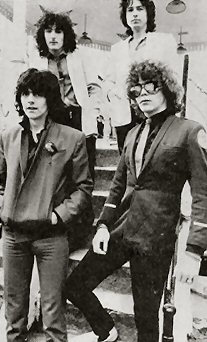 Wild Horses was founded last year by Brian Robertson, ex-guitarist for Thin Lizzy, and Jimmy Bain, ex-bassist for Rainbow. Both also sing, although Jimmy is responsible for most of the lead parts. The other two lesser-known group members are drummer Clive Edwards and guitarist keyboardist Neil Carter.

In light of their past performances, things remain pretty quiet around Robertson and Bain, the two Scots who keep watching everything very calmly. "We're taking it slow and careful," said Jimmy, who acts as the spokesman for the band.

"We don't want to fall victim to the current trend, which will drop many of those new groups overnight. We're really not desperate to beg for success. Okay, a hit single like Saxon or Iron Maiden would of course be worth it, welcome to reach a wider audience, but for the moment we are still in the build-up phase.

We are taking it slowly but I am sure that the people who bought our first LP will also buy number two and number three without hesitation. And we would much rather have that than to be viewed as one-day flies.

" "Wild Horses is just a good, even a very good rock n'roll band", Jimmy continues.

"We don't pretend to be or do anything else. We're not worried about the lack of a hit, but when it comes we use it to show us a bit more to the people. That's all, groups like Led Zeppelin or Deep Purple never really cared about singles, did they? "




THE NEW BANDS WILL GET A HARD TIME



Wild Horses does not want to jump on the train of the so-called new wave of the hard & heavy boys. "We don't feel involved at all," says Jimmy. "Because when that so-called revival started, we were actually writing pop songs our way.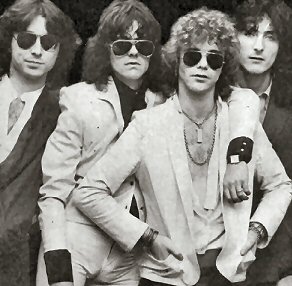 We still haven't recorded a real hard rock song with its typical little bits. However, that doesn't mean we wouldn't play hard rock. I like groups that play hard and aggressively, but who also manage to write real songs. And that's how we look at it."

Jimmy looks at this whole new batch with a skewed eye. "Now look at a group like Saxon," he says. "They're in the top twenty, okay, and everyone's writing about it. But I'm convinced we'll be out there longer than most of those bands.

I wish them success, but I fear it will all come too soon. Some time ago I spoke to a well-known journalist who had just finished an interview with Def Leppard. He told me the difference between them and us was obvious, that they had absolutely no control over their own destiny and their own future. And that is exactly where the problem lies.

Knowing what you are doing and keeping it in your own hands is much more important than jumping forward with one huge step. But usually you have to take a big step back just as quickly, because you don't have your business under control or because different group members can no longer handle it privately. And then you end up like so many, with a few lost years, a worn out guitar and an amplifier that you can in the best case sell to the amateur group around the corner.

Along with your illusions and the hope that it will one day return. I hope that many of those new guys realize what they started with, otherwise they will get into serious trouble."




BELIEVE IN YOURSELF AND WHAT YOU DO



Jimmy hasn't complained for a moment about his departure from Rainbow. "The last few years have been fantastic for me," he solemnly swears. "Everything I have done, good or bad, has brought me important experience. It is fantastic that I can now sing again. I did that once with my first group, Harlot. In Rainbow I couldn't. I have to travel a long way as a singer, but I don't care, after all, you're always learning.

You know our new single, "Flyaway", dates back to my Harlot era five years ago. So you see that you always have something left from what you do as long as you make sure you know what you are doing. "So everything is going fine, even if you don't notice it in the charts. Within a few months Wild Horses records its second album and for the time being, no American or international breakthrough is being targeted.

"First we have to be in the position that is strong enough to get a good deal through," said Jimmy. "A group like Wild Horses really has no limit, we don't know where our future can really lead us. But we do know that we have to keep writing good songs, that we have to make our show even better and that we don't fool our audience. I really don't feel like playing in a group that is bound by a fashion. Believing in yourself and what you're doing is the only way to get there and stay there."

© Joepie - August 17, 1980