Jimmy Bain

The Crack In Rainbow
Breaking Up Is Hard To Do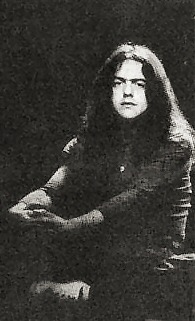 "I got fired." That's how Jimmy Bain describes his departure from rock super group, Blackmore's Rainbow. It was a fine way to start off 1977. "I came home on January 3rd and got a phone call from the manager in New York saying, 'your services are no longer required.' There were no reasons given which was the surprising thing. It was a bit of a shock after being in the band for a year and a half."

Because of legal action, Bain. has been forced to remain silent the past ten months, but now he's able to shed light on his exit. The public announcement by record and management officials said only that Jimmy left because of musical differences. Bain has strong feelings about this: "I joined Rainbow, or rather I was asked to join Rainbow for several reasons. First was because I could play bass; second, because I had a good stage presence; and third, which was the most important, because I could write songs. In Rainbow, the only people that ever got their songs recorded were Ritchie and Ronnie Dio, - although everyone else in the band could write.

Bain wasn't the only one to leave. It has just been announced that Tony Carey, Rainbow's original keyboards man, has given his notice. But Carey left of his own accord, so Bain maintains: According to rumors, Carey was frightened for his life because Blackmore is supposed to be a dabbler in Black Magic. Even Jimmy has had his bed catch fire, but he just brushes it off as Ritehie's practical jokes. Even so, Tony Carey arranged to leave the French recording studios very quietly.

"When they went to do the new album, I heard a lot of things went down. They were stuck at an isolated chateau - never went out not even to Paris. Ten weeks together and the mental pressure on somebody like Tony was too much. So, he just vanished. He called his father and had a ticket sent, then one morning he just took a taxi to the airport and split. He left nothing, gave no warning, so he had played them at their own game. He had taken so much that he didn't want to know anymore about it."

Bringing the conversation back to Bain and his relationship with Rainbow, Jimmy was made to feel rather small and unnecessary. "Cozy Powell used to say to me whenever I got uptight, to cool it you're only a side man and it really got on my case that he would say that. When I was on-stage or when I was recording, I was putting out 100% effort and I felt I was one-fifth of Rainbow. It was really silly, but that is a little bit why I didn't obey all the commands per se as they were given."

But was that the reason for the firing?
"I was fired from the band because Ritchie had something which got up his ass about me, and there was no changing his mind. The rest of the band went along with him, basically because they had no choice. He would fire them as well. He would scrap Rainbow in a minute's notice if he decided that he had enough.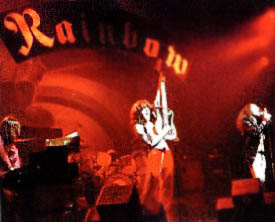 "You see, Rainbow was like a dynasty. Ritchie was no. 1; Cozy and Ronnie fought for no. 2, but I think Cozy likely came off second; Ronnie was no. 3; I was no. 4; and Tony was 5. That was the way you were related to by anyone concerned with the band in so far as your needs went.

Rainbow, I told Ritchie when I joined, would be a stepping stone. I would have liked it to have lasted a bit longer than it did because I thought Rainbow was just on the verge of being one of the top five bands in the world. I think with the On Stage album doing so well here and in America.

As for Jimmy Bain, he really has used Rainbow to establish himself. He's joined Brian Robertson of Thin Lizzy to record a special album of their own material, a project that has gained approval from both local talents and Robertson's management. John Cale lost his bassist at the start of his British tour, so Bain was called in to finish it and do the European circuit. It was on this tour that Bain met up with Ian Hunter's Overnight Angels.

Bain seems to be taking these changes all in stride, probably due to the self-confidence he gained in Rainbow. He still owes the band a vote of thanks, and he rightfully admits it.

"I'm a lot happier now. I'm not working for Ritchie, I'm not working for Purple. I'm working to get my music across to as many people as I can. Rainbow was good for me because it got me out of the level I had been at for a few years, it paid off because I always believed in myself. I got the break and it lasted one and a half years. It was great, I enjoyed every minute of it."

In response to Bain's allegations, Ritchie Blackmore told Circus Magazine that, "Rainbow is indeed basically a trio" built around himself, Cozy Poweli and Ronnie Dio. But with the additions of Canadian David Stone on keyboards and ex-Widowmaker Bob Daisley on bass guitar, the band could develop new dimensions. Touring England and Europe through December, Blackmore hopes their new studio album will be released by mid-January. Tentatively titled Long Live Rock & Roll, the record, Ritchie feels, "will establish the importance of Rainbow to the popular music of the late Seventies as Deep Purple had been for a decade before."


© Candy McGaw, Circus October 1977