DON AIREY





DPRU: How did you get the gig with Deep Purple?

DA: Roger phoned me a week before the tour to ask if I could possibly stand in for Jon for 3/4 gigs.

DPRU: How much time did you have to rehearse?
DA: Purple actually confirmed with me 48 hours before the tour started! There was one three-hour rehearsal in Aarhus the night before Skanderborg, plus I had a couple of hours going through various bits (mainly" Well-Dressed Guitar") with Steve and Roger in a hotel room the day of the first gig.

DPRU: You and Steve Morse did the trademark Purple call-and-response solo. Do you prefer to lead or to be led in such situations?

DA: The latter, especially with Steve leading!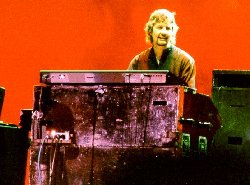 DPRU: Your resume really looks like "Who Is Who In Rock'N'Roll". Did you ever envisioned your career this way or did it just happen naturally?
DA: Life is what happens to you when you are making plans to do something else as John Lennon said. My "something else" was training as a classical pianist, playing a bit of jazz on the side, gaining a university degree, and about to be married and start teaching at a music school, when Rock and Roll whisked me away.

DPRU: Which band/gig/session was the most enjoyable?

DA: Band : I guess Rainbow when Cozy and Graham were in the band. Gig : Rainbow at the Budokan May 1980, Ozzy at Madison Square Gardens in 1984, and Deep Purple at the Lycabettus Amphitheatre, Athens, 2001. Session : Over the Top with Cozy.

DPRU: Which one you wish never happened?

DA: I have had a few sessions where there were problems, with the band Zeno for example, and I got into very deep waters with the London Symphony Orchestra at Abbey Road once, but by the end they all seem to have turned into sweetness and light.

DPRU: What can you say about possibility of your future collaborations with DP?

DA: I live in hope.

DPRU: Hypothetically speaking, if Jon Lord decides to retire and you're offered a permanent position in the band, would you accept?

DA: Aw shucks!

DPRU: Do we take it as a "yes"?

DA: Not necessarily.

DPRU: Do you think a band consisting of Airey/Gillan/Glover/Morse/Paice should be called Deep Purple or something else (like Company of Snakes vs. Whitesnake)?

DA: They own the name, the majority of the members would be the originals, so what else really can they call it! "Deep Six ", or "The Purple Dregs" perhaps? Actually I always liked the original name of the band, "Orpheus".

DPRU: How did you get your first big gig with Cozy Powell?

DA: Cozy's bass player, the great Clive Chaman saw me playing in a nightclub in London, and invited me to an audition for Cozy Powell's Hammer. It was quite a day in my life I must say - Cozy's phenomenal power just blew me away, and the fact that he drove to the audition in an open-top lilac-coloured E-type Jag.

DPRU: In 1978 you joined Black Sabbath for the Never Say Die album. How did you end up in that legendary band?

DA: I was only on the recording sessions, though there was some talk of me going on the American tour with them.

DPRU: There are many rumours that BS went through motions during that time. What were your insider impressions of the band as a "fresh guy"?

DA: Quite the opposite. They seemed like a very close family of brothers, the music was really great, particularly Airdance, Juniors Eyes, Over to You and Johnny Blades, and Ozzy's antics were hilarious, especially the practical jokes he would play on Bill Ward. While I was doing the moog part on Johnny Blades, Ozzy was drawing elaborate Kiss make-up in black indelible ink onto Bill's face, to which fact Bill seemed completely oblivious.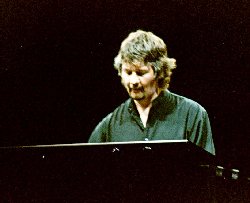 DPRU: How did you get the Rainbow gig?

DA: Cozy phoned and asked me to come over to New York and audition. I went to Ritchie's house, played a couple of bits of Bach to him, and then we messed around with a piece that eventually became Difficult to Cure. After that, Cozy, Ritchie and I sat in a rehearsal room for three weeks in December 1978 working on the music that would become" Down to Earth". Then, to my relief, just before Christmas and the day my wife phoned to say she was pregnant with our first child, they offered me the gig.

DPRU: What are your impressions of Ritchie Blackmore?

DA: Distance lends enchantment of course but he always seemed to me to be a composer who uses the guitar as a pen. One of the great writers in Rock, the music he created with those four other guys, is profoundly original and influential. A tormented genius I would say - good soccer player too!

DPRU: How was he responsive to someone else's musical ideas?

DA: Very responsive, but it would have to be a good idea, and he would always have something better up his sleeve that would leave you scratching your head.

DPRU: You took part in the recording of some of the most phenomenal Rainbow tracks: Difficult to Cure and Maybe Next Time. How they were recorded? How long did it take?
DA: The track Difficult to Cure took forever. Bobby Rondinelli had real problems playing a shuffle, so eventually we scrapped what we had. I layed down a backing track with a Minimoog hitched up to a Sequential Circuits sequencer, and we built it back up from there. The drums went on last, and are fairly impressive I have to say. Maybe next Time happened very quickly. Ritchie's first take was one of the most beautiful pieces of guitar playing I ever heard, though to my amazement he scrapped it, and put a composite together of other takes.

DPRU: Whan Cozy Powell was leaving the Rainbow, he said smth like "To work with Blackmore you must be a good boxer". Was Ritchie indeed such a difficult person to work with?

DA: Ritchie has a very high work ethic and he would instill it into all the musicians who passed through Rainbow, to their substantial benefit later in their careers. If you are of a naturally lazy bent, which most musicians are, then he can be problematical. Once you catch on to where he is coming from ( and it took me a week or two) then he is OK. I think what Cozy meant was, (and remember Cozy used to wear boxing boots on stage), if you want to get your own ideas onto a record, you have to fight like mad.

DPRU: Why did you leave Rainbow?

DA: I thought the band was getting too transatlantic, and after three years it was just time to move on or be moved on.

DPRU: There are rumours that you also played on Straight Between The Eyes Rainbow album. How true are them?

DA: People ask me all the time, but it isn't true.

DPRU: Did you play on the Ozzy Osbourne's Speak Of The Devil live album?

DA: No.

DPRU: In the 80s, Ozzy had a reputation for being involved with "black magic" and such. Did he intentionally support such image or was it just the media hype?

DA: Nothing Ozzy ever said or did whilst I was in the band could be remotely construed as being connected with Black Magic, with alcohol and drugs yes, but Black Magic definitely no. I think a few mayors in the deep south of the USA tried to ban us playing in their towns saying Ozzy was the son of Satan and suchlike, and the media caught onto it.

DPRU: How did you get the Jethro Tull gig?

DA: I auditioned. After about 20 minutes Ian said, "Well, you've no problems with our music, lets play some of yours" So I made up an instrumental and taught them to play it - great fun, but not exactly what you expect to do at an audition.

DPRU: What were your impressions of that band?

DA: At that time, they were quite unfashionable, with people amazed that they were still going. At the audition what impressed me most was the wonderful "feel" the band had, and subsequently, how clever Ian was at constructing music, writing lyrics, and putting on a great show - a genius. Good table tennis player too!

DPRU: You worked with lots of different musicians, often in the bands were keyboards were merely an auxuliary background instrument. Which band gave you the most "space" for playing? Most space for your own ideas?

DA: Rainbow, Colosseum II, the Whitesnake 87 sessions, and I was amazed and flattered at how much space Deep Purple gave me on the European tour.

DPRU: Do you follow what your former colleagues (Coverdale, Moore, Blackmore) are doing now?

DA: Yes, its interesting to see how people mellow and progress over the years, though I am rarely in touch with any of them on a personal basis.

DPRU: And what do you think particularly of the Blackmore's Night project?

DA: I like it.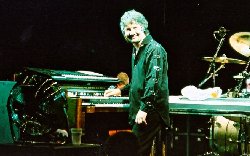 DPRU: You have played lots of different keyboards: Hammond, a variety of synthesizers, piano. Which is your favourite?

DA: Excluding Steinway grand of course which is not a "keyboard" as such, in order, Hammond Organ model B3, Moog Minimoog model D, Moog Memorymoog Plus. Yamaha CS80. Of the modern keyboards I use a Kurzweil PC88 piano which has great sounds, and a lot of scope as a midi controller, and I am a great fan of the endless possibilities of the Kurzweil K2000 synth. I also like some of the Korg Trinity range and when using a Hammond isn't feasible, employ a Roland VK7 going through a Hughes & Kettner Rotosphere.

DPRU: For how long have you been on the Internet and what role does it play in your life/work?

DA: Three years. Its more fun than it is actually useful.

DPRU: It's not a secret that some fans make audience recordings of the gigs and then trade the recordings among themselves. What is your stand on this?

DA: Bootlegging has always gone on; there's not much you can do to stop it


© Deep Purple Russian Pages 2001